Regional Territories 4
This section contains monthly articles on over two dozen territories. To relive those wonderful days of old, click here.
Wrestlers 4
Enter this section for bios/profiles of various wrestlers from the regional days. To find more out about your favorite pro wrestler, click here.
Stories 4
This section contains stories from the pros themselves told exclusively to Kayfabe Memories. Want to know more as told from the wrestlers themselves? Click here.
Old School Book Reviews4
Click here to find various book reviews from old school wrestlers.
KM Links 4
For tons of links to old school related sites, click
here
.
KM Micro Wrestlers4
What are Micro Wrestlers? Click here
to find out.
KM Interviews... 4
Click here to read exclusive interviews with stars from the regional territories.
www.kayfabememories.com is © 2004 AtomDesigns. All promotional art, characters, logos and other depictions are © their respective owners. All Rights Reserved.
All contents save Wrestler Stories are © Kayfabe Memories.
Website designed and maintained by AtomDesigns © 2004 . If you experience any problems with this site or have any questions, please contact the Webmaster.
- Jim Zordani
The night after Nick Bockwinkel lost the AWA heavyweight title to Verne Gagne at Comiskey Park in Chicago, Nick was scheduled to face WWA champion Dick the Bruiser in a title vs title match in Indianapolis, Indiana. The fans in Indianapolis had no idea Bockwinkel had lost the title to Gagne in Chicago the previous night so they indeed thought they were going to see a title unification match. As it turned out, it didn't matter that Bockwinkel had dropped the AWA strap to Gagne in Chicago as the "unification" match with Bruiser in Indianapolis on July 19th, 1980 ended in a draw. Nick did return to Indianapolis on the very next show dated August 22nd, 1980 teaming with Bruiser Brody to defeat Ernie Ladd and Bobo Brazil.
After battling a succession of the AWA's top babyfaces which included Mad Dog Vachon, Dino Bravo and Tito Santana, Nick Bockwinkel travelled to Japan in late November of 1980 to compete in the annual Real World Tag Team Tournament with Jim Brunzell of all people as his partner. Here are the results involving Nick Bockwinkel from that particular tour of All Japan Pro Wrestling.
11/28/80 Tokyo- Nick Bockwinkel and Jim Brunzell beat Jumbo Tsuruta and Kazuo Sakurada (Kendo Nagasaki)
11/29/80 Shimizu- Tor Kamata and Abullah the Butcher beat Nick Bockwinkel and Jim Brunzell
12/4/80 Ehime- Nick Bockwinkel beat Mr Hata
12/5/80 Matsuzaka- Nick Bockwinkel and Jim Brunzell drew Les Thornton and Billy Robinson
12/7/80 Nabeoka- Nick Bockwinkel and Jim Brunzell beat King Tonga and Jumbo Tsuruta
12/8/80 Nagasaki- Shohei Baba and Jumbo Tsuruta beat Nick Bockwinkel and Jim Brunzell
12/9/80 Matsuzaka- Dory Funk Jr and Terry Funk beat Nick Bockwinkel and Jim Brunzell
12/10/80 Utsonomiya- Nick Bockwinkel drew Dory Funk Jr
12/11/80 Tokyo- Nick Bockwinkel drew Billy Robinson
Nick Bockwinkel and Jim Brunzell finished the tournament in fourth place.
For several weeks after Verne Gagne captured the AWA title from Nick Bockwinkel, Bobby Heenan proclaimed he and Nick had a "surprise from the Orient." AWA announcer Rodger Kent surmised the surprise might be a wrestler from the Orient. The surprise after several weeks of buildup was Bockwinkel's new finishing hold, the Oriental Sleeper. Nick and Bobby claimed just as Mad Dog Vachon, Blackjack Lanza and many others had done in the past that Verne Gagne's sleeper hold was an illegal choke hold. Bockwinkel and Heenan also said Nick's version was a completely legal manuever and Nick often demonstrated the difference between the two sleeper holds on AWA interviewers Al DeRusha, Mean Gene Okerlund and Ken Resnick.
Bockwinkel developing his own version of the sleeper hold and proclaiming Gagne's version a choke hold added even more fuel to the hot feud Nick and Verne had been engaged in for several years. Nick did receive a few rematches against AWA champ Gagne during the first few months of 1981 but was unable to beat Gagne for the championship. Verne's dream was to have one last match and retire as AWA champion. There was only one man that could be Gagne's opponent for that retirement match. That man was Nick Bockwinkel.
Much like the match where Gagne regained the AWA title from Bockwinkel in Chicago, Verne's retirement match against Nick had tremendous buildup. Gagne wanted to go out on top. Bockwinkel desperately wanted to regain the AWA title and wanted to put a damper on Verne's retirement festivities. Of course there was Gagne's sleeper against Bockwinkel's oriental sleeper. This was a huge match on so many levels. And what better place to have the match than St Paul, Minnesota, the home base of the AWA for many years. On May 10th, 1981 at the St Paul Civic Center, Verne Gagne used his vaunted sleeper hold to defeat Nick Bockwinkel and soon afterward retired as AWA champion. The AWA then awarded the number one contender Nick Bockwinkel the AWA heavyweight champion when Verne retired.
More...
If you'd like to discuss the AWA region with other fans, please visit the KM Message Board

KM DVD/VHS Store 4
Click here to purchase DVD or VHS products direct from the official distributors.
KM Replica Masks 4
Click here to purchase pro quality replica wrestling masks of all your favorite old school masked wrestlers.
KM Store 4
The KM Store now features products featuring the GCW logo as well as some other very cool images. To see what's new and to purchase T-Shirts, ball caps, mouse pads and more, click here.
KM Message Board 4
Want to chat with other fans of regional wrestling? This message board has forums for over two dozen promotions. Click here.
KM Belt Gallery 4
This section contains an extensive title belt gallery... images of heavyweight, tag, U.S. and various regional title belts. To view it, click here.
Old School Tape Review 4
Reviews of various PPV's, commercial tapes and regional wrestling TV shows are available in this section. To read more, click here.
Website designed & maintained by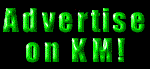 Thanks for visiting!