Regional Territories 4
This section contains monthly articles on over two dozen territories. To relive those wonderful days of old, click here.
Wrestlers 4
Enter this section for bios/profiles of various wrestlers from the regional days. To find more out about your favorite pro wrestler, click here.
Stories 4
This section contains stories from the pros themselves told exclusively to Kayfabe Memories. Want to know more as told from the wrestlers themselves? Click here.
Old School Book Reviews4
Click here to find various book reviews from old school wrestlers.
KM Links 4
For tons of links to old school related sites, click
here
.
KM Micro Wrestlers4
What are Micro Wrestlers? Click here
to find out.
KM Interviews... 4
Click here to read exclusive interviews with stars from the regional territories.
www.kayfabememories.com is © 2004 AtomDesigns. All promotional art, characters, logos and other depictions are © their respective owners. All Rights Reserved.
All contents save Wrestler Stories are © Kayfabe Memories.
Website designed and maintained by AtomDesigns © 2004 . If you experience any problems with this site or have any questions, please contact the Webmaster.
- Jim Zordani

When we last left you, Nick Bockwinkel and Ray Stevens had lost the AWA tag team titles to Bruiser and Crusher on August 16th, 1975 in Chicago, Illinois. For the next few months, Nick not only teamed with Stevens in a few unsuccessful attempts to regain the AWA tag straps but also partnered with Baron Von Raschke against Billy Robinson and Larry Hennig on a couple occasions. Bockwinkel embarked in several singles bouts against the Crusher and had more than his share of matches against Pampero Firpo during this time period. However the biggest feud Nick was involved in during the second half of 1975 was against Verne Gagne, Greg Gagne and Jim Brunzell. Manager Bobby Heenan was even drawn into the fray teaming with Nick against Verne and Greg in several AWA cities.

On the November 1st, 1975 edition of All Star Wrestling, Bobby Duncum made his television debut defeating the master of savate Peter Lee and more importantly as a member of the Heenan Family. Duncum had played college football at West Texas State and one year of professional football with the St Louis Cardinals. By the time he entered the AWA, Bobby Duncum had established himself as a top flight professional wrestler in several territories and was probably best known for his series of matches with WWWF champion Bruno Sammartino.

The date was November 8th, 1975. The event was Verne Gagne defending the AWA championship against Nick Bockwinkel at the Auditorium in St Paul, Minnesota.

Special referee for the championship match was Gagne trainee Paul Perschmann. Bobby Heenan was supposed to be in Bockwinkel's corner but for some reason missed the show. Instead Heenan Family member Bobby Duncum accompanied Nick to ringside. Duncum interfered in the match hitting Verne Gagne from behind allowing Nick Bockwinkel to score the winning pin to become the new AWA World Heavyweight Champion. Bockwinkel winning the AWA title from Verne was a shocking upset. Not that Nick wasn't a great wrestler and well qualified to hold the strap but Verne had reigned as champion for over seven years. Gagne's title loss also established Bobby Duncum as a major player in the AWA. By interfering in the match and being responsible for the title change, Duncum was immediately catapulted into a feud with ex-champ Gagne.

The first several challengers to newly crowned AWA champion Nick Bockwinkel were fan favorites like Pampero Firpo, Larry Hennig, Peter Maivia, Dick the Bruiser, Wahoo McDaniel, Jos LeDuc, The Crusher, Greg Gagne, Jim Brunzell, Chris Taylor, Red Bastien and Wilbur Snyder. When any of those talented competitors got Bockwinkel in trouble, Nick would either get himself intentionally disqualified or receive help from Bobby Heenan and/or Bobby Duncum in order to retain his AWA heavyweight championship. Although Bockwinkel would usually defend his belt against babyfaces, he also faced villians like Mad Dog Vachon, Baron Von Raschke and Buddy Wolff. Former champ Verne Gagne faced Bockwinkel in several rematches for the AWA title belt but was unable to recapture the strap due to Nick's chicanery and outside interference.

Bockwinkel's most difficult challenger was not Verne Gagne, Dick the Bruiser, The Crusher or Mad Dog Vachon but it was in fact The Eighth Wonder of the World Andre the Giant. Andre battled Nick Bockwinkel to a double disqualification on August 27th, 1976 at Comiskey Park in Chicago, Illinois.

Ray Stevens had left the AWA to compete in Florida soon after his longtime tag team partner Nick

Bockwinkel won the AWA heavyweight title from Verne Gagne. Ray's role in the Heenan family was essentially taken by Bobby Duncum. Blackjack Lanza joined the Heenan family in March of 1976 and became Duncum's tag team partner. Duncum and Lanza clicked almost immediately as a tag team and a few months later captured the AWA tag team titles from Dick the Bruiser and the Crusher on July 23rd, 1976 at the International Amphitheatre in Chicago, Illinois. More...

If you'd like to discuss the AWA region with other fans, please visit the KM Message Board

KM DVD/VHS Store 4
Click here to purchase DVD or VHS products direct from the official distributors.
KM Replica Masks 4
Click here to purchase pro quality replica wrestling masks of all your favorite old school masked wrestlers.
KM Store 4
The KM Store now features products featuring the GCW logo as well as some other very cool images. To see what's new and to purchase T-Shirts, ball caps, mouse pads and more, click here.
KM Message Board 4
Want to chat with other fans of regional wrestling? This message board has forums for over two dozen promotions. Click here.
KM Belt Gallery 4
This section contains an extensive title belt gallery... images of heavyweight, tag, U.S. and various regional title belts. To view it, click here.
Old School Tape Review 4
Reviews of various PPV's, commercial tapes and regional wrestling TV shows are available in this section. To read more, click here.
Website designed & maintained by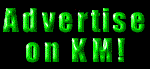 Thanks for visiting!