Regional Territories 4
This section contains monthly articles on over two dozen territories. To relive those wonderful days of old, click here.
Wrestlers 4
Enter this section for bios/profiles of various wrestlers from the regional days. To find more out about your favorite pro wrestler, click here.
Stories 4
This section contains stories from the pros themselves told exclusively to Kayfabe Memories. Want to know more as told from the wrestlers themselves? Click here.
Old School Book Reviews4
Click here to find various book reviews from old school wrestlers.
KM Links 4
For tons of links to old school related sites, click
here
.
KM Micro Wrestlers4
What are Micro Wrestlers? Click here
to find out.
KM Interviews... 4
Click here to read exclusive interviews with stars from the regional territories.
www.kayfabememories.com is © 2004 AtomDesigns. All promotional art, characters, logos and other depictions are © their respective owners. All Rights Reserved.
All contents save Wrestler Stories are © Kayfabe Memories.
Website designed and maintained by AtomDesigns © 2004 . If you experience any problems with this site or have any questions, please contact the Webmaster.
- Jim Zordani
With AWA champion Verne Gagne working only 4 or 5 times a month, the AWA tag team champions Nick Bockwinkel and Ray Stevens more often than not found themselves in the main event. During the first eight months of 1972, Bockwinkel and Stevens defended the AWA straps against such teams as Mad Dog and Butcher Vachon, Billy Robinson and Wilbur Snyder, Doctor X and Cowboy Bill Watts, Bruiser and Crusher, Dusty Rhodes and Larry Hennig, Wahoo McDaniel and Bill Watts and Wahoo McDaniel and Billy Robinson. Having Bockwinkel and Stevens defeat the former AWA tag team champions Mad Dog and Butcher Vachon was tremendous booing by the AWA.
It showed Nick and Ray were superior to the formerly dominant Vachons and that Bockwinkel and Stevens could beat any type of tag team be it heels or babyfaces.
One reason Nick and Ray blended so well together as a tag team is they had contrasting personalities. Nick was the smug Beverly Hills Californian snob while Ray portrayed the rough San Francisco Californian bar room brawler. During interviews, Bockwinkel would use big words ala Howard Cosell and refer to fans as humanoids. Stevens would look right into the television camera saying he was going to maim his opponent and came off very believable. Nick was uppity. Ray was abrasive. The personality traits of both men drew ire from fans watching at home on television and influenced the fans to pay money to hopefully see Bockwinkel and Stevens lose their tag team titles on the next AWA house show.
The Bombs Away knee drop used by Ray Stevens throughout his career was a maneuver where Ray jumped from the top rope onto his opponent. Jumping off the top rope onto the body of an opponent in sight of the referee meant an automatic disqualification in the AWA. The disqualification rule in no way hindered Ray Stevens. In fact it helped Stevens be even more detested by the AWA fans.
In a televised match on the June 3rd, 1972 edition of All Star Wrestling, Ray Stevens injured former AWA champion Doctor X (Dick Beyer) with the Bombs Away maneuver. Doctor X caught his leg in the ropes during the match. Ray took advantage of the situation by coming off the top ropes onto Doctor X's knee. Stevens then untangled Doctor X from the ropes and proceeded to ram the masked man's leg into the ringpost causing further injury. Ray became known as the Crippler after this match with Doctor X. Doctor X returned to action a few months later (Beyer actually did need knee surgery so the AWA devised this injury angle) and battled Stevens in many singles matches. The masked man also teamed with several different partners including Andre the Giant, The Crusher, Wahoo McDaniel, Billy Robinson, Mad Dog Vachon and Bull Bullinski to combat Stevens and Bockwinkel.
During the summer of 1972, Nick Bockwinkel and Ray Stevens ventured to the sunshine state of Florida. Bockwinkel and Stevens did not defend their AWA tag team titles in Florida but did enjoy a reign as Florida tag team champions. Nick and Ray defeated Tim Woods and Hiro Matsuda to win the Florida tag straps on July 20th, 1977 in Tampa, Florida. I've also seen the date of that match listed as July 18th, 1977. Bockwinkel and Stevens successfully defended the Florida tag teams titles at least twice, beating Tim Woods and Robert Fuller on August 1st in Tampa and besting Tim Woods and Louie Tillet on August 3rd in Tampa. On August 15th, 1972 at the Fort Homer Hesterly Armory in Tampa, Florida, Bob Orton Sr and Hiro Matsuda defeated Nick Bockwinkel and Ray Stevens to capture the Florida tag team titles.
More...
If you'd like to discuss the AWA region with other fans, please visit the KM Message Board

KM DVD/VHS Store 4
Click here to purchase DVD or VHS products direct from the official distributors.
KM Replica Masks 4
Click here to purchase pro quality replica wrestling masks of all your favorite old school masked wrestlers.
KM Store 4
The KM Store now features products featuring the GCW logo as well as some other very cool images. To see what's new and to purchase T-Shirts, ball caps, mouse pads and more, click here.
KM Message Board 4
Want to chat with other fans of regional wrestling? This message board has forums for over two dozen promotions. Click here.
KM Belt Gallery 4
This section contains an extensive title belt gallery... images of heavyweight, tag, U.S. and various regional title belts. To view it, click here.
Old School Tape Review 4
Reviews of various PPV's, commercial tapes and regional wrestling TV shows are available in this section. To read more, click here.
Website designed & maintained by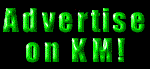 Thanks for visiting!