Regional Territories 4
This section contains monthly articles on over two dozen territories. To relive those wonderful days of old, click here.
Wrestlers 4
Enter this section for bios/profiles of various wrestlers from the regional days. To find more out about your favorite pro wrestler, click here.
Stories 4
This section contains stories from the pros themselves told exclusively to Kayfabe Memories. Want to know more as told from the wrestlers themselves? Click here.
Old School Book Reviews4
Click here to find various book reviews from old school wrestlers.
KM Links 4
For tons of links to old school related sites, click
here
.
KM Micro Wrestlers4
What are Micro Wrestlers? Click here
to find out.
KM Interviews... 4
Click here to read exclusive interviews with stars from the regional territories.
www.kayfabememories.com is © 2004 AtomDesigns. All promotional art, characters, logos and other depictions are © their respective owners. All Rights Reserved.
All contents save Wrestler Stories are © Kayfabe Memories.
Website designed and maintained by AtomDesigns © 2004 . If you experience any problems with this site or have any questions, please contact the Webmaster.
- Jim Zordani
As the 70s drew to a close, Verne Gagne knew he had to retire soon. Gagne felt he needed to go out on top and would book the next few years of AWA action as his swan song. The first step in Gagne's plan was to bring in longtime adversary Mad Dog Vachon as his tag team partner. Together, Verne and Mad Dog defeated Pat Patterson and Ray Stevens on June 6th, 1979 in Winnepeg, Manitoba, Canada to capture the AWA tag team titles.
After a year-long tag title reign, it was time for the second part of Verne Gagne's plan to happen. While still holding the AWA tag team titles with Vachon, Verne Gagne beat Nick Bockwinkel for the AWA heavyweight championship on July 18th, 1980 at Comiskey Park in Chicago Illinois. Rather than drop the tag team titles in the ring to number one contenders Adrian Adonis and Jesse The Body Ventura, Gagne and Vachon were stripped of the AWA tag team titles when Gagne no showed a scheduled tag title defense against Adonis and Ventura. Adonis and Ventura were then awarded the AWA tag team titles by the AWA championship committee. Gagne's ego was so large by this point he refused to put the younger team over by losing the belts in a sanctioned match.
Verne Gagne would hold the AWA championship for 10 months before beating Nick Bockwinkel in Verne's retirement match on May 10th, 1981. Gagne retired as world's heavyweight champion and Bockwinkel was awarded the AWA title nine days later. Once again Verne Gagne had cheapened the value of a world title by not losing to Bockwinkel in the ring, choosing instead to feed his own colossal ego by retiring as champion.
The early 80's saw many new stars enter the AWA. Dino Bravo, Rick Martel and Tito Santana were brought in as fan favorites to challenge Bockwinkel. The very colorful East-West connection of Adrian Adonis and Jesse Ventura reigned as tag team champions. The 468-pound Jerry "Crusher" Blackwell emerged as the area's top heel.
Jerry Blackwell wasn't your ordinary 468-pound fat man. Blackwell was extremely agile for his size and could throw a dropkick. Jerry had that combination of girth and agility that made his finishing maneuvers like the powerslam and Samoan drop look absolutely devastating. Blackwell was pushed heavily upon his arrival in the AWA feuding with Crusher Lisowski over the nickname "Crusher." Jerry formed a tag team with Big John Studd to wreak havoc on the AWA.
Together, Blackwell and Studd would injure Mad Dog Vachon putting the veteran Canadian star out of action for several weeks. Baron Von Raschke returned to the AWA to take Vachon's place alongside the Crusher against Blackwell and Studd. Jerry would feud off and on with Crusher, the Baron and Mad Dog for the next several months.
In the summer of 1981, a very muscular long blond haired giant of a man named Hulk Hogan made his debut in the AWA. Hogan had feuded with Andre the Giant in the WWWF and was considered a charismatic but still very green star of the future. The AWA was uncertain how to use Hogan when Hulk arrived in the AWA first pairing Hogan with Luscious Johnny Valiant as his manager. After a few matches, Verne Gagne realized Hogan's star potential and told Valiant to hit the road. Hogan would be made into the AWA's number one babyface. All the promotion needed was an angle to set it up.
Jerry Blackwell had lost a televised match to former amateur star Brad Rheingans in a huge upset. Jerry attacked Rheingans from behind after the match was over which paved the way for Hulk Hogan to run in making the save. Hulk Hogan now had his first major feud in the AWA against the villianous Crusher Blackwell. Hogan and Blackwell took their bodyslam challenge match all over the territory with Hogan always going over by bodyslamming the 468-pound Blackwell.
In between leaving the WWWF and coming to the AWA, Hulk Hogan was given the role of wrestling champion "Thunderlips" in the movie Rocky III starring Sylvester Stallone. Rocky III hit the screens in the summer of 1982 and everyone associated with that movie including Hogan and Mr. T received huge amounts of publicity. Hulk Hogan even guested on the Tonight Show with Johnny Carson. Hogan garnered all this mainstream publicity but Verne Gagne did not think putting an entertainer as world champion was the right way to go.
More...

KM DVD/VHS Store 4
Click here to purchase DVD or VHS products direct from the official distributors.
KM Replica Masks 4
Click here to purchase pro quality replica wrestling masks of all your favorite old school masked wrestlers.
KM Store 4
The KM Store now features products featuring the GCW logo as well as some other very cool images. To see what's new and to purchase T-Shirts, ball caps, mouse pads and more, click here.
KM Message Board 4
Want to chat with other fans of regional wrestling? This message board has forums for over two dozen promotions. Click here.
KM Belt Gallery 4
This section contains an extensive title belt gallery... images of heavyweight, tag, U.S. and various regional title belts. To view it, click here.
Old School Tape Review 4
Reviews of various PPV's, commercial tapes and regional wrestling TV shows are available in this section. To read more, click here.
Website designed & maintained by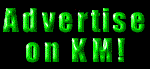 Thanks for visiting!