Regional Territories 4
This section contains monthly articles on over two dozen territories. To relive those wonderful days of old, click here.
Wrestlers 4
Enter this section for bios/profiles of various wrestlers from the regional days. To find more out about your favorite pro wrestler, click here.
Stories 4
This section contains stories from the pros themselves told exclusively to Kayfabe Memories. Want to know more as told from the wrestlers themselves? Click here.
Old School Book Reviews4
Click here to find various book reviews from old school wrestlers.
KM Links 4
For tons of links to old school related sites, click
here
.
KM Micro Wrestlers4
What are Micro Wrestlers? Click here
to find out.
KM Interviews... 4
Click here to read exclusive interviews with stars from the regional territories.
www.kayfabememories.com is © 2004 AtomDesigns. All promotional art, characters, logos and other depictions are © their respective owners. All Rights Reserved.
All contents save Wrestler Stories are © Kayfabe Memories.
Website designed and maintained by AtomDesigns © 2004 . If you experience any problems with this site or have any questions, please contact the Webmaster.
- Jim Zordani
Nick Bockwinkel's stay in Hawaii during the latter part of 1968 and the majority of 1969 was a successful one. Nick formed a team with the flamboyant Bobby Shane and resumed his feud with Ripper Collins. The team of Bockwinkel and Shane defeated Collins and partner Crazy Luke Graham for the Hawaiian tag team titles on March 12th, 1969 in Honolulu.
Nick and Bobby's reign as Hawaiian tag team champs was a brief one as they lost the straps to Ripper Collins and Killer Buddy Austin in Honolulu on April 16th 1969. Bockwinkel continued to compete in Hawaii for the next several months until moving on to the Georgia territory in November of 1969.
Up until his entrance into Georgia rings, Nick Bockwinkel had always portrayed the role of babyface. Based on his clean cut appearance and excellent physique, Nick was a prototypical fan favorite. However the nice guy image didn't fit the wise cracking Bockwinkel's real life personality. Nick made the decision to transform himself into a cocky, uppity Beverly Hills California heel. It was in Georgia where Nick Bockwinkel first debuted this brash persona.
From the onset in Georgia, Nick battled many different fan favorites including Cyclone Soto, Louie Tillet, Buddy Fuller, Ray Gunkel, Billy Spears, The Professional (Doug Gilbert), Wilbur Snyder, Ramon Torres, The Mongol and Joe Scarpa (Chief Jay Strongbow). Scarpa became Bockwinkel's main adversary as the two men feuded over the Georgia television title. Nick won the TV title from Scarpa in early 1970 probably in February. The exact date of the title change hasn't been unearthed so an approximate guess is the best historians can do at this time. It's also not known which wrestler beat Bockwinkel for the Georgia television title but records do show Nick as Georgia TV champ in February and March of 1970. Bockwinkel was awarded a NWA title match with champion Dory Funk Jr on April 10th, 1970 in Atlanta, Georgia and Nick acquitted himself quite well by battling Funk to a time limit draw.
Exactly one week later on April 17th, 1970 in Atlanta Georgia , Nick Bockwinkel defeated Assassin #1 (Tom Renesto) to win the Georgia heavyweight championship. Bockwinkel continued warring with Joe Scarpa, The Professional and The Mongol while reigning as Georgia heavyweight champion. After defeating The Mongol, Joe Scarpa and a masked man billed as The Challenger in a one night elimination tournament on June 19th in Atlanta, Georgia, Nick was awarded a World Title shot that very same night against NWA champion Dory Funk Jr. Funk emerged victorious over Bockwinkel to retain the NWA title that night. On July 17th, 1970 in Atlanta, Georgia, Paul Demarco beat Nick Bockwinkel to capture the Georgia heavyweight championship. Nick quickly made amends regaining the Georgia strap from Demarco one week later in Atlanta. Bockwinkel received another shot at NWA champion Dory Funk Jr on August 14th, 1970 in Atlanta but did not win the title as he and Funk grappled to a time limit draw. Nick was contacted by Verne Gagne who wanted Nick to come to the AWA so Nick dopped the Georgia heavyweight title to Buddy Colt on September 4th, 1970 in Atlanta, Georgia. The time Nick Bockwinkel spent in Georgia was very significant in the development of his wrestling career. Nick showed the wrestling world he was more than capable of being the top heel in a promotion.
More...
If you'd like to discuss the AWA region with other fans, please visit the KM Message Board

KM DVD/VHS Store 4
Click here to purchase DVD or VHS products direct from the official distributors.
KM Replica Masks 4
Click here to purchase pro quality replica wrestling masks of all your favorite old school masked wrestlers.
KM Store 4
The KM Store now features products featuring the GCW logo as well as some other very cool images. To see what's new and to purchase T-Shirts, ball caps, mouse pads and more, click here.
KM Message Board 4
Want to chat with other fans of regional wrestling? This message board has forums for over two dozen promotions. Click here.
KM Belt Gallery 4
This section contains an extensive title belt gallery... images of heavyweight, tag, U.S. and various regional title belts. To view it, click here.
Old School Tape Review 4
Reviews of various PPV's, commercial tapes and regional wrestling TV shows are available in this section. To read more, click here.
Website designed & maintained by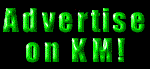 Thanks for visiting!