Regional Territories 4
This section contains monthly articles on over two dozen territories. To relive those wonderful days of old, click here.
Wrestlers 4
Enter this section for bios/profiles of various wrestlers from the regional days. To find more out about your favorite pro wrestler, click here.
Stories 4
This section contains stories from the pros themselves told exclusively to Kayfabe Memories. Want to know more as told from the wrestlers themselves? Click here.
Old School Book Reviews4
Click here to find various book reviews from old school wrestlers.
KM Links 4
For tons of links to old school related sites, click
here
.
KM Micro Wrestlers4
What are Micro Wrestlers? Click here
to find out.
KM Interviews... 4
Click here to read exclusive interviews with stars from the regional territories.
www.kayfabememories.com is © 2004 AtomDesigns. All promotional art, characters, logos and other depictions are © their respective owners. All Rights Reserved.
All contents save Wrestler Stories are © Kayfabe Memories.
Website designed and maintained by AtomDesigns © 2004 . If you experience any problems with this site or have any questions, please contact the Webmaster.
- Jim Zordani
After leaving the Pacific Northwest territory in July of 1964, Nick Bockwinkel began competing in Hawaii. Already a well established star from competing there in 1962, Bockwinkel reformed his partnership with Lord James Blears and resumed his feud with King Curtis Iaukea. Nick made an immediate impact by defeating Handsome Johnny Barend on November 25th, 1964 in Honolulu, Hawaii to become the Hawaiian heavyweight champion. After defending the strap successfully against the Mighty Ursus, Shoulders Newman and and Harold Fujiwara (Mr Fuji), Nick lost the Hawaiian heavyweight title to his arch enemy King Curtis Iaukea on December 18th, 1964 in Honolulu, Hawaii. Nick stayed in Hawaii for six more months taking on such opponents as Gil Ane, Hard Boiled Haggerty, Lucky Simonovich and old adversaries Curtis Iaukea and Harold Fujiwara. Nick also teamed with the likes of Shag Thomas, Luther Lindsay and Tim Colt.
Once his stay in Hawaii was complete, Nick Bockwinkel returned to wrestle in Los Angeles, California. Throughout the rest of 1965 in Los Angeles rings, Bockwinkel battled many fine grapplers including Billy Red Lyons, Jack Allen, Matt K.O. Murphy, Lonnie "Moondog" Mayne, The Mongol and Chief White Eagle. As 1966 began, Bockwinkel decided a return to Hawaii was in order. Nick had a two month stint in Hawaii once again teaming with Lord James Blears and facing such villianous opposition as Johnny Barend, Harold Fujiwara, Ripper Collins, Beauregard and Tosh Togo (The Korean thug from the James Bond movie Goldfinger).
In March of 1966, Nick Bockwinkel headed for Australia to work for promoters Jim Barnett and Johnny Doyle. While in The Land Down Under, Nick battled such talented stars as Waldo Von Erich, Johnny Boyd (Lord Jonathan Boyd), Pampero Firpo, Art Nielsen, Killer Kowalski, Mitsu Arakawa, Bobby Graham, Professor Tanaka, Roy Heffernan, Mark Lewin and Harley Race. Bockwinkel won almost every match during the first half of his Australian tour but then lost several matches as his time in Australia was coming to an end. In a nutshell that's how the territorial system worked. A wrestler would come into a territory winning many matches establishing himself as a major star and then be on the losing end of matches as he was leaving the territory.
Nick bolted back to Hawaii in July of 1966. Bockwinkel only competed in Hawaii for three months but did wrestle such stars as Johnny Barend, Ripper Collins, Bill Dromo, Shoulders Newman, Bill Dromo and The Stomper. Nick made the trek back to Los Angeles, California for the remainder of 1966.
In January of 1967, Nick Bockwinkel embarked on a three month tour of Australia. The competition was fierce as Nick wrestled such high caliber foes as Dory Funk Jr, Boris Malenko, Hercules Cortez, Roy Heffernan, Czaya (Bob) Nandor and Abe Jacobs. After leaving Australia, Nick bounced back between Hawaii and southern California for the duration of 1967 and the beginning of 1968. Nick's stint in Hawaii found him mainly in tag bouts teaming with the likes of Paul Diamond, Jim Hady, Johnny Barend and Billy White Wolf (Sheik Adnan El Kaissee). While working in California, Bockwinkel encountered such grapplers as Pedro Morales, Tony Nero, Hard Boiled Haggerty, Fred Blassie and Tony Altimore.
More...
If you'd like to discuss the AWA region with other fans, please visit the KM Message Board

KM DVD/VHS Store 4
Click here to purchase DVD or VHS products direct from the official distributors.
KM Replica Masks 4
Click here to purchase pro quality replica wrestling masks of all your favorite old school masked wrestlers.
KM Store 4
The KM Store now features products featuring the GCW logo as well as some other very cool images. To see what's new and to purchase T-Shirts, ball caps, mouse pads and more, click here.
KM Message Board 4
Want to chat with other fans of regional wrestling? This message board has forums for over two dozen promotions. Click here.
KM Belt Gallery 4
This section contains an extensive title belt gallery... images of heavyweight, tag, U.S. and various regional title belts. To view it, click here.
Old School Tape Review 4
Reviews of various PPV's, commercial tapes and regional wrestling TV shows are available in this section. To read more, click here.
Website designed & maintained by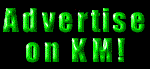 Thanks for visiting!