Regional Territories 4
This section contains monthly articles on over two dozen territories. To relive those wonderful days of old, click here.
Wrestlers 4
Enter this section for bios/profiles of various wrestlers from the regional days. To find more out about your favorite pro wrestler, click here.
Stories 4
This section contains stories from the pros themselves told exclusively to Kayfabe Memories. Want to know more as told from the wrestlers themselves? Click here.
Old School Book Reviews4
Click here to find various book reviews from old school wrestlers.
KM Links 4
For tons of links to old school related sites, click
here
.
KM Micro Wrestlers4
What are Micro Wrestlers? Click here
to find out.
KM Interviews... 4
Click here to read exclusive interviews with stars from the regional territories.
www.kayfabememories.com is © 2004 AtomDesigns. All promotional art, characters, logos and other depictions are © their respective owners. All Rights Reserved.
All contents save Wrestler Stories are © Kayfabe Memories.
Website designed and maintained by AtomDesigns © 2004 . If you experience any problems with this site or have any questions, please contact the Webmaster.
- Jim Zordani

The next several installments of this column will cover the career of Nick Bockwinkel. In so many ways, Nick Bockwinkel defined the AWA during the 1970s and well into the 1980s. From his legendary tag team with Ray The Crippler Stevens to his reigns as AWA champion to the cockiness and uppityness he exhibited on his interviews, Nick Bockwinkel was simply the man. Lets get the ball rolling by starting at the very beginning.

Warren Nicholas (Nick) Bockwinkel was born on December 6th, 1934 in St. Louis, Missouri. His father Warren Bockwinkel was a journeyman wrestler who competed in the 30s, 40s and 50s. Nick's parents divorced when he was five years old and Nick ended up living with his grandmother until he was twelve. After a two year stint at an Indiana boarding school, Nick returned to live with his father in St Louis where he began attending high school.

With Warren Bockwinkel constantly moving from territory to territory, Nick went to four high schools. He attended two high schools twice.

Think about that for a second. Six times Nick had to uproot himself and go to another school. Nick was an excellent high school football player and his prowess at fullback earned him a scholarship to the University of Oklahoma. His stay at the University of Oklahoma was a short one as Nick suffered two knee injuries which led to his scholarship being revoked after his sophomore season. Nick promptly transferred to UCLA.

His father Warren came up with the idea for Nick to become a professional wrestler in order for Nick to make enough money to put

himself through college.

In addition to learning the ropes from his father, Nick also received training to be a professional wrestler from Lou Thesz, Lord James Blears, Wilbur Snyder and Gene Kiniski. Exactly when Nick made his professional wrestling debut really isn't known. Here's what is known about the early portion of Nick Bockwinkel's career. According the wrestling historian George Schire, publisher of The Champion's Name Is Bockwinkel, the first match involving Nick that can be verified through newspaper clippings or eyewitness accounts was a draw against Ray Villmer on August 22nd, 1955 in Memphis, Tennessee. Nick may have teamed with his father Warren as early as 1954 but authenticated results of those matches have not been unearthed yet. Wrestling Title Histories published by Royal Duncan and Gary Will lists Nick Bockwinkel holding the Los Angeles version of the Beat The Champ International TV title in early 1955. Yet Wrestling Titles Histories does not mention which wrestler Nick beat for the title or which wrestler ended Nick's TV title reign. As I've noted in previous columns, compiling results from newspaper accounts and arena programs of old wrestling matches is an inexact science.

After the draw with Ray Villmer in Memphis and a loss to Chris Tolos one week later, Nick competed in Southern California for the next several months. He was usually billed as Young Nicky Bockwinkel, the old ladies' favorite. More...

If you'd like to discuss the AWA region with other fans, please visit the KM Message Board

KM DVD/VHS Store 4
Click here to purchase DVD or VHS products direct from the official distributors.
KM Replica Masks 4
Click here to purchase pro quality replica wrestling masks of all your favorite old school masked wrestlers.
KM Store 4
The KM Store now features products featuring the GCW logo as well as some other very cool images. To see what's new and to purchase T-Shirts, ball caps, mouse pads and more, click here.
KM Message Board 4
Want to chat with other fans of regional wrestling? This message board has forums for over two dozen promotions. Click here.
KM Belt Gallery 4
This section contains an extensive title belt gallery... images of heavyweight, tag, U.S. and various regional title belts. To view it, click here.
Old School Tape Review 4
Reviews of various PPV's, commercial tapes and regional wrestling TV shows are available in this section. To read more, click here.
Website designed & maintained by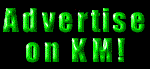 Thanks for visiting!