Regional Territories 4
This section contains monthly articles on over two dozen territories. To relive those wonderful days of old, click here.
Wrestlers 4
Enter this section for bios/profiles of various wrestlers from the regional days. To find more out about your favorite pro wrestler, click here.
Stories 4
This section contains stories from the pros themselves told exclusively to Kayfabe Memories. Want to know more as told from the wrestlers themselves? Click here.
Old School Book Reviews4
Click here to find various book reviews from old school wrestlers.
KM Links 4
For tons of links to old school related sites, click
here
.
KM Micro Wrestlers4
What are Micro Wrestlers? Click here
to find out.
KM Interviews... 4
Click here to read exclusive interviews with stars from the regional territories.
www.kayfabememories.com is © 2004 AtomDesigns. All promotional art, characters, logos and other depictions are © their respective owners. All Rights Reserved.
All contents save Wrestler Stories are © Kayfabe Memories.
Website designed and maintained by AtomDesigns © 2004 . If you experience any problems with this site or have any questions, please contact the Webmaster.
- Jim Zordani
By the time the 70s rolled around, the Crusher was entering the twilight of his wrestling career. Crusher no longer used the full nelson as his finishing maneuver instead choosing to use the two handed stomach claw to make his opponents submit. Another new weapon in the Crusher's offensive arsenal was the Bolo punch. The Crusher would wind up with his right hand and then deliver a right uppercut to his opponent's body rending said opponent lifeless on the mat. Crusher had moved away from power moves such as the full nelson and began incorporating comedy spots into his repertoire of ring techniques. One such comedy spot was using two of his fingers to poke his opponent in the eyes ala Moe Howard of the Three Stooges.
John Lanza started his wrestling career in 1963 and soon became known as Cowboy Jack Lanza. Lanza was a clean cut mid card baby face for the next few years gaining a reputation as a solid in ring worker. On June 24th, 1967 in Indianapolis, Indiana, Lanza shocked the wrestling world by turning on his partner Wilbur Snyder during a match against the Devils Duo of Angelo Poffo and Chris Markoff. Under the guidance of Pretty Boy Bobby Heenan, Cowboy Jack Lanza was transformed into Blackjack Lanza.
Lanza's heel turn was such a huge success that over the next couple of years Lanza and manager Bobby Heenan received bookings not only in Indianapolis but all over the Midwest in cities such as St Louis, Chicago, Minneapolis and Milwaukee. Lanza and Heenan invaded the AWA in August of 1969 with Lanza going on a huge winning streak and becoming one of the most hated men in the territory. After beating wrestler after wrestler set in front of him, Blackjack Lanza was matched against the Crusher during August of 1970. Bobby Heenan would often get involved in Lanza'a matches with Crusher causing Crusher to demand a series of handicap matches against the hated pair. The Crusher did win a few handicap matches against Lanza and Heenan settling the feud for the moment.
After failing to defeat Mad Dog and Butcher Vachon for the AWA tag team titles, Crusher and Dick the Bruiser only teamed together on special occasions. During the latter part of 1970 and the first half of 1971, Crusher's most frequent tag team partner was Bull Bullinski. Crusher and Bullinski met the Vachons on several occasions but did not win the AWA tag team titles.
More...
If you'd like to discuss the AWA region with other fans, please visit the KM Message Board

KM DVD/VHS Store 4
Click here to purchase DVD or VHS products direct from the official distributors.
KM Replica Masks 4
Click here to purchase pro quality replica wrestling masks of all your favorite old school masked wrestlers.
KM Store 4
The KM Store now features products featuring the GCW logo as well as some other very cool images. To see what's new and to purchase T-Shirts, ball caps, mouse pads and more, click here.
KM Message Board 4
Want to chat with other fans of regional wrestling? This message board has forums for over two dozen promotions. Click here.
KM Belt Gallery 4
This section contains an extensive title belt gallery... images of heavyweight, tag, U.S. and various regional title belts. To view it, click here.
Old School Tape Review 4
Reviews of various PPV's, commercial tapes and regional wrestling TV shows are available in this section. To read more, click here.
Website designed & maintained by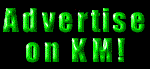 Thanks for visiting!