Regional Territories 4
This section contains monthly articles on over two dozen territories. To relive those wonderful days of old, click here.
Wrestlers 4
Enter this section for bios/profiles of various wrestlers from the regional days. To find more out about your favorite pro wrestler, click here.
Stories 4
This section contains stories from the pros themselves told exclusively to Kayfabe Memories. Want to know more as told from the wrestlers themselves? Click here.
Old School Book Reviews4
Click here to find various book reviews from old school wrestlers.
KM Links 4
For tons of links to old school related sites, click
here
.
KM Micro Wrestlers4
What are Micro Wrestlers? Click here
to find out.
KM Interviews... 4
Click here to read exclusive interviews with stars from the regional territories.
www.kayfabememories.com is © 2004 AtomDesigns. All promotional art, characters, logos and other depictions are © their respective owners. All Rights Reserved.
All contents save Wrestler Stories are © Kayfabe Memories.
Website designed and maintained by AtomDesigns © 2004 . If you experience any problems with this site or have any questions, please contact the Webmaster.
- Steven Rossi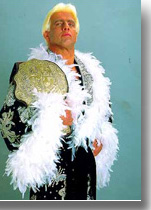 Richard Fliehr was born on 2/25/49 in Memphis, TN. The son of an obstetrician/gynecologist, he came from a fairly wealthy family. The Fliehrs moved to Edina, MN when Ric was a small child and soon after he discovered the sport that would one day make him an international superstar. Ric became a big AWA fan and idolized Verne Gagne, Dick the Bruiser, and Da Crusher. He was a good athlete in his own right and excelled in wrestling and football at his military school. He was a State champion in the heavyweight wrestling division and a 2-time All-Star linebacker. Ric also dabbled in basketball, track, and powerlifting. He attended the University of Minnesota where he made the football team as a walk-on. Ironically, his roommate was Mike Goldberg, future rival Bill Goldberg's older brother. Ric played offensive guard and defensive tackle, but was kicked off the team after his freshman year due to poor academic performance. He realized that he probably wasn't good enough to make it in the NFL anyway and decided that college wasn't for him, so dropped out and briefly worked as a life insurance salesman, a job which he hated. Against the wishes of his parents, he decided to try to break into the sport he loved, pro wrestling.
Ric contacted his hero, Verne Gagne, and signed up for his training camp, which was run by Gagne and Billy Robinson. Gagne and Robinson immediately saw immense potential in him, but rode him very hard and Ric dropped out not once, but twice. Thankfully, he returned a third time to withstand more of their abuse. Ken Patera, the Iron Sheik, Jim Brunzell, and Chris Taylor were his classmates.
Upon graduation, Fliehr transformed himself into Ric Flair. He made his pro debut on 12/10/72 for the AWA in Rice Lake, Wisconsin, going to a 10-minute time limit draw against "Scrap Iron" George Gadaski. At the time, he was still performing at his football weight and was a stocky 270 pounds. Flair spent 2 years in the AWA as a curtain-jerker. With less than one year experience, Flair made his acting debut, having a cameo in Ed Asner's movie "The Wrestler". In those early years, Flair frequently jobbed to the likes of Verne's son Greg Gagne, as well as Reggie Parks and classmate Chris Taylor. Verne used his connections to get Flair his first booking in Japan, where Flair wrestled for IWE.
While passing through the AWA, Mid-Atlantic star Wahoo McDaniel noticed Flair and saw great promise in him. Wahoo convinced Mid-Atlantic to bring him in May 1974, and this proved to be Flair's big break. Flair was billed as the cousin of Gene and Ole Anderson and the nephew of Rip Hawk. He lost a lot of weight, greatly improved his cardio, began bleaching his hair, developed his cocky attitude, introduced his signature "Whooooo!" and never looked back on his way to becoming one of the biggest stars in wrestling history. Hawk and Swede Hanson had been the top team in Mid-Atlantic, but Hanson suffered a heart attack and it was decided to have Flair replace him and team with his "uncle". On 7/4/74, Flair won the first title of his legendary career when he and Hawk defeated Paul Jones and Bob Bruggers for the Mid-Atlantic Tag championship. They had an impressive 7-month reign before losing to Jones and Tiger Conway, Jr. Flair's first feud continued as he and Jones had a series of singles matches with Flair beating Jones for the Mid-Atlantic TV title on 6/3/75 and dropping it back a week later. The next month, Flair took his next big step and won the Mid-Atlantic Heavyweight title. He quickly lost it to McDaniel, but the third year youngster was clearly on the way to superstardom. The legendary Johnny Valentine took him under his wing and began grooming him. The comparisons to Buddy Rogers began and Flair took on Rogers' nickname, "Nature Boy". More...

KM DVD/VHS Store 4
Click here to purchase DVD or VHS products direct from the official distributors.
KM Replica Masks 4
Click here to purchase pro quality replica wrestling masks of all your favorite old school masked wrestlers.
KM Store 4
The KM Store now features products featuring the GCW logo as well as some other very cool images. To see what's new and to purchase T-Shirts, ball caps, mouse pads and more, click here.
KM Message Board 4
Want to chat with other fans of regional wrestling? This message board has forums for over two dozen promotions. Click here.
KM Belt Gallery 4
This section contains an extensive title belt gallery... images of heavyweight, tag, U.S. and various regional title belts. To view it, click here.
Old School Tape Review 4
Reviews of various PPV's, commercial tapes and regional wrestling TV shows are available in this section. To read more, click here.
Website designed & maintained by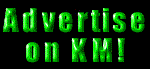 Thanks for visiting!