Regional Territories 4
This section contains monthly articles on over two dozen territories. To relive those wonderful days of old, click here.
Wrestlers 4
Enter this section for bios/profiles of various wrestlers from the regional days. To find more out about your favorite pro wrestler, click here.
Stories 4
This section contains stories from the pros themselves told exclusively to Kayfabe Memories. Want to know more as told from the wrestlers themselves? Click here.
Old School Book Reviews4
Click here to find various book reviews from old school wrestlers.
KM Links 4
For tons of links to old school related sites, click
here
.
KM Micro Wrestlers4
What are Micro Wrestlers? Click here
to find out.
KM Interviews... 4
Click here to read exclusive interviews with stars from the regional territories.
www.kayfabememories.com is © 2004 AtomDesigns. All promotional art, characters, logos and other depictions are © their respective owners. All Rights Reserved.
All contents save Wrestler Stories are © Kayfabe Memories.
Website designed and maintained by AtomDesigns © 2004 . If you experience any problems with this site or have any questions, please contact the Webmaster.
- Jeremy Turoff
This is RF Video's Shoot Interview with Don Muraco, conducted on 9/26/00 in Sunset Beach Hawaii.
The video starts off with footage of the classic "Entertainment Tonight" special, where Muraco and Roddy Piper poke fun at the viewing audience. Next up are some great promos with Muraco and Piper (including the historic angle where Piper saves Gordon Solie from a "Magnificent" beat down), and another segment with Wahoo McDaniel. We then move on to Muraco's home in Hawaii, where Rob Feinstein introduces us to the "Original Rock." They proceed to look back at Don's wrestling career, and talk about a variety of subjects:
How Muraco Broke into the Wrestling Business…
He's lived his entire life in Hawaii. An instant wrestling fan, he grew up having access to Chicago's wrestling programs, watching stars like Hans Schmidt, Verne Gagne, Rocca, and his mentor Lord Blears. He also watched the local wrestling scene, saying it was just like the current WWF without the pyrotechnics and women. Muraco was a high school athlete, and wanted to play football but he jokes that he "wasn't about to go to school for it."
In 1970, he hooked up with Blears, who sent him to Vancouver for six months wrestling veterans such as Mark Lewin, Dean Ho (Negucci), Bob Brown, and Gene Kiniski. From there, he went to Portland and worked with Lonnie Mayne and Dutch Savage. After a quick stint doing Florida TV with awful payoffs, he went to Los Angeles to visit his folks and find some work there. Mike Labelle and booker Charlie Moto had just shot the Blassie/Tolos blinding angle there. When Muraco returned to Hawaii, Blassie was actually a tenant in the building that his parents owned. He notes the 70s as a great learning experience.
Hawaii was doing great business for such a small population, and Muraco was having a blast. Back then, to be successful, you kind of had to be a natural, but the veterans would always work with the youngsters. Ripper Collins, Mayne, Rocky Montero, and Billy Robinson were great teachers. King Curtis always took care of him, even putting him over huge in a big match. Curtis wanted to keep Muraco in Hawaii, but Verne Gagne was visiting and convinced Don to come to Minneapolis. Working for the AWA ended up being his big break.
Working for AWA, San Francisco and the NWA Territories
Verne was a ruthless promoter who always wanted total control. He'd constantly be fighting with Larry Hennig. Muraco was making good money as a babyface tag team with Jimmy Snuka, but they absolutely hated Minneapolis life, so they left. He met up with Dusty Rhodes on their first trip to Japan. They were both terrified because they were basically being used as bodies for the Japanese stars. After the tour, Muraco went back and forth from San Francisco to the Southeast.
After his first Frisco stint, he went to work for Bill Watts in Florida. He was being hyped as "the next Jack Brisco," as they both had similar looks and builds. He compares the AWA old-timers (noting Ray Stevens as one of the best) with the young talent in Florida such as Dick Slater, the Briscos, Bob Armstrong, and the Mongolian Stomper. Muraco then returned to San Francisco to do some great broadways with Pat Patterson, laughing that Pat blew up early on one occasion.
More...

KM DVD/VHS Store 4
Click here to purchase DVD or VHS products direct from the official distributors.
KM Replica Masks 4
Click here to purchase pro quality replica wrestling masks of all your favorite old school masked wrestlers.
KM Store 4
The KM Store now features products featuring the GCW logo as well as some other very cool images. To see what's new and to purchase T-Shirts, ball caps, mouse pads and more, click here.
KM Message Board 4
Want to chat with other fans of regional wrestling? This message board has forums for over two dozen promotions. Click here.
KM Belt Gallery 4
This section contains an extensive title belt gallery... images of heavyweight, tag, U.S. and various regional title belts. To view it, click here.
Old School Tape Review 4
Reviews of various PPV's, commercial tapes and regional wrestling TV shows are available in this section. To read more, click here.
Website designed & maintained by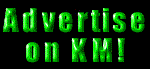 Thanks for visiting!