Regional Territories 4
This section contains monthly articles on over two dozen territories. To relive those wonderful days of old, click here.
Wrestlers 4
Enter this section for bios/profiles of various wrestlers from the regional days. To find more out about your favorite pro wrestler, click here.
Stories 4
This section contains stories from the pros themselves told exclusively to Kayfabe Memories. Want to know more as told from the wrestlers themselves? Click here.
Old School Book Reviews4
Click here to find various book reviews from old school wrestlers.
KM Links 4
For tons of links to old school related sites, click
here
.
KM Micro Wrestlers4
What are Micro Wrestlers? Click here
to find out.
KM Interviews... 4
Click here to read exclusive interviews with stars from the regional territories.
www.kayfabememories.com is © 2004 AtomDesigns. All promotional art, characters, logos and other depictions are © their respective owners. All Rights Reserved.
All contents save Wrestler Stories are © Kayfabe Memories.
Website designed and maintained by AtomDesigns © 2004 . If you experience any problems with this site or have any questions, please contact the Webmaster.
- Scott Keith
- Taped from Milwaukee, WI

- Your hosts are Sean Mooney, Superstar Graham and "Lord" Alfred Hayes.

- You probably have no idea what the hell this show is. It was, basically, a Wrestlemania IV followup show, kind of like the April PPV today in the WWF, except not on PPV. The stadium looks huge, about
40,000 or more. A little checking places attendance at 26,000ish.

- Opening match: The Killer Bees v. The Fabulous Rougeau Brothers. The Bees are into their goofy long tights mode, and are nearing the end of
their usefulness to the WWF. Fairly nondescript feeling out period establishes the Rougeaus as burgeoning cowardly heels, since the Jimmy
Hart thing was not yet in the cards. Funny bit as Raymond gets his knee worked on by the Bees, then heads to his corner to have some improvised
physiotherapy done by Jacques. Jacques tags in stalls to piss off the crowd, and Bees keep working on the knee. Kind of a lot of comedy stalling by the Rougeaus, but you have to have a lot of that broad
entertainment appeal for big stadium shows, because subtlety doesn't work on those in the cheap seats. B. Brian Blair turns his back at an inopportune moment and gets jumped, and plays face in peril for a few minutes before making the hot tag to Brunzell. Jim gets the figure-four on Jacques, and the Bees do their trademark spots. Brunzell goes to slam Jacques, but Raymond kicks him low and punches him in the head, thus putting Jacques on top for the pin. Not exactly a classic, but it
served it's purpose. **

- Bad News Brown v. Bret Hart. Welcome to Aborted Bret Hart Singles Push #1. But Vince was trying. He was trying. These guys did a million matches in Stampede, so they should be familiar with each other. The Bad News man batters Bret for a bit, but Bret leapfrogs him on a cross-corner whip and hits a couple of the five moves of doom (no capitalization warranted yet), then throws in some heel moves. He eats boot on a blind charge, however, and Bad News goes to the top. Bret was faking, however, and slams him off for two. Suplex and legdrop gets
two. Bad News rakes Bret's eyes to block the backbreaker and goes to work. He rips Bret's head off with a clothesline (BNB is my hero). Bret ducks the Ghetto Blaster and dumps Bad News over the top. He follows with a pescado, drawing "ooohs" from the crowd. Bret goes back to work, hitting a cross-body for two, but getting dumped out of the ring on the two-count. He sunset flips back in for two. Backbreaker gets two. Rollup for two. Bad News reverses for three, with a handful of tights.
Great match for the time. ***1/2

- Intercontinental title match: Honky Tonk Man v. Hacksaw Duggan. Many wrestlers WISH they could draw heat, money and the fans' general disgust
like HTM could. This is formula Honky: Duggan destroys him with all the kicks and punches in his arsenal, Honky cheats to come back, Duggan
comes back again and hits his finisher, Jimmy Hart draws the DQ. Later, rinse, repeat. * More...

KM DVD/VHS Store 4
Click here to purchase DVD or VHS products direct from the official distributors.
KM Replica Masks 4
Click here to purchase pro quality replica wrestling masks of all your favorite old school masked wrestlers.
KM Store 4
The KM Store now features products featuring the GCW logo as well as some other very cool images. To see what's new and to purchase T-Shirts, ball caps, mouse pads and more, click here.
KM Message Board 4
Want to chat with other fans of regional wrestling? This message board has forums for over two dozen promotions. Click here.
KM Belt Gallery 4
This section contains an extensive title belt gallery... images of heavyweight, tag, U.S. and various regional title belts. To view it, click here.
Old School Tape Review 4
Reviews of various PPV's, commercial tapes and regional wrestling TV shows are available in this section. To read more, click here.
Website designed & maintained by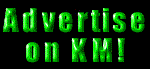 Thanks for visiting!