Regional Territories 4
This section contains monthly articles on over two dozen territories. To relive those wonderful days of old, click here.
Wrestlers 4
Enter this section for bios/profiles of various wrestlers from the regional days. To find more out about your favorite pro wrestler, click here.
Stories 4
This section contains stories from the pros themselves told exclusively to Kayfabe Memories. Want to know more as told from the wrestlers themselves? Click here.
Old School Book Reviews4
Click here to find various book reviews from old school wrestlers.
KM Links 4
For tons of links to old school related sites, click
here
.
KM Micro Wrestlers4
What are Micro Wrestlers? Click here
to find out.
KM Interviews... 4
Click here to read exclusive interviews with stars from the regional territories.
www.kayfabememories.com is © 2004 AtomDesigns. All promotional art, characters, logos and other depictions are © their respective owners. All Rights Reserved.
All contents save Wrestler Stories are © Kayfabe Memories.
Website designed and maintained by AtomDesigns © 2004 . If you experience any problems with this site or have any questions, please contact the Webmaster.
- Scott Keith
· Live from Nashville, Tennessee, which is somewhere near Spokane, I think.
· Jim Ross & Bob Caudle are your hosts.
· Opening match: The Great Muta v. Doug Gilbert
Doug would be the Gilbert brother who has the distinction of still being alive today. This match is why I hate Muta so much today, namely because he was so far over what everyone else in North American wrestling was doing it's just sickening, and now he's still doing the same stuff nine years later with no growth or change or effort put into it. Gilbert is subbing for the Junkyard Dog here. Aw, that's a shame. Muta does everything crisp and smooth, and it's still amazing to watch him do his thing. He pulls out a pescado before JR even knew what to call it, and finishes Gilbert off quickly with the moonsault. *** Odd stat: Announced time of match was 3:16.
· Butch Reed v. Ranger Ross
This was pre-Doom for Reed, back when the NWA had him and didn't know what to do with him. "Hey, let's team him up with the other black guy in the fed, there's a great idea." Well, I guess sometimes racial intolerance breeds good things? Ranger Ross is just some guy, basically. I never heard of him again after 1989, that's for sure. His gimmick is that of an Army Ranger, much like Craig Pittman. Most of his offense is kicking and punching while jumping up and down and flailing his limbs, which JR calls "martial arts." Uh huh. This is back before the letters "UFC" meant anything when typed together, of course. This match was heavily edited for time reasons (thank god) but I've seen it in full and Reed basically weathers a bunch of kicks and punches and puts Ross away with a shoulderblock off the top rope at will. (no rating due to editing).
· I really dislike Gary Michael Capetta's whiny announcing, by the way.
· Bullrope match: Bob Orton v. Dick Murdoch
Oh, this is too damn exciting. If you think WCW has a dinosaur problem now... This match came about because of various nefarious dealings on Gary Hart's part at Clash VI which resulted in Murdoch being punked by Orton. And since Dick is from Texas, naturally they have a bullrope match. This is about as anti-hardcore as you can get, as both guys barely make contact with each other. More...

KM DVD/VHS Store 4
Click here to purchase DVD or VHS products direct from the official distributors.
KM Replica Masks 4
Click here to purchase pro quality replica wrestling masks of all your favorite old school masked wrestlers.
KM Store 4
The KM Store now features products featuring the GCW logo as well as some other very cool images. To see what's new and to purchase T-Shirts, ball caps, mouse pads and more, click here.
KM Message Board 4
Want to chat with other fans of regional wrestling? This message board has forums for over two dozen promotions. Click here.
KM Belt Gallery 4
This section contains an extensive title belt gallery... images of heavyweight, tag, U.S. and various regional title belts. To view it, click here.
Old School Tape Review 4
Reviews of various PPV's, commercial tapes and regional wrestling TV shows are available in this section. To read more, click here.
Website designed & maintained by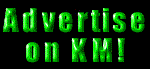 Thanks for visiting!