Regional Territories 4
This section contains monthly articles on over two dozen territories. To relive those wonderful days of old, click here.
Wrestlers 4
Enter this section for bios/profiles of various wrestlers from the regional days. To find more out about your favorite pro wrestler, click here.
Stories 4
This section contains stories from the pros themselves told exclusively to Kayfabe Memories. Want to know more as told from the wrestlers themselves? Click here.
Old School Book Reviews4
Click here to find various book reviews from old school wrestlers.
KM Links 4
For tons of links to old school related sites, click
here
.
KM Micro Wrestlers4
What are Micro Wrestlers? Click here
to find out.
KM Interviews... 4
Click here to read exclusive interviews with stars from the regional territories.
www.kayfabememories.com is © 2004 AtomDesigns. All promotional art, characters, logos and other depictions are © their respective owners. All Rights Reserved.
All contents save Wrestler Stories are © Kayfabe Memories.
Website designed and maintained by AtomDesigns © 2004 . If you experience any problems with this site or have any questions, please contact the Webmaster.
- Bob Jinkerson
Because of the nature of the wrestling business today, wrestling history is often ignored or overlooked. When it is acknowledged, it is usually done so only to suit the purposes of the promotion in its present form and then it is often revised or distorted beyond recognition. As a result, sometimes even some longtime fans forget what really happened years ago.
In this first of a series of articles, I will discuss the beginning of what is now the WWF (World Wrestling Federation). Before cable TV, before pay-per-view, before Wrestlemania, before Hulk Hogan, before Stone Cold or Mankind, before Chyna, Sable or Debra there was an organization called the World Wide Wrestling Federation (WWWF). It controlled the wrestling business up and down the Eastern seaboard from the early 60s until the beginning of national expansion.
There are conflicting stories as to the formation of the World Wide Wrestling Federation, but this much is known: When the great Lou Thesz defeated Buddy Rogers in one fall in Toronto and was awarded the NWA title, certainly the most widely recognized version of the world title and the one with the most prestigious lineage, a group of Eastern promoters led by Vince McMahon, Senior refused to recognize Thesz, ostensibly giving the reason that Thesz had won the belt in a one fall match.
What is more likely the case, however, is that McMahon and the others knew they had a potential goldmine on their hands in the person of Bruno Sammartino, a wrestler and weightlifter from Pittsburgh who was of Italian descent. Antonino Rocca had been the top draw in the East for years, but his ego had caused him to break away from McMahon and try to promote his own cards and TV shows (which failed miserably).
Sammartino had beaten Rogers in Toronto the year before, but had refused the title because Rogers was injured. He was already a drawing card, not just with ethnic appeal to the Italian population but because of his strength and ability to overcome the heels. The question remaining was how to put the new title belt over to the fans in the East and get the strap on their man. McMahon and Willie Gilzenburg, the first president of the WWWF, set about to do just that.
Once the WWWF was formed and the refusal to recognize Thesz and the NWA was official, a tournament was supposedly held to determine the first champion of the WWWF. There is no documentation of the tournament matches (which leads many to suspect that it was a "phantom" tournament), but the record books indicate the final was won by Rogers over Rocca in Rio De Janeiro in April of 1963. This led to the legendary matchup between Rogers and Sammartino, held at Madison Square Garden on May 17, 1963 and won in 48 seconds by Sammartino after a series of dropkicks, a bearhug and an Italian backbreaker. (Interesting sidenote: one of the spectators at this match was the late Andy Kaufman. He talked about it in an interview on Tom Snyder's old "Tomorrow" show several years before his death. Rogers had been his early inspiration as a wrestling personality).
Under most circumstances, a 48 second match might be seen as a screw job for the fans. But Rogers was arguably the most hated heel in the history of professional wrestling. He wasn't even well liked by his peers. The pop created by such an impressive win was just what this new organization needed to put Sammartino over.
This victory began one of the most successful title reigns in the history of professional wrestling, in terms of both longevity and box office. Bruno defended the WWWF title in the Garden, Baltimore, Washington DC, Pittsburgh, Long Island and many other spots in the East. He worked programs with most of the top heels in the country and formed partnerships with other top babyfaces which almost always resulted in a turn against Bruno. The most legendary examples of this are "Cowboy" Bill Watts, Spiros Arion and Larry Zbysko.
As the 70s began, the WWWF expanded into Boston and Philadelphia, two cities that had remained independent territories to that point. One partner of Bruno's that the promotion did not turn due to his ethnic popularity which, while not equal to Bruno's, was significant was Puerto Rican star Pedro Morales, the man being groomed to take Sammartino's place as champion.
More...

KM DVD/VHS Store 4
Click here to purchase DVD or VHS products direct from the official distributors.
KM Replica Masks 4
Click here to purchase pro quality replica wrestling masks of all your favorite old school masked wrestlers.
KM Store 4
The KM Store now features products featuring the GCW logo as well as some other very cool images. To see what's new and to purchase T-Shirts, ball caps, mouse pads and more, click here.
KM Message Board 4
Want to chat with other fans of regional wrestling? This message board has forums for over two dozen promotions. Click here.
KM Belt Gallery 4
This section contains an extensive title belt gallery... images of heavyweight, tag, U.S. and various regional title belts. To view it, click here.
Old School Tape Review 4
Reviews of various PPV's, commercial tapes and regional wrestling TV shows are available in this section. To read more, click here.
Website designed & maintained by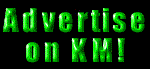 Thanks for visiting!