Regional Territories 4
This section contains monthly articles on over two dozen territories. To relive those wonderful days of old, click here.
Wrestlers 4
Enter this section for bios/profiles of various wrestlers from the regional days. To find more out about your favorite pro wrestler, click here.
Stories 4
This section contains stories from the pros themselves told exclusively to Kayfabe Memories. Want to know more as told from the wrestlers themselves? Click here.
Old School Book Reviews4
Click here to find various book reviews from old school wrestlers.
KM Links 4
For tons of links to old school related sites, click
here
.
KM Micro Wrestlers4
What are Micro Wrestlers? Click here
to find out.
KM Interviews... 4
Click here to read exclusive interviews with stars from the regional territories.
www.kayfabememories.com is © 2004 AtomDesigns. All promotional art, characters, logos and other depictions are © their respective owners. All Rights Reserved.
All contents save Wrestler Stories are © Kayfabe Memories.
Website designed and maintained by AtomDesigns © 2004 . If you experience any problems with this site or have any questions, please contact the Webmaster.
- Tim Bland
The year of 1978 started off with significant action in the WWWF Jr.Heavyweight division. On 1/20/78 in Uniondale, NY, Jose Estrada defeated Tony Garea for the WWWF Jr. Heavyweight belt, which up until this time was a forgotten belt. His reign did not last a week, as three days later, in Madison Square Garden, NY, Japanese sensation Tatsumi Fujinami won the belt to begin a long reign, until he eventually outgrew the division in 1981.
On 2/18/78, in a steel cage match, then WWWF champion "Superstar" Billy Graham put his belt on the line against former champion "The Living Legend" Bruno Sammartino. They waged a classic war with what may be the king of all screw job endings. Bruno was dominating Graham. The "Superstar" was on the verge of losing the belt back to the man he had defeated less than a year earlier in Baltimore, MD for the belt. The end of the match came when Bruno kicked the bloodied Graham so hard that he went through the cage door and was declared the victor, thus retaining the WWWF championship title belt.
Two nights later, Bob Backlund defeated him for the championship in Madison Square Garden in a match that ended with Graham's foot on the ropes when he was pinned by Backlund. The decision stood, in a way payback for the way Billy had stolen the belt from Bruno on 4/30/77, pinning Sammartino with leverage from the ropes. Backlund became a marked man, as managers Fred Blassie, the Grand Wizard and Lou Albano brought in a succession of heels in an attempt to take the belt. He defended the WWWF championship against the tag team champions, Toru Tanaka and Mr. Fuji in singles matches, Stan Stasiak and Spiros Arion, but his strongest immediate challenge came from the "Olympic Strongman" Ken Patera.
The popular team of Dominic Denucci and Canadian strongman, Dino Bravo defeated Fred Blassie's tag team of Prof. Toru Tanaka and Mr. Fuji for the WWWF tag team belts on 3/14/78 in Philadelphia, PA. Lou Albano showed back up in the tag team scene, managing a new team called the Yukon Lumberjack's, Pierre (Zarinoff LeBeouf) and Eric (Scott "Hog" Irwin), that soon proved to be serious challengers for Denucci and Bravo. With their brute force and size advantage with Eric, plus Lou Albano with his interference, the Yukon Lumberjack's were soon deemed the number one contendors for the WWWF tag team championship.
They defeated numerous combinations of Chief Jay Strongbow, Peter Maivia, Dominic Denucci, Tony Garea, Larry Zybysko, SD "Special Delivery" Jones, among other mid-carders at house shows and on TV.
Bob Backlund was put over strong at the beginning of his reign. His Atomic Drop finisher, which was when Backlund would pick his opponent up as if to Back Suplex them only to drop them forward onto his knee tailbone first, was put over as a devastating move. On 3/27/78, in Boston, Backlund defended the belt against Ken Patera. Backlund hit the Atomic Drop on Patera, who proceeded to run to the dressing room and get counted out. Also on that same 3/27/78 Boston card, Haystacks Calhoun and Larry Zybysko faced former WWWF champion Stan "the Man" Stasiak and "Butcher" Paul Vachon in a tag team match. "Superstar" Billy Graham battled "American Dream" Dusty Rhodes with Andre the Giant as the special referee, as Dusty Rhodes came north from Florida to feud with Graham.
The "Superstar" made one more run at getting the belt back from Backlund over the summer and fall of 1978. In June, in Providence, RI, Backlund defended his title for the first time in New England against Graham. The referee stopped the match, awarding the victory but not the belt to Graham, as he deemed Backlund too bloody to continue. It seemed like only a matter of time before the "Superstar" would defeat the upstart Backlund and regain the WWWF championship belt.
On 6/26/78 in Madison Square Garden, NY, the Yukon Lumberjack's defeated Denucci and Bravo for the WWWF tag team belts. Lou Albano was once again the manager of the tag team champions. They were immediately faced with the challenge of the experienced fan favorite team of Tony Garea and Larry Zybysko. Chief Jay Strongbow and High Chief Peter Maivia also made a strong challenge to the new tag team champions.
More...

KM DVD/VHS Store 4
Click here to purchase DVD or VHS products direct from the official distributors.
KM Replica Masks 4
Click here to purchase pro quality replica wrestling masks of all your favorite old school masked wrestlers.
KM Store 4
The KM Store now features products featuring the GCW logo as well as some other very cool images. To see what's new and to purchase T-Shirts, ball caps, mouse pads and more, click here.
KM Message Board 4
Want to chat with other fans of regional wrestling? This message board has forums for over two dozen promotions. Click here.
KM Belt Gallery 4
This section contains an extensive title belt gallery... images of heavyweight, tag, U.S. and various regional title belts. To view it, click here.
Old School Tape Review 4
Reviews of various PPV's, commercial tapes and regional wrestling TV shows are available in this section. To read more, click here.
Website designed & maintained by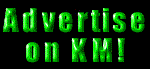 Thanks for visiting!