Regional Territories 4
This section contains monthly articles on over two dozen territories. To relive those wonderful days of old, click here.
Wrestlers 4
Enter this section for bios/profiles of various wrestlers from the regional days. To find more out about your favorite pro wrestler, click here.
Stories 4
This section contains stories from the pros themselves told exclusively to Kayfabe Memories. Want to know more as told from the wrestlers themselves? Click here.
Old School Book Reviews4
Click here to find various book reviews from old school wrestlers.
KM Links 4
For tons of links to old school related sites, click
here
.
KM Micro Wrestlers4
What are Micro Wrestlers? Click here
to find out.
KM Interviews... 4
Click here to read exclusive interviews with stars from the regional territories.
www.kayfabememories.com is © 2004 AtomDesigns. All promotional art, characters, logos and other depictions are © their respective owners. All Rights Reserved.
All contents save Wrestler Stories are © Kayfabe Memories.
Website designed and maintained by AtomDesigns © 2004 . If you experience any problems with this site or have any questions, please contact the Webmaster.
- Bill Camp
This month's column concerns a legend of the squared circle who transcended both age and race. Bobo Brazil was possibly the first African-American pro wrestler to regularly main event cards in main-stream arenas. He was a major figure in Los Angeles, Detroit, and the World Wide Wrestling Federation, where he was even inducted into the WWF Hall of Fame in 1993.
Born by the name of Houston Harris in the early 1920s, Brazil was a natural for the wrestling ring, standing 6-feet, 6-inches and around 300 pounds. From his home in Benton Harbor, Michigan, Brazil worked as a fruit-picker during the day and played baseball for a touring team by night. He began training for the ring under the tutelage of former World Champion, "Jumping" Joe Savoldi in the 1940s. Brazil credits his training with Savoldi for the move which Brazil made famous and used for numerous years as his finisher, the coco-butt (sometimes called the coco-bump). Here is an excerpt of an interview with Bobo Brazil from around 1963 courtesy of "The Wrestling Gospel according to Mike Mooneyham"
Joe felt that every part of your body should be in shape. And that meant the head, also," Brazil said in a 1963 interview. "So Joe brought a piece of plywood with him one day to the gym and had me butting my head against it. Talk about headaches. I really had them the first couple of months. Finally, it got to the point where I began to crack the wood and only then did Joe feel my head was hard enough.
"I didn't know what Joe had in mind. I thought he was toughening up my head for any hard falls I might incur in the ring. Well, he made me put it to a better use my pulling my opponent toward me, holding the back of his head and bumping him on the forehead with my forehead."
Brazil was not only big, especially compared to most other wrestlers of that time (even big by today's standards really), but Brazil could really move for a man his size. He was proficient at the flying headscissors, and when sent to the turnbuckles, he would often catch his opponent in a scissors, then hit a scissor kick, somewhat similar to what Booker T does today.
Brazil's popularity with the WWWF actually predates the federation's own existence. Bobo almost won the NWA World Heavyweight Title in a match at Comisky Park in Chicago, IL, when Vince McMahon, Sr. was still working there behind the scenes under promoter Fred Kohler (some would say McMahon was actually calling the shots, while by this time, Kohler was a figurehead). But this match showed that Brazil could be a credible challenger to anyone, especially the most despised man in any promotion. In fact, Brazil faced Buddy Rogers in what is considered the very first WWWF World Heavyweight Title defense in the promotion's history. On January 25, 1963, the day after Lou Thesz defeated Rogers for the NWA World Title, Vince McMahon, Sr. announced the formation of his new promotion, the World Wide Wrestling Federation. That night, Rogers defeated Brazil in New Haven, CT, in a World Title match, according to Graham Cawthorn's site of WWWF arena results.
Brazil's main opponents in the WWWF are basically the same as those he faced in other arenas, namely Fred Blassie and The Sheik. In fact, Brazil's popularity in the WWWF at the time was second only to Bruno Sammartino's himself. The men often teamed, and the night Bruno defeated Rogers for the title in Madison Square Garden in the famed 48 second match, Brazil teamed with Dory Dixon to wrestle U.S. Tag Team Champions Brute Bernard and Skull Murphy to a time limit draw.
Brazil would often main event shows where Bruno did not appear. Brazil and Bruno teamed up to wrestle The Sheik and Gorilla Monsoon to a draw in Washington, D.C. in October of 1968. In 1971 Bobo Brazil returned to the Federation billed as the United States Champion, an alcolade later held by Pedro Morales. In January 1972, Brazil defeated Fred Blassie by count-out in Washington, D.C. In 1975 he was once again being billed as U.S. Champion in a series of Philadelphia Arena shows. In 1976 Brazil formed a semi-regular tag team with then newcomer Special Delivery Jones. More...

KM DVD/VHS Store 4
Click here to purchase DVD or VHS products direct from the official distributors.
KM Replica Masks 4
Click here to purchase pro quality replica wrestling masks of all your favorite old school masked wrestlers.
KM Store 4
The KM Store now features products featuring the GCW logo as well as some other very cool images. To see what's new and to purchase T-Shirts, ball caps, mouse pads and more, click here.
KM Message Board 4
Want to chat with other fans of regional wrestling? This message board has forums for over two dozen promotions. Click here.
KM Belt Gallery 4
This section contains an extensive title belt gallery... images of heavyweight, tag, U.S. and various regional title belts. To view it, click here.
Old School Tape Review 4
Reviews of various PPV's, commercial tapes and regional wrestling TV shows are available in this section. To read more, click here.
Website designed & maintained by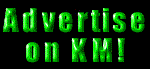 Thanks for visiting!