Regional Territories 4
This section contains monthly articles on over two dozen territories. To relive those wonderful days of old, click here.
Wrestlers 4
Enter this section for bios/profiles of various wrestlers from the regional days. To find more out about your favorite pro wrestler, click here.
Stories 4
This section contains stories from the pros themselves told exclusively to Kayfabe Memories. Want to know more as told from the wrestlers themselves? Click here.
Old School Book Reviews4
Click here to find various book reviews from old school wrestlers.
KM Links 4
For tons of links to old school related sites, click
here
.
KM Micro Wrestlers4
What are Micro Wrestlers? Click here
to find out.
KM Interviews... 4
Click here to read exclusive interviews with stars from the regional territories.
www.kayfabememories.com is © 2004 AtomDesigns. All promotional art, characters, logos and other depictions are © their respective owners. All Rights Reserved.
All contents save Wrestler Stories are © Kayfabe Memories.
Website designed and maintained by AtomDesigns © 2004 . If you experience any problems with this site or have any questions, please contact the Webmaster.
- Bill Camp
Last month I said I was going to write about a professional wrestler, commentator, Navy seal, actor, TV and radio personality, and politician, but I forgot to mention he is also a Harvard professor. If you haven't figured it out by now, I'm speaking of Jesse "The Body" Ventura. In fact, looking back on his career today, it's difficult to imagine that he ever was a professional wrestler.
Born Jim Janos on July 15, 1951 in Minnesota, Jesse Ventura joined the Navy and served in Southeast Asia during Vietnam. There he was tested with the highly controversial Agent Orange which would have serious repercussions later on in his career. He was trained for the ring by legendary AWA superstar Verne Gagne and debuted in the mid 1970s. He didn't make much of an impact until traveling to San Diego to wrestle for a spell then he came back with the "Body" persona. Basically, he took it or paid homage to "Superstar" Billy Graham. Concerning stealing his character, Graham once noted that a lot of wrestlers stole from his gimmick, but that was a sincere form of flattery in the wrestling business. When talking about Ventura, Graham once said, "Jesse Ventura was the one man who could do 'Superstar' Billy Graham better than I could do myself."
In the AWA he was teamed up with Adrian Adonis, and they made a very formidable team. Adonis was the master worker in the ring, while Ventura was an ace on the mic. Together they were an almost perfect duo. They held the AWA World Tag Team Titles on numerous occasions, and feuded heavily with the High Fliers, "Jumping" Jim Brunzell and Greg Gagne.
They took the tandem to the WWF in early 1982, for Ventura's first real run in the territory. However, instead of giving them a run with the tag team titles, they were packaged as Fred Blassie's one-two punch to get the WWF title off of Bob Backlund. While Ventura received the first run of shots at Backlund's title, it was the matches with Adonis that wowed fans and are now best remembered. "The Body" left shortly after he and Adonis lost to the Strongbow Brothers at New York's Madison Square Gardens.
Ventura would return to the WWF in mid-1984 as an active wrestler. For a finisher at this time he used an over-the-shoulder backbreaker submission hold. He returned, nearest I could tell, at the Capitol Centre in Landover, Maryland in June with a win over "Chief" Jay Strongbow. His first big feud during this run was against Ivan Putski. The two had an arm-wrestling match on TV, and Jesse continuously cheated by pulling on the edge of the table. But when Putski was about to win, Ventura yanked him onto the table and smashed him with a chair several times.
He also received a few shots at World Champion Hulk Hogan, but later no showed a series of matched with the Champ. It turns out Agent Orange, which he had been given in the military gave him blood clots in his lungs, and Jesse was on the sidelines. He found himself behind a microphone as an announcer in either late 84 or early 85. This would be where Ventura would shine brighter than ever before in his wrestling career. As a heel announcer, Jesse brought a fresh and original perspective to announcing. He may not have been the first heel announcer, but he was certainly the one who created the mold for all future heel announcers.
However, he continued wrestling in the ring, and received several shots at Tito Santana's Intercontinental Title. He even once defeated Santana by count-out on Prime Time Wrestling. Both men were wrestling on the outside, and Jesse made it in first, but Santana fell Ventura with a shoulder block and snapped himself inside for a splash and pin, but referee had already counted 10. Ventura was already co-hosting Prime Time Wrestling by this time, as well as co-hosting All Star Wrestling with Gorilla Monsoon.
Once the expansion years fell on us, Jesse found himself a bit part in PREDATOR (1987), which starred current California Governator, Arnold Schwarzenegger. This launched a new avenue for "The Body" and he appeared in several films, including starring in the made-for-TV movie TAG TEAM (1991) co-starring Roddy Piper. He also appeared in THE RUNNING MAN (1987), RICOCHET (1991), DEMOLISION MAN (1993), MAJOR LEAGUE II (1994), and BATMAN AND ROBIN (1997). More...

KM DVD/VHS Store 4
Click here to purchase DVD or VHS products direct from the official distributors.
KM Replica Masks 4
Click here to purchase pro quality replica wrestling masks of all your favorite old school masked wrestlers.
KM Store 4
The KM Store now features products featuring the GCW logo as well as some other very cool images. To see what's new and to purchase T-Shirts, ball caps, mouse pads and more, click here.
KM Message Board 4
Want to chat with other fans of regional wrestling? This message board has forums for over two dozen promotions. Click here.
KM Belt Gallery 4
This section contains an extensive title belt gallery... images of heavyweight, tag, U.S. and various regional title belts. To view it, click here.
Old School Tape Review 4
Reviews of various PPV's, commercial tapes and regional wrestling TV shows are available in this section. To read more, click here.
Website designed & maintained by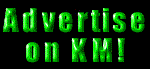 Thanks for visiting!