Regional Territories 4
This section contains monthly articles on over two dozen territories. To relive those wonderful days of old, click here.
Wrestlers 4
Enter this section for bios/profiles of various wrestlers from the regional days. To find more out about your favorite pro wrestler, click here.
Stories 4
This section contains stories from the pros themselves told exclusively to Kayfabe Memories. Want to know more as told from the wrestlers themselves? Click here.
Old School Book Reviews4
Click here to find various book reviews from old school wrestlers.
KM Links 4
For tons of links to old school related sites, click
here
.
KM Micro Wrestlers4
What are Micro Wrestlers? Click here
to find out.
KM Interviews... 4
Click here to read exclusive interviews with stars from the regional territories.
www.kayfabememories.com is © 2004 AtomDesigns. All promotional art, characters, logos and other depictions are © their respective owners. All Rights Reserved.
All contents save Wrestler Stories are © Kayfabe Memories.
Website designed and maintained by AtomDesigns © 2004 . If you experience any problems with this site or have any questions, please contact the Webmaster.
- Bill Camp
This month's column will be about a man who spent over 30 years with the World Wide Wrestling Federation as a commentator, road agent, and yes, even an active wrestler, specializing in tag team wrestling. In fact he's even with company to this day working in the front office. If you haven't figured it out by now, I'm speaking of former 5-time co-holder of the World Tag Team Titles, Tony Garea.
Garea was born in Auklund, New Zealand, and came to the States at an early age. He made his pro wrestling debut in 1972, making his first appearances with the WWWF in October of that year. He made an early impact by mid-1973 by teaming with the 601 pound Haystacks Calhoune to defeat World Tag Team Champions Mr. Fuji & Prof. Tanaka on national TV in a non-title match. Just a few weeks later they defeated the team a second time for the titles, again on TV. Although the title reign was short lived, it made Garea an instant star and a mainstay with the company's tours. By the end of 1973 Garea found another partner in Hawaiian star Dean Ho, who already made a name for himself on the West Coast and Hawaii.
He had a varied style in the ring. Garea was not a small man by any means, but he could move in the ring, and was doing flying headscissors, flying headlocks, and dropkicks before many others in the WWWF, and he could move far better than most men his size.
Tony Garea was so impressive that year, Pro Wrestling Illustrated named him the magazine's rookie of the year for 1973 (tying with Cowboy Bob Orton, who also debuted that year). Although Garea & Ho turned back many challenges, such as those from Fuji & Tanaka, and various partners of Larry "The Ax" Henning, they eventually lost the straps to the Valiants.
Garea & Ho remained a tandem for several years afterwards, and remained an important part of the Federation's tag team picture. Together they got wins over such notable names as Nikolai Volkoff & Otto Von Heller, Killer Kowalski & Bobby Duncum, and had memorable matches against The Blackjacks.
But sometime around 1975, Ho & Garea left the federation. Not finding pastures any greener in other promotions, Garea returned in 1977. This time he had a slightly different role. He now had a higher level of experience and was used to help younger wrestlers learn the ropes by being a tag team partner. In the arenas he was paired up with a youngster from Pittsburgh, who was trained by none other than Bruno Sammartino, named Larry Zbyzsko.
Zbyzsko needed someone to help him learn how to work in front of a live crowd and it gave him the opportunity to work with an established star who help him gain popularity with WWWF fans. On TV Garea was paired up with a man they were grooming to become the new World Heavyweight Champion, Bob Backlund.
When "Superstar" Bill Graham defeated Bruno Sammartino for the World Title in 1977, it presented a unique opportunity for Garea and other babyfaces to finally work main events against the World Champion. Garea got such opportunities during the time of Graham's reign, including Graham's initial Madison Square Garden defense. Although Garea came up a bit short in his efforts, he also received numerous title shots in many of the federation's smaller venues.
Back in tag team action, Garea & Zbyzsko also had a series of matches against The Executioners (Killer Kowalski & John Studd under masks) in 1977, just after the Executioners' tag team title reign ended. Garea even got wins over various Executioners in singles matches. Garea & Zbyszko also received wins over such notable teams as Baron Von Rashke & Nikolai Volkoff, Stan Staziak & Baron Mikel Scicluna, and many near wins over World Tag Team Champions again Mr. Fuji & Prof. Toru Tanaka. Another regular team that had many battles with Garea & Zbyszko in late 1977 was Jack Evans & "Pretty Boy" Larry Sharpe.
Garea & Zbyszko's team wins over Evans & Sharpe catapulted them back into contention to win the Titles, the third time for Garea. But it wouldn't be over Fuji & Tanaka. Garea began teaming semi-regularly with Dominic Denucci, and at other times Dino Bravo in early 1978, but it would be Denucci & Bravo who would unrest the titles from Fuji & Tanaka.
More...

KM DVD/VHS Store 4
Click here to purchase DVD or VHS products direct from the official distributors.
KM Replica Masks 4
Click here to purchase pro quality replica wrestling masks of all your favorite old school masked wrestlers.
KM Store 4
The KM Store now features products featuring the GCW logo as well as some other very cool images. To see what's new and to purchase T-Shirts, ball caps, mouse pads and more, click here.
KM Message Board 4
Want to chat with other fans of regional wrestling? This message board has forums for over two dozen promotions. Click here.
KM Belt Gallery 4
This section contains an extensive title belt gallery... images of heavyweight, tag, U.S. and various regional title belts. To view it, click here.
Old School Tape Review 4
Reviews of various PPV's, commercial tapes and regional wrestling TV shows are available in this section. To read more, click here.
Website designed & maintained by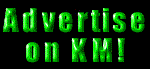 Thanks for visiting!