Regional Territories 4
This section contains monthly articles on over two dozen territories. To relive those wonderful days of old, click here.
Wrestlers 4
Enter this section for bios/profiles of various wrestlers from the regional days. To find more out about your favorite pro wrestler, click here.
Stories 4
This section contains stories from the pros themselves told exclusively to Kayfabe Memories. Want to know more as told from the wrestlers themselves? Click here.
Old School Book Reviews4
Click here to find various book reviews from old school wrestlers.
KM Links 4
For tons of links to old school related sites, click
here
.
KM Micro Wrestlers4
What are Micro Wrestlers? Click here
to find out.
KM Interviews... 4
Click here to read exclusive interviews with stars from the regional territories.
www.kayfabememories.com is © 2004 AtomDesigns. All promotional art, characters, logos and other depictions are © their respective owners. All Rights Reserved.
All contents save Wrestler Stories are © Kayfabe Memories.
Website designed and maintained by AtomDesigns © 2004 . If you experience any problems with this site or have any questions, please contact the Webmaster.
- Bill Camp
This month I decided to talk about a World Wide Wrestling Federation legend who wrestled under the name of "Chief" Jay Strongbow. Although he was not used regularly in main events, and never held a major singles title in his career in the WWF, he remained one of the most beloved wrestled who worked near the top consistently, and was still a consistent draw for the promotion. However, Strongbow, was not really Native American at all, but was actually played by Joe Scarpa, of Italian descent.
Scarpa began wrestling long before taking on the moniker of Native American, and wearing a head dress. I can trace his career as far back as 1960, when he was still wrestling under his real name. His biggest success at that time came in Alabama, and although I've never seen tape of Joe Scarpa, I've heard that he was almost unrecognizable to the style of the Chief. One major side note to the career of Scarpa, was that one of the last stints he did before jumping to the WWWF was in Georgia in a tag team with a legitimate Native American named Wahoo McDaniel. One can certainly speculate that's where Scarpa learned how to play an effective Indian chief in the ring.
Anyway, Scarpa first appeared in WWWF (as it was known then) arenas in the early 1970s. His finishers included a tomahawk chop, the Indian deathlock submission hold and the sleeper hold. Strongbow had a very specific role in the WWWF: He had to put over the incoming challenger to Bruno Sammartino, Pedro Morales, or Bobby Backlund. Then after the top heel challenger had their run with the World Champion, Strongbow would often get his win back before the heel would leave the territory. It may not seem like much, but it was a very important role, and helped create many of the highest marquee matches in the history of the promotion. It is a similar position to what Gorilla Monsoon had for the promotion when he was a babyface.
In this spot, Strongbow was also used in key positions to set up heel turns as well. Such was the case involving the turn of Spiros Arion. Although the television show built up to the heel turn for weeks on television, part of the turn came during a match when Arion was teaming with Strongbow. Again, Strongbow had to put over the challenger for Bruno, but it kept Strongbow in a top position, and led to many battles around the horn between Arion and Strongbow, since they now had a hot feud.
Scroll down to skip ad
Although the Chief never held a major singles title for the WWWF, he did hold the tag titles on 4 different occasions. The first came when he won the tag titles with Sonny King defeating Baron Mikel Scicluna and King Curtis Iukea in 1972. They were later defeated by Mr. Fuji and Prof. Tanaka. His next title reign came when he teamed with Billy White Wolf and defeated The Executioners (Killer Kowalski and Chuck O'Connor, later Big John Studd) in 1976. That title reign ended when Ken Patera injured White Wolf with the swinging neckbreaker. White Wolf would later wrestle as an Arab named Sheik Adnan Al Kaissey. Strongbow won the tag titles twice when his brother, Jules, joined him in 1982. They defeated Mr. Fuji and Mr. Saito for the titles, but the titles were held up because Fuji's foot was on the ropes for the pin. Jay and Jules regained the titles, but were again defeated months later by the Wild Samoans.
But these weren't the only tag team partners Jay Strongbow had over the course of his career. He also teamed with "High Chief" Peter Maivia in the very late 70s, as the chiefs. Maivia, the grandfather of The Rock in modern day wrestling, was a chief of Polynesian tribes of the South Pacific islands. Together they made a very formidable tag team, and certainly could have held the tag titles, until treachery once again intervened. Maivia decided to take a short cut, and turned on Bob Backlund to challenge him for the WWF Title. What's worse is that Maivia aligned himself with evil manager Fred Blassie in the process. At one point, Strongbow confronted his former partner about the turn, and this turned into yet another feud for the Native American.
I should also mention that Strongbow did not wrestle exclusively in the World Wide Wrestling Federation. Even after changing his image to that of a Native American, Strongbow occasionally traveled back to Georgia, where he previously had some of his greatest success as Joe Scarpa. He also traveled to Canada and Florida on occasion. He even traveled to Detroit to feud with The Sheik at one point.
More...

KM DVD/VHS Store 4
Click here to purchase DVD or VHS products direct from the official distributors.
KM Replica Masks 4
Click here to purchase pro quality replica wrestling masks of all your favorite old school masked wrestlers.
KM Store 4
The KM Store now features products featuring the GCW logo as well as some other very cool images. To see what's new and to purchase T-Shirts, ball caps, mouse pads and more, click here.
KM Message Board 4
Want to chat with other fans of regional wrestling? This message board has forums for over two dozen promotions. Click here.
KM Belt Gallery 4
This section contains an extensive title belt gallery... images of heavyweight, tag, U.S. and various regional title belts. To view it, click here.
Old School Tape Review 4
Reviews of various PPV's, commercial tapes and regional wrestling TV shows are available in this section. To read more, click here.
Website designed & maintained by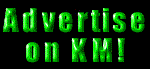 Thanks for visiting!