Regional Territories 4
This section contains monthly articles on over two dozen territories. To relive those wonderful days of old, click here.
Wrestlers 4
Enter this section for bios/profiles of various wrestlers from the regional days. To find more out about your favorite pro wrestler, click here.
Stories 4
This section contains stories from the pros themselves told exclusively to Kayfabe Memories. Want to know more as told from the wrestlers themselves? Click here.
Old School Book Reviews4
Click here to find various book reviews from old school wrestlers.
KM Links 4
For tons of links to old school related sites, click
here
.
KM Micro Wrestlers4
What are Micro Wrestlers? Click here
to find out.
KM Interviews... 4
Click here to read exclusive interviews with stars from the regional territories.
www.kayfabememories.com is © 2004 AtomDesigns. All promotional art, characters, logos and other depictions are © their respective owners. All Rights Reserved.
All contents save Wrestler Stories are © Kayfabe Memories.
Website designed and maintained by AtomDesigns © 2004 . If you experience any problems with this site or have any questions, please contact the Webmaster.
- Bill Camp
Boy do I miss Gorilla Monsoon. I say those same words to myself every time I watch a tape of Prime Time Wrestling, or an older tape of Gorilla in the ring, or anything else that features that big Gorilla. Although I never met him, after watching him on television in one aspect or another for so many years, I have grown to feel as though I did know Monsoon, and he always seemed like such a likable person. For that reason, this month's column is dedicated to the late Robert "Gino" Morella, better known to wrestling fans as the man from Manchuria, Gorilla Monsoon.
Gorilla started wrestling in the early 1960s by most counts, and at his height in the sport weighed an amazing 401 pounds! It is said he had a strong wrestling background before going pro. He was a much feared heel then, with his menacing size, and had a large beard, looking much like a lumberjack. He began with the WWF some time around the time of the split with the NWA in 1963, and behind the scenes he was smart enough to get in on a piece of the action, by buying into the company. On camera he became a terrible threat to Bruno Sammartino's title, wrestling each other at least three times at Madison Square Garden.
Gorilla was managed by none other than Wild Red Berry, and when he first arrived, they let the fans believe that Gorilla spoke no English (especially since he was billed as coming from Manchuria, China). Berry also managed Hans Mortier and Bull Ramos at the same time. Monsoon also had some hum-dinger matches with the other giant of pro wrestling, Andre the Giant, and the two once headlined an outdoor stadium show in Puerto Rico in a Boxing match. In fact it has been said that Monsoon is the only person to have ever both boxed Andre the Giant and wrestled Muhammed Ali (in an incident I'll get into later).
Once Berry retired in the late 1960s, Monsoon was ripe to change sides from heel to face. In order to do that he would have to eventually befriend one of his longest running enemies in the business, Bruno Sammartino. So in 1969, Gorilla Monsoon began taking on more and more heels in heel vs. heel matches, in a gradual babyface turn. There may have also been an incident where Gorilla had a falling out with tag partner and fellow heel Killer Kowalski. But at any rate, by December 1969 Bruno and Gorilla buried the hatchet enough to begin teaming at several house shows.
As a babyface, Gorilla Monsoon was an even bigger draw, even though he was often used to put over the next opponent for Bruno or Pedro. Behind the scenes, Gorilla was also well known for being a police man, breaking up fights and such to keep order when needed. This is a job that, as one can imagine can only be handled by someone who can really handle himself in a legitimate one-on-confrontation. There is said to have once been an incident (and this is unconfirmed) between Gorilla and Bruiser Brody, where according to some reports, Gorilla gave Brody all that he could handle. Either way, it seemed to have led to Brody being banned from the WWF for the remainder of his career.
Once "Superstar" Billy Graham won the WWWF Title from Bruno Sammartino, it opened doors for other top babyfaces to get main event matches against the current Champion. Among them was of course Gorilla Monsoon. His feud with Graham began when Monsoon was a special referee for the rematch between Bruno and Graham. When Graham tried to run back to the lockers to save his title, Gorilla went out and picked up Graham and carried him back to the ring for another beating by Sammartino. However, the match still ended up in a schmoz, with Gorilla and Graham getting into a fracas. Gorilla would finally, once again get his shot at the Gold the following month's show. In the opening minutes of their match, Graham went for a bodyslam on his larger opponent, and Gorilla fell on top of him for a VERY near pinfall. However, Graham would come back in that match and pin Monsoon after a kneedrop off the top rope.
Another incident that should be mentioned is when Monsoon had a confrontation with none other than Muhammed Ali. At a TV Taping in 1976 or 77, Monsoon quickly disposed of Baron Mikel Scicluna, and in the crowd was none other than the legendary boxer, Ali, who got so riled up at the matches that he entered the ring to have himself a piece of the big Gorilla. After easily slapping away a few of Ali's jabs, Monsoon picked up Ali for an airplane spin and threw him to the mat like a rag doll. This was some preparation for Ali's upcoming match with Japanese legend Antonio Inoki.
By the late 1970s, Gorilla was really beginning to slow down. He was taking on more and more jobs as "special referee" and the like. By 1980 or 1981 (not sure which) Gorilla finally decided to hang it up and call it a career.
However, he still made many appearances on camera. In 1982, Big John Studd was challenging everyone in the business to bodyslam him and win a prize of up to $10,000.
More...
If you'd like to discuss the WWWF/WWF region with other fans, please visit the KM Message Board

KM DVD/VHS Store 4
Click here to purchase DVD or VHS products direct from the official distributors.
KM Replica Masks 4
Click here to purchase pro quality replica wrestling masks of all your favorite old school masked wrestlers.
KM Store 4
The KM Store now features products featuring the GCW logo as well as some other very cool images. To see what's new and to purchase T-Shirts, ball caps, mouse pads and more, click here.
KM Message Board 4
Want to chat with other fans of regional wrestling? This message board has forums for over two dozen promotions. Click here.
KM Belt Gallery 4
This section contains an extensive title belt gallery... images of heavyweight, tag, U.S. and various regional title belts. To view it, click here.
Old School Tape Review 4
Reviews of various PPV's, commercial tapes and regional wrestling TV shows are available in this section. To read more, click here.
Website designed & maintained by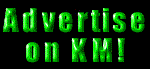 Thanks for visiting!