Regional Territories 4
This section contains monthly articles on over two dozen territories. To relive those wonderful days of old, click here.
Wrestlers 4
Enter this section for bios/profiles of various wrestlers from the regional days. To find more out about your favorite pro wrestler, click here.
Stories 4
This section contains stories from the pros themselves told exclusively to Kayfabe Memories. Want to know more as told from the wrestlers themselves? Click here.
Old School Book Reviews4
Click here to find various book reviews from old school wrestlers.
KM Links 4
For tons of links to old school related sites, click
here
.
KM Micro Wrestlers4
What are Micro Wrestlers? Click here
to find out.
KM Interviews... 4
Click here to read exclusive interviews with stars from the regional territories.
www.kayfabememories.com is © 2004 AtomDesigns. All promotional art, characters, logos and other depictions are © their respective owners. All Rights Reserved.
All contents save Wrestler Stories are © Kayfabe Memories.
Website designed and maintained by AtomDesigns © 2004 . If you experience any problems with this site or have any questions, please contact the Webmaster.
- Bill Camp

It seems like it's been a little while since I've written a column, and I think I may have missed the "theme month" but since I said I would talk about enhancement talent on my next column, I'm going to do just that. When most people think of enhancement talent, they think of the word jobber. And I think the populous believe that these individuals lost every time out because they were very poor wrestlers, and poor workers, or something similar to that.

Well most in the biz look at enhancement guys as people who were good at doing what they did. They made their opponents look like a million bucks. They made it appear as if these wrestlers were incapable of getting offense because their opponents (the stars) were too good to allow them any offense.

And one other discrepancy, as you'll read in this column, is that many enhancement guys were well trained professional wrestlers, it was just that at the time they were putting guys over, their careers were heading in one of two directions; it was either on it's way up, or on its way back down.

Some guys I know for a fact who worked as enhancement guys in the WWF before being given a big chance, include Shane Douglas, Jack Foley (Cactus Jack, real name Mick Foley), Tonga Kid (Tama), Curt Henning, Eddie Gilbert,

Hacksaw Jim Duggan, and Barry Horowitz (as Barry Hart).

On the other hand, I remember these one time stars doing many jobs in the mid-80s to put over the new guard: Tony Garea (5-time co-holder of the Tag Team Titles), Chief Jay Strongbow (Title contender and multiple time Tag Title holder), Pat Patterson (1st Intercontinental Champion), Swede Hanson (tag partner with Rip Hawk and once challenged Backlund for the WWF Title at MSG), Rene Goulet (WWF Tag Title co-holder), Butcher Paul Vachon (multiple time AWA Tag Title co-holder), Don Kernodle (NWA Tag Title co-holder), and Baron Mikel Scicluna (contender to Bruno's title and another former co-holder of the WWF Tag Titles).

There was also another squad of enhancement talent who were given some kind of a push at another time to make them a legitimate threat to any opponent.

These would include: Iron Mike Sharpe, Salvatore Bellomo, Tiger Chung Lee (actually a star of the Orient), "Unpredictable" Johnny Rodz, Jose Estrada, Charlie Fulton, Pete Sanchez, Steve Lombardi (later Brooklyn Brawler) and of course everyone's favorite Special Delivery Jones. Many of these guys were some of the most talented men in the federation.

Finally, there was the squad who almost never won matches, and were usually not given much offense. They usually only wrestled on TV, although some did make rounds at spot house shows. They would include Rocco Verona, John Callahan, Israel Matia, Bob Bradly, Steve King, Tony Colon, Chuck Tanner, Charlie Brown, Victor Mercado, and again everyone's favorite and most remembered Frankie Williams, who made EVERYONE look good.

But today I'd like to really focus on one of my all time favorite enhancement guys "The Duke of Dorchester" Pete Doherty. Doherty was the blonde-haired guy missing all kinds of front teeth, who screamed all over

the place when being beaten by the likes of Tito Santana, Ivan Putski, Rocky Johnson, etc.

But for one short period in the late 1970s, Doherty was given a push as a masked wrestler called The Golden Terror. He wore a full body outfit that was pretty similar to The Conquistadors from the 1980s. He was managed by Captain Lou Albano, and around 1977 went on television to get a win or two. But soon, Doherty was being used for what he did best, making other guys look good. They used him to have some exciting matches on TV with the likes of Larry Zbyszko, Tony Garea, Dominic Denucci, and Gorilla Monsoon.

Eventually, Albano tired of the Terror's losing ways. And after one such television loss, Albano took off his belt and threatened to whip Terror with it. Terror went pleading for mercy, in typical heel fashion, but it spelled the end of the Terror's push.

But it was not yet the end of the Golden Terror. He continued losing TV matches, until one day, he challenged Mil Mascaras to a match at Madison Square Garden with a "Mask vs. Mask" stipulation, meaning the loser of the match had to unmask in front of the entire MSG crowd.

More...

If you'd like to discuss the WWWF/WWF region with other fans, please visit the KM Message Board

KM DVD/VHS Store 4
Click here to purchase DVD or VHS products direct from the official distributors.
KM Replica Masks 4
Click here to purchase pro quality replica wrestling masks of all your favorite old school masked wrestlers.
KM Store 4
The KM Store now features products featuring the GCW logo as well as some other very cool images. To see what's new and to purchase T-Shirts, ball caps, mouse pads and more, click here.
KM Message Board 4
Want to chat with other fans of regional wrestling? This message board has forums for over two dozen promotions. Click here.
KM Belt Gallery 4
This section contains an extensive title belt gallery... images of heavyweight, tag, U.S. and various regional title belts. To view it, click here.
Old School Tape Review 4
Reviews of various PPV's, commercial tapes and regional wrestling TV shows are available in this section. To read more, click here.
Website designed & maintained by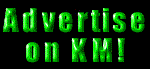 Thanks for visiting!