Regional Territories 4
This section contains monthly articles on over two dozen territories. To relive those wonderful days of old, click here.
Wrestlers 4
Enter this section for bios/profiles of various wrestlers from the regional days. To find more out about your favorite pro wrestler, click here.
Stories 4
This section contains stories from the pros themselves told exclusively to Kayfabe Memories. Want to know more as told from the wrestlers themselves? Click here.
Old School Book Reviews4
Click here to find various book reviews from old school wrestlers.
KM Links 4
For tons of links to old school related sites, click
here
.
KM Micro Wrestlers4
What are Micro Wrestlers? Click here
to find out.
KM Interviews... 4
Click here to read exclusive interviews with stars from the regional territories.
www.kayfabememories.com is © 2004 AtomDesigns. All promotional art, characters, logos and other depictions are © their respective owners. All Rights Reserved.
All contents save Wrestler Stories are © Kayfabe Memories.
Website designed and maintained by AtomDesigns © 2004 . If you experience any problems with this site or have any questions, please contact the Webmaster.
- Tim Bland
Prof. Toru Tanaka and Mr. Fuji's second reign as WWWF tag team champions ended on 11/14/73 in Hamburg, PA when they were defeated by the team of Tony Garea and Dean Ho. Captain Lou Albano brought Jimmy and Johnny Valiant into the territory. The Valiant brothers became the number one contenders and won the belts from Garea and Dean on 5/8/74, also in Hamburg, PA. Albano and the Valiant's dominated the WWWF tag team scene for over a year, finally losing the belts to Dominic Denucci and Victor Rivera in Philadelphia, exactly one year & five days after they won them. Pat Barrett was awarded half of the belts when Rivera jumped to the IWA on 6/1/75. Lou Albano did not wait long bringing in another team to challenge for the belts. On 8/26/75, in Philadelphia, Blackjack's Mulligan and Lanza took the straps from Denucci and Barrett. Surprisingly, they did not hold the belts long, as Tony Parisi and Louis Cerdan aka Gino Brito defeated the Blackjack's in Philadelphia on 11/18/75.
Not to be undaunted, the Captain came back with the Executioners, who were "Big" John Studd and Killer Kowalski. On 5/11/76, in Philadelphia, Albano's masked team beat Parisi and Cerdan for the WWWF tag team belts. The popular team of Chief Jay Strongbow and Billy Whitewolf became a thorn in Albano and the Executioners sides, almost winning the belts on many occasions.
Boxing champion, Muhammed Ali and Japanese wrestling legend, Antonio Inoki signed for a 15 round boxer vs. wrestler match in Japan. The bout was shown on closed circuit TV in front of a crowd of 32,000 at Shea Stadium in Flushing, NY on 6/25/76. Andre the Giant beat boxer Chuck Wepner by count out in a live boxer vs. wrestler match on the card. WWWF champion Bruno Sammartino defended the belt by beating Stan Hansen. The Ali/Inoki farce went to a 15 round draw.
On 10/26/76, the Executioners were stripped of the tag team titles for using a third Executioner in a match against Strongbow and Whitewolf. The WWWF held a three team tournament for the vacated tag team belts. Strongbow and Whitewolf outlasted the Executioners & the other team involved, Nikolai Volkoff and Tor Kamata, on 12/7/76 in Philadelphia and were awarded the belts.
Bruno Sammartino's second reign as WWWF champion ended in Baltimore, MD on 4/30/77. "Superstar" Billy Graham pinned him with his feet on the ropes. Managed by the Grand Wizard, Graham came off as a cocky, arrogant heel. Even though he mostly faced fan favorites, he had a cult following of his own. The night he defeated Bruno for the strap in Baltimore, there were a number of fans in attendance rooting for the Superstar.
Graham faced many challengers in the time he held the belt. He set attendance records at Madison Square Garden during his epic battles with Bruno, Dusty Rhodes and Bob Backlund. Many times at house shows, there would be a battle royal with the winner facing the champion in the main event. He defended the belt against Strongbow, Peter Maivia, Ivan Putski, Gorilla Monsoon, Larry Zybyzko, Tony Garea, Mil Mascaras and other WWWF fan favorites of the time.
Chief Jay Strongbow and Billy Whitewolf were forced to vacate the WWWF tag team belts when Whitewolf was injured by Ken Patera in August of 1977. Strongbow went on to feud with Patera for injuring his partner. The Freddie Blassie managed team of Prof. Toru Tanaka and Mr. Fuji defeated Larry Zybyszko and Tony Garea to win the vacant straps on 9/27/77 in Philadelphia. Strongbow formed a team with High Chief Peter Maivia and together, this popular combination gave the Japanese duo their toughest challenge for the belts. Many times on TV, Tanaka and Fuji defended the belts against Strongbow and Maivia. With Blassie's timely interference & some salt throwing, they were able to hold onto the belts for over six months. More...

KM DVD/VHS Store 4
Click here to purchase DVD or VHS products direct from the official distributors.
KM Replica Masks 4
Click here to purchase pro quality replica wrestling masks of all your favorite old school masked wrestlers.
KM Store 4
The KM Store now features products featuring the GCW logo as well as some other very cool images. To see what's new and to purchase T-Shirts, ball caps, mouse pads and more, click here.
KM Message Board 4
Want to chat with other fans of regional wrestling? This message board has forums for over two dozen promotions. Click here.
KM Belt Gallery 4
This section contains an extensive title belt gallery... images of heavyweight, tag, U.S. and various regional title belts. To view it, click here.
Old School Tape Review 4
Reviews of various PPV's, commercial tapes and regional wrestling TV shows are available in this section. To read more, click here.
Website designed & maintained by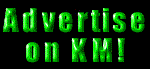 Thanks for visiting!