Regional Territories 4
This section contains monthly articles on over two dozen territories. To relive those wonderful days of old, click here.
Wrestlers 4
Enter this section for bios/profiles of various wrestlers from the regional days. To find more out about your favorite pro wrestler, click here.
Stories 4
This section contains stories from the pros themselves told exclusively to Kayfabe Memories. Want to know more as told from the wrestlers themselves? Click here.
Old School Book Reviews4
Click here to find various book reviews from old school wrestlers.
KM Links 4
For tons of links to old school related sites, click
here
.
KM Micro Wrestlers4
What are Micro Wrestlers? Click here
to find out.
KM Interviews... 4
Click here to read exclusive interviews with stars from the regional territories.
www.kayfabememories.com is © 2004 AtomDesigns. All promotional art, characters, logos and other depictions are © their respective owners. All Rights Reserved.
All contents save Wrestler Stories are © Kayfabe Memories.
Website designed and maintained by AtomDesigns © 2004 . If you experience any problems with this site or have any questions, please contact the Webmaster.
- Bill Camp

This week I promised to write about Randy "Macho Man" Savage in my column.

At the time I said I would write about that, I had no idea what was about to happen to his former manager, and ex-wife, Elizabeth, which I'm sure everyone has heard about by now. Therefore, this month I would like to dedicate this column to that lovely and talented woman, known in wrestling circles as Miss Elizabeth. May she rest in peace.

I should also point out that this column will only look at Savage's early heel years. I may later on decide to write about his babyface turn and then his second run as a heel, but for now, I'll only look at his entrance and initial heel run.

Randy Savage entered the World Wrestling Federation in the spring of 1985.

At that time, I had heard very little about him other than he once feuded with Jerry "The King" Lawler in Memphis. I didn't think he was that big of a star. However, after watching just a few matches with him, I knew this guy was going to be something special. Apparently so did Vince McMahon (and really comparing him to almost any other wrestler at the time, you'd be nuts to think otherwise), because he wanted to make his entrance seem special.

The heel managers immediately began a bidding war over his services. The WWF actually ran the same angle when Brutus Beefcake first came in as a heel, but this time the managers were even more determined to get Savage wrestling for them. One week, Savage would be wrestling, and Bobby Heenan would come out to watch him. The next week Fred Blassie would come out to see him wrestle, then Mr. Fuji, then Luscious Johnny V., then Jimmy Hart.

Eventually, every manager in the WWF came out to get a closer look at Savage at the same time! Finally, Savage announced the following week he'd pick a manager.

So the following week, anybody who'd been watching wrestling for any length of time, knew he wouldn't pick any of the current managers, but would pick someone new. This actually made the segment seem even more special because you knew someone new would be coming in. Would it be J.J. Dillon? Paul Jones? Skandor Akbar? Paul Ellering? No. It was Miss Elizabeth. I wasn't sure how to take this just yet. I mean Elizabeth was a true vision of loveliness at ringside, not one of the skanks you see in wrestling today.

Savage was supposed to be a heel, and with this woman, he'd surely be cheered. Was the "Macho Man" turning babyface already?

Well, the powers that be thought of that too, and had Savage get mad at Elizabeth for the smallest infractions. Getting mad at that beautiful creature was sure to get Savage booed even in Philadelphia.

At the house shows, the WWF in those days, wouldn't usually put guys into main events immediately. They would showcase them against guys who worked the lower cards. So Savage's first series was actually against Scott McGhee, a small but highly talented grappler, who made a name for himself in Florida. Unfortunately, McMahon couldn't see past his short stature, and kept him in the lower cards. So Savage took on him and other varied opponents like Paul Roma and Rick McGraw.

Having beaten the likes of undercard talent, most wrestlers were usually put against either the Intercontinental Champion, who at that time was Tito Santana, or the World Heavyweight Champion, Hulk Hogan. But Savage was special. He got both champions in various arenas. I remember one promo from Savage on WOR-Channel 9, where he was facing Hulk Hogan at Madison Square Garden, and Santana at The Meadowlands, and Savage said "I'm gonna have the Intercontinental Title wrapped around one shoulder, the World Heavyweight Title wrapped around the other shoulder, and I sure ain't going swimming because I'd be certain to drown."

More...

If you'd like to discuss the WWWF/WWF region with other fans, please visit the KM Message Board

KM DVD/VHS Store 4
Click here to purchase DVD or VHS products direct from the official distributors.
KM Replica Masks 4
Click here to purchase pro quality replica wrestling masks of all your favorite old school masked wrestlers.
KM Store 4
The KM Store now features products featuring the GCW logo as well as some other very cool images. To see what's new and to purchase T-Shirts, ball caps, mouse pads and more, click here.
KM Message Board 4
Want to chat with other fans of regional wrestling? This message board has forums for over two dozen promotions. Click here.
KM Belt Gallery 4
This section contains an extensive title belt gallery... images of heavyweight, tag, U.S. and various regional title belts. To view it, click here.
Old School Tape Review 4
Reviews of various PPV's, commercial tapes and regional wrestling TV shows are available in this section. To read more, click here.
Website designed & maintained by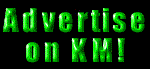 Thanks for visiting!