Regional Territories 4
This section contains monthly articles on over two dozen territories. To relive those wonderful days of old, click here.
Wrestlers 4
Enter this section for bios/profiles of various wrestlers from the regional days. To find more out about your favorite pro wrestler, click here.
Stories 4
This section contains stories from the pros themselves told exclusively to Kayfabe Memories. Want to know more as told from the wrestlers themselves? Click here.
Old School Book Reviews4
Click here to find various book reviews from old school wrestlers.
KM Links 4
For tons of links to old school related sites, click
here
.
KM Micro Wrestlers4
What are Micro Wrestlers? Click here
to find out.
KM Interviews... 4
Click here to read exclusive interviews with stars from the regional territories.
www.kayfabememories.com is © 2004 AtomDesigns. All promotional art, characters, logos and other depictions are © their respective owners. All Rights Reserved.
All contents save Wrestler Stories are © Kayfabe Memories.
Website designed and maintained by AtomDesigns © 2004 . If you experience any problems with this site or have any questions, please contact the Webmaster.
- Bill Camp
This month my topic is the famous feud between Sgt. Slaughter and the Iron Sheik. I assure you it comes as a complete coincidence that this column is being written now, when we have troops in Iraq. However, there were similar situations when this feud took place back in 1984. This was during the heated Iran-Contra controversy. Supposedly, then-President Reagan traded arms for hostages, but got off scot-free by passing the buck to other administrators until the burden fell upon the shoulders of Oliver North.
Enough of the history lesson, but keep in mind that Iran was a highly controversial country at the time, much the same as Iraq is today, which really lent a lot of extra heat to this feud, which would probably not have been there otherwise. Also, Sgt. Slaughter was growing in popularity, after previously being pushed as a war-mongering, militaristic heel. Now he was being seen more and more as a red-blooded, patriot, flag waving babyface.
Okay, background in check, enter The Iron Sheik, an Iranian wrestler going around with a flag of his native country. He recently defeated "All American Boy" Bobby Backlund for the WWF title, to reach superheat. He lost the title to "American Made" Hulk Hogan, and their feud remained strong. Hogan moved on to bigger and better things, while the Sheik continued to bad mouth the United States.
Then one day on National television, Sheik is bad mouthing the US and the fans seemed to take extra exception to it this time. Sheik was working the fans into a frenzy and it looked like a riot might break out as they went to commercial. When they came back, Sheik was still in the ring working over the crowd, when the next match was ready to begin. It featured none other than Sgt. Slaughter. The two met in the aisle and had words, neither man willing to move aside for the other. Eventually Manager Fred Blassie stepped between them, and they each kind of skirted a little to get past. Later it was announced that next week Slaughter would meet Iron Sheik in the TV main event.
When the following week came, I swear Slaughter must have had an off air interview playing up to the crowd's patriotism, because when he hit the ring, the crowd went nuts. But before he could do anything, Sheik attacked him from behind, and knocked him down. Sheik took off his belt and whipped the Sarg with it repeatedly, and spat at him. This kicked off the hottest feud of the summer.
The first time it went around the horn, they had a donnybrook everywhere they went. Since Iron Sheik had so much drawing power as a heel, he was actually allowed to win by disqualification in the early goings. Usually, the Sarg even bladed during those early encounters, and his drawing power at the time was incredibly high.
Next, they met in another round of the horn. This time, both men would be disqualified in their matches. And their matches were incredibly wild as well. They usually involved the timekeepers table. Often one man would set it up on the side of the ring and send the other man into it. And this wasn't one of those flimsy break-away ECW tables either. These tables were the real deal. This was also an unusually bloody series of matches for the WWF at this time period.
However, they also needed to keep the feud alive and visible on TV. To do this they opened up what would be called Sgt. Slaughter's Cobra Corps. The first inductee was a young up and coming wrestler named Terry Daniels. Well, during Slaughter's matches, Daniels would hold the American flag in statuesque form. During one match, Sheik comes down to taunt the young Daniels, but Daniels, like a stable Marine, refuses to even blink an eyelash. But then the Sheik knees the youngster in the gut and runs like a thief in the night as Slaughter comes to his aid. Slaughter actually wound up losing that match to a jobber by count-out because of the incident.
This set up the following week's feature match, of Terry Daniels vs. Iron Sheik. Daniels got in some good early offense, but once the Sheik took over Daniels had nothing left to offer. Sheik had him in pinning predicaments several times, but kept lifting his head at two, to inflict more punishment and humiliation. Finally, as the Sheik climbed up to the top rope, Slaughter shoved him off for the DQ. More...
If you'd like to discuss the WWWF/WWF region with other fans, please visit the KM Message Board

KM DVD/VHS Store 4
Click here to purchase DVD or VHS products direct from the official distributors.
KM Replica Masks 4
Click here to purchase pro quality replica wrestling masks of all your favorite old school masked wrestlers.
KM Store 4
The KM Store now features products featuring the GCW logo as well as some other very cool images. To see what's new and to purchase T-Shirts, ball caps, mouse pads and more, click here.
KM Message Board 4
Want to chat with other fans of regional wrestling? This message board has forums for over two dozen promotions. Click here.
KM Belt Gallery 4
This section contains an extensive title belt gallery... images of heavyweight, tag, U.S. and various regional title belts. To view it, click here.
Old School Tape Review 4
Reviews of various PPV's, commercial tapes and regional wrestling TV shows are available in this section. To read more, click here.
Website designed & maintained by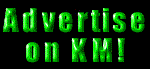 Thanks for visiting!