Regional Territories 4
This section contains monthly articles on over two dozen territories. To relive those wonderful days of old, click here.
Wrestlers 4
Enter this section for bios/profiles of various wrestlers from the regional days. To find more out about your favorite pro wrestler, click here.
Stories 4
This section contains stories from the pros themselves told exclusively to Kayfabe Memories. Want to know more as told from the wrestlers themselves? Click here.
Old School Book Reviews4
Click here to find various book reviews from old school wrestlers.
KM Links 4
For tons of links to old school related sites, click
here
.
KM Micro Wrestlers4
What are Micro Wrestlers? Click here
to find out.
KM Interviews... 4
Click here to read exclusive interviews with stars from the regional territories.
www.kayfabememories.com is © 2004 AtomDesigns. All promotional art, characters, logos and other depictions are © their respective owners. All Rights Reserved.
All contents save Wrestler Stories are © Kayfabe Memories.
Website designed and maintained by AtomDesigns © 2004 . If you experience any problems with this site or have any questions, please contact the Webmaster.
- Bill Camp
I left off the history of the Intercontinental title with Tito Santana's second reign, shortly after regaining the belt from Greg Valentine. Valentine didn't really get any rematches because soon after losing that belt to Santana he won the tag team titles with Brutus Beefcake. Santana did meet challenges from some familiar opponents like "Cowboy" Bob Orton, Jr., but primarily there was a new challenger waiting in the wings. It was "Macho Man" Randy Savage, and he took the WWF by storm upon first arrival. He challenged Hulk Hogan for the World Title and got a three match series with him at Madison Square Garden, winning two on count-outs and disqualifications and finally losing the last in the blowout. But he also faced Santana at many of the other major arenas, and usually defeated the IC champion by the same controversial decisions. However, Hogan lucked out when Savage defeated Santana on February 8, 1986 in the Boston Gardens, meaning Savage would no longer challenge for Hogan's World Title.
But Savage's win wasn't without controversy. He defeated Santana with the use of a foreign object, a small dumbbell hidden in his trunks. This set up the natural rematches. Santana got several disqualification wins over Savage, but when it came time for the blowouts, Savage soundly defeated him. But Savage's next opponent would be considerably different from Tito's scientific style. It seems that the recently turned babyface George "The Animal" Steele began taking a liking to Savage's valet Elizabeth. Several times he brought flowers to Elizabeth, and on one occasion "Macho Man" took great exception to this and smashed the flowers into the hairy man's face. George's fancy for Elizabeth earned him many, many (perhaps too many) shots at the IC title, and although he lost most of the matches, including one big match at WrestleMania 2, he won the hearts of fans around the country for showing his kinder side for Elizabeth. Meanwhile, Randy showed his savage side for his harsh treatment for his female manager.
After a lengthy reign, Savage finally met another more serious contender to his title (rather than his manager), in Ricky "The Dragon" Steamboat. Steamboat came within a hair's eyelash of defeating Savage on television, and Randy was extremely upset at being outclassed. So Randy took out the referee, knocked down Steamboat and took the timekeeper's bell to come off the top rope and crush Steamboat's throat with it. Steamboat was out for several weeks for what "doctor's" called a "crushed larynx." He underwent therapy, and came back at WrestleMania 3 to have the match of his career with Savage and win the Intercontinental title on March 29, 1987 in front of a record setting 92,000 fans (which was actually a work. The real numbers were about 72,000, which is still extremely impressive).
However, Steamboat's wife recently had a child, and "The Dragon" wanted some time off to spend with his new family. So they had to put the Intercontinental title on someone else. Nobody was more shocked than I when on national television none other than The Honky Tonk Man defeated Steamboat for the title in about 5 minutes (the average time for a title change on television). The ending was once again controversial since it came when Honky went for a suplex, which Steamboat reversed into a small package, only Honky reversed it for 3. However, the referee counted 1 when Honky's shoulders were down, 2 in the middle of the reversal and both men's shoulders were down, and three at the end of the reversal when only Steamboat's shoulders were down, and never restarted his count in the sequence.
Anyway, Honky began a very long reign on June 2, 1987 in Buffalo, NY. Also during this time, Randy Savage was in a slow process of turning babyface. One thing that sped things along was when Honky, formerly a friend and occasional tag team partner of Savage, began calling himself "the greatest Intercontinental Champion of all time." Savage took exception to this and challenged for the belt himself. There also was an incident on Saturday Night's Main Event when Jimmy Hart's entourage of the Hart Foundation held Savage while Honky Tonk Man busted his guitar over Randy's head. This led to a match at The Main Event, the same card where the return match between Hulk Hogan and Andre the Giant took place, where Savage got another shot at the title. Unfortunately, Honky escaped with his title in tact on a disqualification. Behind the scenes Savage was supposed to get the title that night, only Honky (real name Wayne Ferris) refused to drop the strap. More...
If you'd like to discuss the WWWF/WWF region with other fans, please visit the KM Message Board

KM DVD/VHS Store 4
Click here to purchase DVD or VHS products direct from the official distributors.
KM Replica Masks 4
Click here to purchase pro quality replica wrestling masks of all your favorite old school masked wrestlers.
KM Store 4
The KM Store now features products featuring the GCW logo as well as some other very cool images. To see what's new and to purchase T-Shirts, ball caps, mouse pads and more, click here.
KM Message Board 4
Want to chat with other fans of regional wrestling? This message board has forums for over two dozen promotions. Click here.
KM Belt Gallery 4
This section contains an extensive title belt gallery... images of heavyweight, tag, U.S. and various regional title belts. To view it, click here.
Old School Tape Review 4
Reviews of various PPV's, commercial tapes and regional wrestling TV shows are available in this section. To read more, click here.
Website designed & maintained by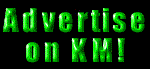 Thanks for visiting!