Regional Territories 4
This section contains monthly articles on over two dozen territories. To relive those wonderful days of old, click here.
Wrestlers 4
Enter this section for bios/profiles of various wrestlers from the regional days. To find more out about your favorite pro wrestler, click here.
Stories 4
This section contains stories from the pros themselves told exclusively to Kayfabe Memories. Want to know more as told from the wrestlers themselves? Click here.
Old School Book Reviews4
Click here to find various book reviews from old school wrestlers.
KM Links 4
For tons of links to old school related sites, click
here
.
KM Micro Wrestlers4
What are Micro Wrestlers? Click here
to find out.
KM Interviews... 4
Click here to read exclusive interviews with stars from the regional territories.
www.kayfabememories.com is © 2004 AtomDesigns. All promotional art, characters, logos and other depictions are © their respective owners. All Rights Reserved.
All contents save Wrestler Stories are © Kayfabe Memories.
Website designed and maintained by AtomDesigns © 2004 . If you experience any problems with this site or have any questions, please contact the Webmaster.
- Bill Camp
When last I left, the tag team titles were on Mr. Fuji and Prof. Toru Tanaka, who at this point were managed by Fred Blassie (I may not have mentioned that last month).

They held the titles until March 14, 1978, when Dominic Denucci took a young up and comer under his wing and brought him to the World Tag Titles, in Dino Bravo.

The match ended when Denucci got Tanaka up in an airplane spin, Fuji ran in to interfere and was hit by Tanaka's feet.
By the way, I should mention that this month's information comes primarily from Coliseum Video's "WWF Team Champions" videotape, and personal memory. Most of the matches on the tape are edited or joined in progress, which means they probably should have taken a few less matches to show more them in their entirety. Still overall, the tape is a good purchase, and I recommend it to anyone interested in old school wrestling.
Anyway, Denucci and Bravo were defeated by Lou Albano's Yukon Lumberjacks, one of whom was later known as Scott Irwin. Pierre and Eric (obviously not the same Yukon Eric from the 1940s, which would make Irwin about 90 today if it was) won the belts in New York's Madison Square Gardens when Denucci got a Lumberjack up for another airplane spin, but was hit by another Lumberjack. These two Canadians were two big men who dominated their opponents. It would take an awfully good team to defeat them.
Or an upset by a much smaller team, which is what happened when Tony Garea found a new partner to bring him the gold for the third time, Larry Zbyszko. Garea and Zbyszko were a team for a long time up to the time they finally grabbed the gold. If you remember last month's column they made it to the finals of the tournament for the tag team titles when they were vacated by Chief Jay Strongbow and Chief White Wolf when White Wolf was injured in 1977. At that time Garea and Zbyszko lost in the finals to Fuji and Tanaka, but this time they managed to defeat the Lumberjacks for the belts when they sent the two Canadians crashing into one another, and Garea pinned Eric.
However, the titles didn't remain on them for long, as in March of 1979 the Valiants made their return to the WWWF. This time they had a third member in Jerry Valiant (Guy Mitchell, not the real life brother of Bobby Heenan, as has been rumored) who won the straps with Johnny, as Jimmy Valiant became a ringside bystander for them. They were once again managed by Albano, and won the titles on TV when Zbyszko went for a leapfrog on Jerry, but took a shoulder to the groin. Then Jimmy pulled Jerry out as Johnny made the pin. Later that year, the titles and promotion was renamed the World Wrestling Federation, dropping the "Wide" from the name.
The Valiants enjoyed another lengthy title reign, but not quite as lengthy as their first reign, as this one lasted over seven months. During that time, they lost their manager Lou Albano due to a dispute, although the team remained heels. Finally, Ivan "Polish Power" Putski and Tito Santana took the belts in New York's Madison Square Garden when Ivan pinned Jerry.
This time the belts stayed with them for only five months before Lou Albano brought two big savages on the scene. They were Afa and Sika, the Samoans, and they seemed unstoppable. They took on Santana and Putski at a house show in Philadelphia, and defeated them when Santana came off the top rope a cross body (his then finisher) and landed wrong, hurting himself. More...
If you'd like to discuss the WWWF/WWF region with other fans, please visit the KM Message Board

KM DVD/VHS Store 4
Click here to purchase DVD or VHS products direct from the official distributors.
KM Replica Masks 4
Click here to purchase pro quality replica wrestling masks of all your favorite old school masked wrestlers.
KM Store 4
The KM Store now features products featuring the GCW logo as well as some other very cool images. To see what's new and to purchase T-Shirts, ball caps, mouse pads and more, click here.
KM Message Board 4
Want to chat with other fans of regional wrestling? This message board has forums for over two dozen promotions. Click here.
KM Belt Gallery 4
This section contains an extensive title belt gallery... images of heavyweight, tag, U.S. and various regional title belts. To view it, click here.
Old School Tape Review 4
Reviews of various PPV's, commercial tapes and regional wrestling TV shows are available in this section. To read more, click here.
Website designed & maintained by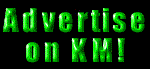 Thanks for visiting!