Regional Territories 4
This section contains monthly articles on over two dozen territories. To relive those wonderful days of old, click here.
Wrestlers 4
Enter this section for bios/profiles of various wrestlers from the regional days. To find more out about your favorite pro wrestler, click here.
Stories 4
This section contains stories from the pros themselves told exclusively to Kayfabe Memories. Want to know more as told from the wrestlers themselves? Click here.
Old School Book Reviews4
Click here to find various book reviews from old school wrestlers.
KM Links 4
For tons of links to old school related sites, click
here
.
KM Micro Wrestlers4
What are Micro Wrestlers? Click here
to find out.
KM Interviews... 4
Click here to read exclusive interviews with stars from the regional territories.
www.kayfabememories.com is © 2004 AtomDesigns. All promotional art, characters, logos and other depictions are © their respective owners. All Rights Reserved.
All contents save Wrestler Stories are © Kayfabe Memories.
Website designed and maintained by AtomDesigns © 2004 . If you experience any problems with this site or have any questions, please contact the Webmaster.
- Bill Camp
Following WrestleMania 3, Andre the Giant had seemingly dropped off the face of the Earth. Little more than a few passing comments were made of pro wrestling's giant. Was Heenan still managing the big man? No one seemed to know. Rumors soon circulated that Andre had retired from the sport, or that his health had deteriorated to the point that he could no longer walk without crutches (which would sadly become true, but not until several years later). This also left Hogan with no one to feud with for most of the year, so he filled his time facing such goons as One Man Gang, Killer Kahn, Hercules, King Kong Bundy, and so on down the list of credible (and some not so credible) foes.
After being gone all summer, talk began to spread of Andre's looming return around the fall. Finally, the WWF announced he would return at a new event called the Survivor Series, scheduled on Thanksgiving Day 1987 (coincidentally, the same day the NWA scheduled Starrcade). He was slated to face Hogan in a ten-man elimination match. Elimination matches were around back then, but to my knowledge, this was the first time there would be 5 men on each side of the ring (and 10 men on each side of the tag team version of the match). Hogan teamed with Paul Orndorff (who turned on him just one year prior), Don Muraco, Ken Patera, and Bam Bam Bigelow to face Andre, OMG, Bundy, Butch Reed, and Rick Rude. Hogan found himself getting counted out thanks to Bundy, while Andre was once set up as the monster heel by winning the match for his team with a pinfall over Bigelow. Hogan and Andre barely squared off, but they followed the old philosophy of "don't give the fans everything they want, or they might not come back tomorrow."
This meant Andre was back, and going after Hogan one more time. But now a new nemesis for Hogan appeared on the scene. His name was Ted DiBiase, and he was going under the moniker of "The Million Dollar Man." Now I always thought it would have been a good idea to have DiBiase win a million dollar battle royal to explain his sudden rise into fortune, but I guess the powers that be in the WWF at the time thought otherwise. At any rate, DiBiase began immediately throwing his money around, getting tables at packed restaurants, kicking little kids out of a pool so he could have it alone, and other such deeds to get him over as a rich bastard. In fact, it worked so well, he didn't even debut for quite a few months after his initial vignettes. When he finally did debut, he would pay a fan $100 to kiss his sweaty feet after his matches, and do other such disgusting deeds for a Ben Franklin. Then in a move designed to get the DiBiase millionaire gimmick over even to non-believers, they had "Lifestyles of the Rich and Famous" do a segment on him. This worked about as well as music magazines printing that Albano was Cyndi Lauper's manager, which I mentioned in a previous column. I'll get back to DiBiase and his millions in a minute, but keep this item in mind for later.
Just two days after Survivor Series (and these dates and results are coming to you hot off the website of Jason Campbell's Pro Wrestling History site, a great site if he doesn't mind me saying so) NBC aired a Saturday Night's Main Event featuring a Hogan title defense against King Kong Bundy. More...
If you'd like to discuss the WWWF/WWF region with other fans, please visit the KM Message Board

KM DVD/VHS Store 4
Click here to purchase DVD or VHS products direct from the official distributors.
KM Replica Masks 4
Click here to purchase pro quality replica wrestling masks of all your favorite old school masked wrestlers.
KM Store 4
The KM Store now features products featuring the GCW logo as well as some other very cool images. To see what's new and to purchase T-Shirts, ball caps, mouse pads and more, click here.
KM Message Board 4
Want to chat with other fans of regional wrestling? This message board has forums for over two dozen promotions. Click here.
KM Belt Gallery 4
This section contains an extensive title belt gallery... images of heavyweight, tag, U.S. and various regional title belts. To view it, click here.
Old School Tape Review 4
Reviews of various PPV's, commercial tapes and regional wrestling TV shows are available in this section. To read more, click here.
Website designed & maintained by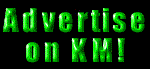 Thanks for visiting!