Regional Territories 4
This section contains monthly articles on over two dozen territories. To relive those wonderful days of old, click here.
Wrestlers 4
Enter this section for bios/profiles of various wrestlers from the regional days. To find more out about your favorite pro wrestler, click here.
Stories 4
This section contains stories from the pros themselves told exclusively to Kayfabe Memories. Want to know more as told from the wrestlers themselves? Click here.
Old School Book Reviews4
Click here to find various book reviews from old school wrestlers.
KM Links 4
For tons of links to old school related sites, click
here
.
KM Micro Wrestlers4
What are Micro Wrestlers? Click here
to find out.
KM Interviews... 4
Click here to read exclusive interviews with stars from the regional territories.
www.kayfabememories.com is © 2004 AtomDesigns. All promotional art, characters, logos and other depictions are © their respective owners. All Rights Reserved.
All contents save Wrestler Stories are © Kayfabe Memories.
Website designed and maintained by AtomDesigns © 2004 . If you experience any problems with this site or have any questions, please contact the Webmaster.
- Bob Jinkerson
When Bruno Sammartino dropped the WWWF strap to Ivan Koloff on January 18, 1971, it was a means to an end - the end being to get the championship to Pedro Morales. The McMahon philosophy at that time was to have a strong face champion taking on all heel opponents, but with an interim heel champion to make the transition.
Morales was the prototypical Latin American wrestler - smaller, faster, making up in agility and skill what he lacked in strength and size. In short, a sharp contrast to Bruno Sammartino. But for some reason, Morales was never the draw Sammartino was. During Brunoís reign, Morales was a very popular uppercard performer and had a huge following among East Coast fans. But as champion himself, Pedro didnít have the charisma and did not achieve the respect Bruno did.
It could also be said that the quality of opponents for Morales was not as good as those who chased Brunoís belt. Nearly every top heel in the country met Sammartino for the WWWF Championship. Moralesí opponents were not of the same caliber for the most part. Even a hugely hyped match with Bruno at Shea Stadium, designed to help get Morales over as a champion defending against a legend, failed to really get the job done. The fans were not used to a total face match and Bruno and Pedro were not used to working that way. It was difficult all around. After two years and ten months, Morales lost the title to veteran heel Stan Stasiak. Nine days later, Bruno Sammartino was again the WWWF Champion.
During Moralesí reign, the tag team championship changed hands several times. But the most successful team was probably the Japanese duo of Professor Toru Tanaka and Mr. Fuji. They held the title on two different occasions between 1972 and 1973, beating teams like Chief Jay Strongbow (Joe Scarpa) and Sonny King and Tony Garea and Haystacks Calhoun.
This time, Brunoís reign lasted from December 10th, 1973 to April 30, 1977. During this period, the organization continued to expand its operations into cities like Boston and Philadelphia (formerly strong "independent" cities). Again, however, the quality of the challengers to the title was not equal to what it was during Brunoís first run as champion.
However, Sammartino and the organization itself was starting to get more national attention. An episode of the show "Greatest Sports Legends" was devoted to Bruno Sammartino and he and Vince McMahon, Jr. appeared on the Tom Snyder talk show "Tomorrow" on NBC. Also, the WWWF was starting to get its syndicated TV show aired in a few cities out of its territory, like St. Louis, with McMahon, Jr. and Antonino Rocca at the microphones.
At about this same time St. Louis promoter and perennial NWA President Sam Muchnick was beginning to relax his stance with regard to acknowledging the existence of other federations. It would not be long before a co-existence of sorts would exist - at least for Muchnickís part. Furthermore, it would not be long before St. Louis fans would finally see the man theyíve heard and read about for so many years - Bruno Sammartino. But first, some changes would be made in the WWWF.
After title defenses against a variety of opponents ranging from mediocre mid-card types like Tank Morgan, Bull Ortega and Bull Ramos to quality performers like Stan Hansen and Larry Zbysko, Bruno was again ready to drop the strap and go into other territories like the NWA and Dick the Bruiserís WWA.
This time, however, the new heel champion was of a different ilk than the previous "interim" heel champions. "Superstar" Billy Graham had more of a championship quality about him than Koloff and Stasiak. His arrogance and cockiness harkened back to the days of Buddy Rogers - his strength and charisma were kind of a precursor to future stars like Stone Cold Steve Austin and The Rock. A heel - yes. But a heel with charisma who would appeal to some fans while others would want to see him lose. This is just speculation on my part, but I would not be at all surprised if there were those in the McMahon camp who were thinking ahead to a possible "face" turn on Grahamís part.
Graham won the belt in Baltimore on April 30, 1977 and another new era in WWWF wrestling was born.
NEXT MONTH:
Part three will deal with Grahamís reign, the rest of the 70s and the early 80s in what would be the last days of the WWWF as a "regional" territory.

KM DVD/VHS Store 4
Click here to purchase DVD or VHS products direct from the official distributors.
KM Replica Masks 4
Click here to purchase pro quality replica wrestling masks of all your favorite old school masked wrestlers.
KM Store 4
The KM Store now features products featuring the GCW logo as well as some other very cool images. To see what's new and to purchase T-Shirts, ball caps, mouse pads and more, click here.
KM Message Board 4
Want to chat with other fans of regional wrestling? This message board has forums for over two dozen promotions. Click here.
KM Belt Gallery 4
This section contains an extensive title belt gallery... images of heavyweight, tag, U.S. and various regional title belts. To view it, click here.
Old School Tape Review 4
Reviews of various PPV's, commercial tapes and regional wrestling TV shows are available in this section. To read more, click here.
Website designed & maintained by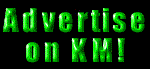 Thanks for visiting!