Regional Territories 4
This section contains monthly articles on over two dozen territories. To relive those wonderful days of old, click here.
Wrestlers 4
Enter this section for bios/profiles of various wrestlers from the regional days. To find more out about your favorite pro wrestler, click here.
Stories 4
This section contains stories from the pros themselves told exclusively to Kayfabe Memories. Want to know more as told from the wrestlers themselves? Click here.
Old School Book Reviews4
Click here to find various book reviews from old school wrestlers.
KM Links 4
For tons of links to old school related sites, click
here
.
KM Micro Wrestlers4
What are Micro Wrestlers? Click here
to find out.
KM Interviews... 4
Click here to read exclusive interviews with stars from the regional territories.
www.kayfabememories.com is © 2004 AtomDesigns. All promotional art, characters, logos and other depictions are © their respective owners. All Rights Reserved.
All contents save Wrestler Stories are © Kayfabe Memories.
Website designed and maintained by AtomDesigns © 2004 . If you experience any problems with this site or have any questions, please contact the Webmaster.
- Bill Camp
Okay, when we last left off, Andre was teaming with Hillbilly Jim and was still in a bitter feud with Stud and Bundy and their manager Bobby "The Brain" Heenan. Some of the interesting matches in the feud saw 6-man tag matches with Andre's manager, Capt. Lou Albano on one side and Heenan teaming with his big men on the other. But once again, the feud was dying down and the powers that be had to decide whether to let it die off or rekindle it one more time. They chose to call for still another encore.
So on Superstars of Wrestling (the show that took over for WWF Championship Wrestling) they scheduled a match between Andre and Hillbilly Jim against Stud and Bundy (by this time the show was touring, and not hailing from Allentown or Hamburg). Andre no shows, so replacing him is the "World's Strongest Man" Ted Arcidi, who was a legitimate champion bodybuilder with a short-lived career as a pro wrestler. The match ended in the usual shmoz, but it set up the next leg of the feud.
WWF on-air President Jack Tunney, suspended Andre for an indefinite amount of time for the no-show. Now why so many people no-showed cards across the country without repercussion and this penalty was so harsh is another question altogether. The Apter mags also cried foul about the suspension, noting that Andre had dates booked in Japan shortly before and shortly after the scheduled television taping, so it would have made no sense for the big man to travel halfway around the world for one single show and fly all the way back. In reality, Andre was probably never intended to make the show in the first place. He was busy in Japan working on his new acts. One he was wrestling under a mask, and two he was a heel in Japan.
Shortly after the bogus suspension, Capt. Lou announced his new protégés, a masked man named the Giant Machine. He would team with the Super Machine (Bill Eadie, formerly Masked Superstar, and Mongol Bolo, and would eventually become Demolition Ax). They would team to meet Stud and Bundy around the horn once again. However, Andre's health was also a factor in this move. He was getting on in the years and was slowing down in the ring, so they also placed a third member of the machines, the Big Machine, on the team (said to have been Blackjack Mulligan by "insiders"). This way in all the arenas they could advertise The Machines appearing, and could have Super and Big Machine appear, if Andre was too ill to make the date. But in the world of Kayfabe, it also made sense because it created more confusion for the heels, especially those who claimed Giant Machine was in reality Andre.
And naturally, the heels did cry foul. Heenan set out on a vendetta to unmask Giant and show the world that it was Andre. Tunney then stated that if this ever happens, Andre will be suspended indefinitely from WWF arenas. Jesse "The Body" Ventura, WWF's heel announcer, said the whole situation was a sham and anyone could plainly see it was obviously Andre with a mask, so he should be suspended now. Vince McMahon and the other face announcers stated it could be Giant Baba or Jumbo Tsuruta under the mask and not Andre. More...
If you'd like to discuss the WWWF/WWF region with other fans, please visit the KM Message Board

KM DVD/VHS Store 4
Click here to purchase DVD or VHS products direct from the official distributors.
KM Replica Masks 4
Click here to purchase pro quality replica wrestling masks of all your favorite old school masked wrestlers.
KM Store 4
The KM Store now features products featuring the GCW logo as well as some other very cool images. To see what's new and to purchase T-Shirts, ball caps, mouse pads and more, click here.
KM Message Board 4
Want to chat with other fans of regional wrestling? This message board has forums for over two dozen promotions. Click here.
KM Belt Gallery 4
This section contains an extensive title belt gallery... images of heavyweight, tag, U.S. and various regional title belts. To view it, click here.
Old School Tape Review 4
Reviews of various PPV's, commercial tapes and regional wrestling TV shows are available in this section. To read more, click here.
Website designed & maintained by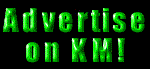 Thanks for visiting!