Regional Territories 4
This section contains monthly articles on over two dozen territories. To relive those wonderful days of old, click here.
Wrestlers 4
Enter this section for bios/profiles of various wrestlers from the regional days. To find more out about your favorite pro wrestler, click here.
Stories 4
This section contains stories from the pros themselves told exclusively to Kayfabe Memories. Want to know more as told from the wrestlers themselves? Click here.
Old School Book Reviews4
Click here to find various book reviews from old school wrestlers.
KM Links 4
For tons of links to old school related sites, click
here
.
KM Micro Wrestlers4
What are Micro Wrestlers? Click here
to find out.
KM Interviews... 4
Click here to read exclusive interviews with stars from the regional territories.
www.kayfabememories.com is © 2004 AtomDesigns. All promotional art, characters, logos and other depictions are © their respective owners. All Rights Reserved.
All contents save Wrestler Stories are © Kayfabe Memories.
Website designed and maintained by AtomDesigns © 2004 . If you experience any problems with this site or have any questions, please contact the Webmaster.
- Bill Camp
This month I promised to talk about the history of WWWF television. I thought this would be a novel approach to my monthly duties, as I do not recall any other section taking this approach before. I should also mention that most of the early portions of this history comes from the website "Wrestling As We Liked It," which is another fine site for us fans of Classic pro wrestling.
Early in Vincent J. McMahon's career, he knew the importance of television for a wrestling product. By the early 1960s he was already working behind the scenes for Fred Kohler's "Wrestling Champions from Chicago" television show, the first network television wrestling show aired across the nation and seen by millions of viewers every week. I wouldn't be at all surprised to find out McMahon was booking for Kohler in the later stages of the show since it appeared to have McMahon hands all over it just before being taken off the air. It seems the McMahon family always believed that to be successful with "casual" fans of the sport, beyond us hardcore junkies, you had to present a product that was less toward wrestling and more toward gimmicks and showmanship. Therefore, the later stages of "Wrestling Champions" used shorter matches, and gimmick wrestlers started popping up left and right, like "Prof." Turo Tanaka, "Golden Moose" Cholack, and the ballet dancer Ricky Starr (although Starr first appears in the late 1950s, so he may not have been an incarnation of McMahon).
When McMahon left Kohler in 1963, he found longtime wrestling promoter Toots Mondt, who had been around since the 1930s, and they set out to start their own promotion together. They first tried Columbus, OH, where they had the small and swift Dory Dixon defeat Buddy Rogers for the World Title, but for whatever reason, it just didn't stick. Perhaps McMahon had another chance to start the promotion in the much more lucrative market of New York City, because that's exactly where he Mondt wound up. Together they formed the World Wide Wrestling Federation, and since Mondt was getting up in the years while McMahon at this time was a young upstart, it was obvious who would end up with this business.
Their television shows came live from Philadelphia each week. The show had the same look as Kohler's "Wrestling Champions" under McMahon's tenure with invariably four matches each week, basically all squashes.
More...
If you'd like to discuss the WWWF/WWF region with other fans, please visit the KM Message Board

KM DVD/VHS Store 4
Click here to purchase DVD or VHS products direct from the official distributors.
KM Replica Masks 4
Click here to purchase pro quality replica wrestling masks of all your favorite old school masked wrestlers.
KM Store 4
The KM Store now features products featuring the GCW logo as well as some other very cool images. To see what's new and to purchase T-Shirts, ball caps, mouse pads and more, click here.
KM Message Board 4
Want to chat with other fans of regional wrestling? This message board has forums for over two dozen promotions. Click here.
KM Belt Gallery 4
This section contains an extensive title belt gallery... images of heavyweight, tag, U.S. and various regional title belts. To view it, click here.
Old School Tape Review 4
Reviews of various PPV's, commercial tapes and regional wrestling TV shows are available in this section. To read more, click here.
Website designed & maintained by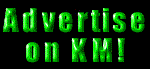 Thanks for visiting!