Regional Territories 4
This section contains monthly articles on over two dozen territories. To relive those wonderful days of old, click here.
Wrestlers 4
Enter this section for bios/profiles of various wrestlers from the regional days. To find more out about your favorite pro wrestler, click here.
Stories 4
This section contains stories from the pros themselves told exclusively to Kayfabe Memories. Want to know more as told from the wrestlers themselves? Click here.
Old School Book Reviews4
Click here to find various book reviews from old school wrestlers.
KM Links 4
For tons of links to old school related sites, click
here
.
KM Micro Wrestlers4
What are Micro Wrestlers? Click here
to find out.
KM Interviews... 4
Click here to read exclusive interviews with stars from the regional territories.
www.kayfabememories.com is © 2004 AtomDesigns. All promotional art, characters, logos and other depictions are © their respective owners. All Rights Reserved.
All contents save Wrestler Stories are © Kayfabe Memories.
Website designed and maintained by AtomDesigns © 2004 . If you experience any problems with this site or have any questions, please contact the Webmaster.
- Kurt Brown

My debut match was set for July 23, 1983. Karl Lauer was running every other Saturday night in the City of Bell (L.A. urban outskirts) at the Azteca Boxing Gym. Iíve always been a total mark for ambience, so Azteca Gym came through in that department. It was a hip little downtown hole in the wall that seated about 200 people.

Karl and Pistol Pete booked these shows with quite the motley crew of local talent. Green as grass rookies like myself, seasoned locals like Hector Guerrero, Wildman Jack Armstrong, Ric Drasin and Billy Anderson. Karl was new to the pro wrestling biz, and had plenty to learn; but he recognized that Southern Californiaís Latino luchadores were talented folks with a hard work ethic, so he made certain to book several luchadores like Cosmos and Angel de la Muerte on each show.

The only other hurdle I had to jump was getting my license from the Athletic Commission. I had a wicked case of anxiety at that thought, because while my cardio level wasnít bad and I hit the weights, I wondered if I would pass a physical with all the weight I packed on during the previous year.

Now--- I put on the pounds for the obvious reason. Most promoters, whether small time or top dog, went by that old adage that wrestling was a big manís game. Thatís one area where I think the indie scene today is a vast improvement over yesteryear. While Titan Sports still keep behemoths on top, most independent groups I see these days are open minded when it comes to pushing lighter wrestlers. And back in the 80s, most indie promoters I met were complete marks for big men. If a bodybuilder walked through the door, they thought they had an instant Hulkamania box office attraction. Hefty bearded dudes looking ill from gout dropped by the gym, and the indie promoters wanted to rush them on a show ASAP because they had the next Haystack Calhoun. When the shows drew a heavily papered crowd of 30, they would scratch their heads trying to figure why the masses werenít swarming to see these wonders of physical culture.

I knew that no matter how well I could work in the ring, nobody would take a second glance at me if I was under the 180 pound mark. But thatís where my wisdom about the matter ended.

I was completely naÔve thinking I could get that muscle-on-muscle look and be steroid free. The bodybuilding mags totally kayfaybed the steroid issue in those days, trying to sell it like healthy eating and dedication alone would build the pecs and biceps. I cringe to admit it, but I was the ultimate barbell mark. A fellow by the name of Hal Klein, a long time pro wrestling fan and high school football coach, trained me at Needhamís Gym. Hal had a very effective training routine for me. While he admired my drive to get pumped, he tactfully hinted from time to time that I could only go so far if I wanted to get the beefy rasslerí look. In the end, my arms looked really powerful, but the rest of my body looked pudgy. But Pete approved and said I looked like a wrestler, though when I looked in the mirror I saw Mr. Toad.

More...

If you'd like to discuss the WWA-LA region with other fans, please visit the KM Message Board

KM DVD/VHS Store 4
Click here to purchase DVD or VHS products direct from the official distributors.
KM Replica Masks 4
Click here to purchase pro quality replica wrestling masks of all your favorite old school masked wrestlers.
KM Store 4
The KM Store now features products featuring the GCW logo as well as some other very cool images. To see what's new and to purchase T-Shirts, ball caps, mouse pads and more, click here.
KM Message Board 4
Want to chat with other fans of regional wrestling? This message board has forums for over two dozen promotions. Click here.
KM Belt Gallery 4
This section contains an extensive title belt gallery... images of heavyweight, tag, U.S. and various regional title belts. To view it, click here.
Old School Tape Review 4
Reviews of various PPV's, commercial tapes and regional wrestling TV shows are available in this section. To read more, click here.
Website designed & maintained by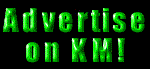 Thanks for visiting!