Regional Territories 4
This section contains monthly articles on over two dozen territories. To relive those wonderful days of old, click here.
Wrestlers 4
Enter this section for bios/profiles of various wrestlers from the regional days. To find more out about your favorite pro wrestler, click here.
Stories 4
This section contains stories from the pros themselves told exclusively to Kayfabe Memories. Want to know more as told from the wrestlers themselves? Click here.
Old School Book Reviews4
Click here to find various book reviews from old school wrestlers.
KM Links 4
For tons of links to old school related sites, click
here
.
KM Micro Wrestlers4
What are Micro Wrestlers? Click here
to find out.
KM Interviews... 4
Click here to read exclusive interviews with stars from the regional territories.
www.kayfabememories.com is © 2004 AtomDesigns. All promotional art, characters, logos and other depictions are © their respective owners. All Rights Reserved.
All contents save Wrestler Stories are © Kayfabe Memories.
Website designed and maintained by AtomDesigns © 2004 . If you experience any problems with this site or have any questions, please contact the Webmaster.
- Bill Balch
Freddie Blassie. That name stirred up more anger and rage in wrestling fans in Southern California than anyone. Before or since. In fact, he was perfectly capable of causing a riot anywhere he appeared. Freddie Blassie. Look up the word "heat" in the dictionary and you should see his picture. He was incredible. He could arouse more emotion in fans with just a look, or wiping the sweat off his brow and flinging it at them, than most wrestlers could with their dirtiest ring tactics. There was always a threat of a fan attacking Freddie and the Olympic had to hire uniformed Los Angeles police officers to escort him to and from the ring, and sit at ringside during his matches. Occasionally, that wasnąt enough.

What few people knew and much less cared about during his reign of terror in the Olympic Auditorium was that there were two Freddie Blassies. The first one they knew all too well. The one they loathed. The charismatic master showman would turn heads and create near hysteria from the very moment he appeared. He would strut down the aisle in his sequined jacket, matching color trunks and boots, blond hair perfectly combed and every eye in the place would be on him. He commanded your attention with everything he did. When he entered the ring, he would pace around like a caged animal ready to strike. Even though the fans hated him, they were always in awe of his presence.

To further enrage fans, Freddie came up with the gimmick of biting his opponents. To show that he meant business, he would even file his teeth during interviews. And, Freddie Blassie could get over on interviews alone. Fans were always afraid of what he might do to their favorite "pencilneck geek."

Not exactly a shrinking violet, he could dish it out verbally with the fans as well. One night as a young teenage fan attending the matches at the Long Beach Auditorium, I went to the back of the arena after Blassie's match to shake his hand. Just as he's getting close, an old woman stands up, shaking her finger at him. "You son of a bitch! You damn son of a bitch" she yells at him. Not missing a beat Freddie turned around and a big grin came over his face. "Hi Mom," he shouted back for everyone to hear. The more I tried not to laugh, the harder I laughed. When Freddie walked by me he just winked and smiled. But, the old woman and the fans around her could not have been more furious.
More...
If you'd like to discuss the WWA-LA region with other fans, please visit the KM Message Board

KM DVD/VHS Store 4
Click here to purchase DVD or VHS products direct from the official distributors.
KM Replica Masks 4
Click here to purchase pro quality replica wrestling masks of all your favorite old school masked wrestlers.
KM Store 4
The KM Store now features products featuring the GCW logo as well as some other very cool images. To see what's new and to purchase T-Shirts, ball caps, mouse pads and more, click here.
KM Message Board 4
Want to chat with other fans of regional wrestling? This message board has forums for over two dozen promotions. Click here.
KM Belt Gallery 4
This section contains an extensive title belt gallery... images of heavyweight, tag, U.S. and various regional title belts. To view it, click here.
Old School Tape Review 4
Reviews of various PPV's, commercial tapes and regional wrestling TV shows are available in this section. To read more, click here.
Website designed & maintained by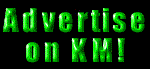 Thanks for visiting!