Regional Territories 4
This section contains monthly articles on over two dozen territories. To relive those wonderful days of old, click here.
Wrestlers 4
Enter this section for bios/profiles of various wrestlers from the regional days. To find more out about your favorite pro wrestler, click here.
Stories 4
This section contains stories from the pros themselves told exclusively to Kayfabe Memories. Want to know more as told from the wrestlers themselves? Click here.
Old School Book Reviews4
Click here to find various book reviews from old school wrestlers.
KM Links 4
For tons of links to old school related sites, click
here
.
KM Micro Wrestlers4
What are Micro Wrestlers? Click here
to find out.
KM Interviews... 4
Click here to read exclusive interviews with stars from the regional territories.
www.kayfabememories.com is © 2004 AtomDesigns. All promotional art, characters, logos and other depictions are © their respective owners. All Rights Reserved.
All contents save Wrestler Stories are © Kayfabe Memories.
Website designed and maintained by AtomDesigns © 2004 . If you experience any problems with this site or have any questions, please contact the Webmaster.
- Charles Laffere
Bill Watts-Bad Guy
"I'm Bad, I'm Nationwide - ZZ Top

"Plantar fasciitis" (pronounced PLAN-tar fashee-EYE-tiss) is an inflammation of the plantar fascia ("plantar" refers to the bottom of the foot, "fascia" refers to two different types of connective tissue, and "itis" means "inflammation"). The plantar fascia encapsulates foot muscles, but it has another important function. It is thickest beneath the skin on the bottom of the foot where it functions as a "bowstring" that connects the heel bone to the ball and toes in order to maintain the arch of the foot. It experiences tension that is approximately 2 times a person's body weight during walking at the moment when the heel of the trailing leg begins to lift off the ground The classic sign of plantar fasciitis (which is often confused with or considered the same as heel spurs) is heel pain with the first few steps in the morning Plantar fasciitis is related to "heel spur syndrome", but they are not the same" (preceding information courtesy of heelspurs.com).
Why introduce this piece with a self-indulgent piece on foot pain? Because I, your humble correspondent Charles Laffere, has been suffering from this malady lately. So have Shaquille O'Neal, Dallas Mavericks point guard Steve Nash, and seemingly every other person I talk to. I mistook the stabbing pain in my heel for a bone spur or a possible tendon tear, since I would receive a searing sensation every time I stepped "wrong" on my left foot. One thing's for certain... until I began therapy for my foot, the pain was a constant irritant and literally under my skin.

Pro wrestling bad guys or "heels" used to be the same way in that they could get under our skin, frustrate with their irritating ways and inflict pain on opponents. My earliest memories of heels were fellows like Playboy Gary Hart, Brute Bernard and the Missouri Mauler. There was no mistaking that these guys were bad to the bone and had totally evil intentions.

Today, the traditional bad guy/good guy-heel/face dynamic has changed in the wrestling business in North America. Vince McMahon has stated several times that there are no good or bad guys in the WWF, just different "characters." Puhleeze! Will the guy ever give up the illusion that he's a casting director? In any event, wrestlers are no longer defined by traditional roles of good and evil. Stone Cold Steve Austin would probably be a despised villain if he were transported to the past in some type of wrestling wayback machine.
More...
If you'd like to discuss the UWF region with other fans, please visit the KM Message Board

KM DVD/VHS Store 4
Click here to purchase DVD or VHS products direct from the official distributors.
KM Replica Masks 4
Click here to purchase pro quality replica wrestling masks of all your favorite old school masked wrestlers.
KM Store 4
The KM Store now features products featuring the GCW logo as well as some other very cool images. To see what's new and to purchase T-Shirts, ball caps, mouse pads and more, click here.
KM Message Board 4
Want to chat with other fans of regional wrestling? This message board has forums for over two dozen promotions. Click here.
KM Belt Gallery 4
This section contains an extensive title belt gallery... images of heavyweight, tag, U.S. and various regional title belts. To view it, click here.
Old School Tape Review 4
Reviews of various PPV's, commercial tapes and regional wrestling TV shows are available in this section. To read more, click here.
Website designed & maintained by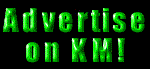 Thanks for visiting!