Regional Territories 4
This section contains monthly articles on over two dozen territories. To relive those wonderful days of old, click here.
Wrestlers 4
Enter this section for bios/profiles of various wrestlers from the regional days. To find more out about your favorite pro wrestler, click here.
Stories 4
This section contains stories from the pros themselves told exclusively to Kayfabe Memories. Want to know more as told from the wrestlers themselves? Click here.
Old School Book Reviews4
Click here to find various book reviews from old school wrestlers.
KM Links 4
For tons of links to old school related sites, click
here
.
KM Micro Wrestlers4
What are Micro Wrestlers? Click here
to find out.
KM Interviews... 4
Click here to read exclusive interviews with stars from the regional territories.
www.kayfabememories.com is © 2004 AtomDesigns. All promotional art, characters, logos and other depictions are © their respective owners. All Rights Reserved.
All contents save Wrestler Stories are © Kayfabe Memories.
Website designed and maintained by AtomDesigns © 2004 . If you experience any problems with this site or have any questions, please contact the Webmaster.
- Charles Laffere
Summer Fun With the UWF
Hey, I still work here?
"They got regulation ties
Regulation shoes
Those regulation fools
With their regulation rules
Just keep on breaking the rules
Come on, get ready to rule."
Well, not everybody was a rule breaker in Bill Watts' Universal Wrestling Federation, but hardly anybody followed the rules either. If that makes any sense.
"Oh take off your ties and your regulation shoes
You're nothing but a bunch of regulation fools
And you got your regulation rules
I'm going to do things my own way
Every day and every way."
Hello again, a welcome back to a (finally) new installment of UWF reminiscences here at Kayfabe Memories. My name is Charles Laffere, and welcome by to my byte of cyberspace. Today, we will look back to the first two months of 1987, when the UWF was in the midst of making a run at the World Wrestling Federation for supremacy in the North American pro wrestling scene.
First, a little background. Bill Watts was a rough and tough, homegrown Oklahoman who had enjoyed major success in the World Wide Wrestling Federation and the American Wrestling Association. He also made a mark as a successful main eventer and sometimes booker in the San Francisco, Florida and Georgia territories.
Despite his travels, Bill Watts kept a business interest in the Oklahoma-based Tri-State Promotion. As stated in the KM Tri-States intro:
"Based out of Tulsa Oklahoma, wrestler-turned-promoter Leroy McGuirk, who had been blinded in an accident, founded Leroy McGuirk Championship Wrestling in the late 1950's.
A long-standing member of the National Wrestling Alliance, McGuirk controlled the bookings for the NWA World junior heavyweight championship, one of only two titles officially recognized by the alliance.
Commonly referred to as "the Tri-States area" (due to running the three-state territory of Oklahoma, Arkansas, and Louisiana and having like-named titles), McGuirk produced a popular television show called "Championship Wrestling."
In 1979, McGuirk split with longtime booker Bill Watts, who set up his own shop, taking over Louisiana and Arkansas from McGuirk and Mississippi, which had been controlled by the Culkin family."
And now, thanks to a post from JonBek2 on the KM Tri States message board:
"(Bill) Watts left (around the) end of July/first of August in 1979. Mid-South came on television around the middle of August. Watts took with him the majority of the talent, the refs, announcers, plus 10 of the 13 or 14 markets that McGuirk was still in and McGuirk's flagship station - KTBS in Shreveport, which provided studio space and the technical people.
As far as the difference - yes, it was always obvious when Watts was not around. When he left for Atlanta in late '72 or early '73, the talent and production values changed quickly. I don't remember in '79 if McGuirk explained anything or not. I do know that it was a big difference between watching McGuirk's show, then changing channels and watching Mid South. McGuirk always pushed the World's Jr. title and the tag belts the most, the (North American) title was kind of Watts' thing, so that really wasn't a big deal. McGuirk kept the US tag belts. It was obvious that McGuirk would not last long with the talent, announcers, etc that he was left with after the split." More...

KM DVD/VHS Store 4
Click here to purchase DVD or VHS products direct from the official distributors.
KM Replica Masks 4
Click here to purchase pro quality replica wrestling masks of all your favorite old school masked wrestlers.
KM Store 4
The KM Store now features products featuring the GCW logo as well as some other very cool images. To see what's new and to purchase T-Shirts, ball caps, mouse pads and more, click here.
KM Message Board 4
Want to chat with other fans of regional wrestling? This message board has forums for over two dozen promotions. Click here.
KM Belt Gallery 4
This section contains an extensive title belt gallery... images of heavyweight, tag, U.S. and various regional title belts. To view it, click here.
Old School Tape Review 4
Reviews of various PPV's, commercial tapes and regional wrestling TV shows are available in this section. To read more, click here.
Website designed & maintained by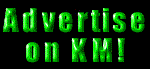 Thanks for visiting!