Regional Territories 4
This section contains monthly articles on over two dozen territories. To relive those wonderful days of old, click here.
Wrestlers 4
Enter this section for bios/profiles of various wrestlers from the regional days. To find more out about your favorite pro wrestler, click here.
Stories 4
This section contains stories from the pros themselves told exclusively to Kayfabe Memories. Want to know more as told from the wrestlers themselves? Click here.
Old School Book Reviews4
Click here to find various book reviews from old school wrestlers.
KM Links 4
For tons of links to old school related sites, click
here
.
KM Micro Wrestlers4
What are Micro Wrestlers? Click here
to find out.
KM Interviews... 4
Click here to read exclusive interviews with stars from the regional territories.
www.kayfabememories.com is © 2004 AtomDesigns. All promotional art, characters, logos and other depictions are © their respective owners. All Rights Reserved.
All contents save Wrestler Stories are © Kayfabe Memories.
Website designed and maintained by AtomDesigns © 2004 . If you experience any problems with this site or have any questions, please contact the Webmaster.
- Charles Laffere
A Hippy Epiphany
Before we start this week, I would like to share my thoughts about the passing of two great wrestlers. Stu Hart passed away on October 16, 2003 due to complications from pneumonia at the age of 88. Stu was not only a father of two of the greatest wrestlers of the past 20 years, Bret and Owen Hart, but also one of the greatest—perhaps THE best-- promoters from Canada through his Stampede promotion. Stu Hart was a truly historical figure, as his career bridged the "carny" days of wrestling into the era of sporting competition and showmanship that defined the territories. He transcended the business and became a revered icon in Canada, for in 2001, Hart was awarded the Order of Canada, the country's highest civilian honor. I know of no wrestler stateside who has received such comparable acclaim. A Yahoo or Google search will reveal much more information about the life of this great man, as will a swing by the Stampede section here at Kayfabe Memories.
My lasting memory of Stu Hart comes from the must-see "Wrestling With Shadows" documentary. During a key passage, we are introduced to the Dungeon, a Spartan basement in the Hart family home that has a wrestling mat and little else. Two aspiring grapplers make the trek downstairs, with one outwardly cocky and somewhat derisive of Stu Hart's prowess at an advance age. Stu stretches a kid into an almost tearful submission. Bret then relates how the Dungeon would make you decide if you wanted to be a wrestler, because a training session with Stu could seem to be a literal life or death situation.
Stu Hart was preceded in death by his wife Helen, as well as his son Owen. He leaves behind 11 children and numerous grandchildren. While the Hart family has known its share of heartache through the past several years, I pray that his relatives may find peace in their time of sorrow.
Michael Hegstrand, known to us as Hawk of the Road Warriors and the Legion of Doom, passed away at the age of 45 in Seminole, Florida on October 19, 2003. I really don't know what to say about the Warriors/LOD other than they, along with the Freebirds, revolutionized tag team wrestling in the 1980s. The duo was exciting and unique the first time I saw them on TBS' Georgia Wrestling. Their entrance music was perfect. Whenever Black Sabbath's "Iron Man" kicked in, with its monolithic drum thump and its seesaw, buzzed out, fuzzed out power chord echoing, completed by Ozzy Osbourne's distorted intonation, you knew somebody was in for an ass kicking. Then the Warriors would charge the ring, diving in under the bottom ropes, in all their shining, malevolent glory, complete with face paint, shoulder pads with metal studs, and buzz cuts. Garish? Try telling that to them in the midst of a monsoon of violence. The Warriors were unstoppable in Georgia, the AWA and Jim Crockett Promotions throughout the '80s and provided unforgettable matches, along with an indelible image that would be copied by many, including the UWF's Bladerunners, for the fans who saw them. My condolences to the Hegstrand family during their time of loss…
"We are the champions - my friends
And we'll keep on fighting
Till the end
We are the champions
We are the champions
No time for losers
'Cause we are the champions of the World"
"We Are the Champions," Queen.
Yes, you certainly were. But, what of Mike Boyette? At different points in his life, he was a Naval Veteran, a judo champion with enough skill to try out for the U.S. Olympic team, and a consistent main-eventer and title holder in Gulf Coast Championship Wrestling. For his work in the UWF, he has a special place in many of our memories. However, that place isn't located within a mile or three of the pay window…
More...
If you'd like to discuss the UWF region with other fans, please visit the KM Message Board

KM DVD/VHS Store 4
Click here to purchase DVD or VHS products direct from the official distributors.
KM Replica Masks 4
Click here to purchase pro quality replica wrestling masks of all your favorite old school masked wrestlers.
KM Store 4
The KM Store now features products featuring the GCW logo as well as some other very cool images. To see what's new and to purchase T-Shirts, ball caps, mouse pads and more, click here.
KM Message Board 4
Want to chat with other fans of regional wrestling? This message board has forums for over two dozen promotions. Click here.
KM Belt Gallery 4
This section contains an extensive title belt gallery... images of heavyweight, tag, U.S. and various regional title belts. To view it, click here.
Old School Tape Review 4
Reviews of various PPV's, commercial tapes and regional wrestling TV shows are available in this section. To read more, click here.
Website designed & maintained by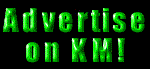 Thanks for visiting!