Regional Territories 4
This section contains monthly articles on over two dozen territories. To relive those wonderful days of old, click here.
Wrestlers 4
Enter this section for bios/profiles of various wrestlers from the regional days. To find more out about your favorite pro wrestler, click here.
Stories 4
This section contains stories from the pros themselves told exclusively to Kayfabe Memories. Want to know more as told from the wrestlers themselves? Click here.
Old School Book Reviews4
Click here to find various book reviews from old school wrestlers.
KM Links 4
For tons of links to old school related sites, click
here
.
KM Micro Wrestlers4
What are Micro Wrestlers? Click here
to find out.
KM Interviews... 4
Click here to read exclusive interviews with stars from the regional territories.
www.kayfabememories.com is © 2004 AtomDesigns. All promotional art, characters, logos and other depictions are © their respective owners. All Rights Reserved.
All contents save Wrestler Stories are © Kayfabe Memories.
Website designed and maintained by AtomDesigns © 2004 . If you experience any problems with this site or have any questions, please contact the Webmaster.
- Charles Laffere
"This is the end,
My only friend,
The end,
Yadda, Yadda, Yadda, etc.,etc."
The Doors-"The End"
I've always felt that Jim Morrison would have made a terrific wrestling manager. He certainly could incite a crowd, had good if bizarre mic skills, and wasn't afraid of physical confrontations. Oh, well.
Does this relate to Kayfabe Memories? Absolutely not. I've been reading "Tangerine" by Ed Bloor for a class assignment (a terrific book, by the way) and it has a foreword featuring a quote from the Doors' "Soft Parade." Trying to figure out a snappy way to start a column isn't easy sometimes, and this happens to be one of those occasions.
The last time we met, I was counting off the reasons why Bill Watts eventually sold the UWF to Jim Crockett. I've been doing some research, so I would like to start off where I left off with
REASON # 3. IT WAS A BUSINESS DECISION FOR WATTS TO SELL TO JIM CROCKETT.
The common logic is that Jim Crockett bailed out Bill Watts in buying the UWF. At the time of the sale in 1987, Watts was facing bankruptcy and going through a divorce. His national move, like any other business expansion, was costly. Given his financial resources and the climate of the business at that time, Watts literally could not afford to take huge monetary hits.
In addition, Watts didn't have the money to compete with Vince McMahon and the WWF when it came to guys like the Junkyard Dog, Ted DiBiase, Jake Roberts, Jim Duggan, the One Man Gang, Kamala, et al. Much like the Atlanta Braves or New York Yankees raiding teams like the Kansas City Royals or the Pittsburgh Pirates for players, McMahon's big-market, New York City-based, USA/NBC network connected promotion was no match for Watts' loosely aligned regional area and his syndicated TV shows. The combined losses of DiBiase and Duggan in a two-month period in 1987 really devastated the UWF. These two were the unquestioned top "faces" in the promotion, and Watts' inability to re-sign them was a blow that the UWF never recovered from.
REASON # 4. WATTS COULD NOT ESTABLISH A NATIONAL FAN BASE
The UWF ran regularly throughout the established Mid-South region of Texas, Oklahoma, Arkansas, Louisiana, and Mississippi, and stretched elsewhere as Watts attempted to go national.
More...
If you'd like to discuss the UWF region with other fans, please visit the KM Message Board

KM DVD/VHS Store 4
Click here to purchase DVD or VHS products direct from the official distributors.
KM Replica Masks 4
Click here to purchase pro quality replica wrestling masks of all your favorite old school masked wrestlers.
KM Store 4
The KM Store now features products featuring the GCW logo as well as some other very cool images. To see what's new and to purchase T-Shirts, ball caps, mouse pads and more, click here.
KM Message Board 4
Want to chat with other fans of regional wrestling? This message board has forums for over two dozen promotions. Click here.
KM Belt Gallery 4
This section contains an extensive title belt gallery... images of heavyweight, tag, U.S. and various regional title belts. To view it, click here.
Old School Tape Review 4
Reviews of various PPV's, commercial tapes and regional wrestling TV shows are available in this section. To read more, click here.
Website designed & maintained by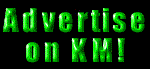 Thanks for visiting!