Regional Territories 4
This section contains monthly articles on over two dozen territories. To relive those wonderful days of old, click here.
Wrestlers 4
Enter this section for bios/profiles of various wrestlers from the regional days. To find more out about your favorite pro wrestler, click here.
Stories 4
This section contains stories from the pros themselves told exclusively to Kayfabe Memories. Want to know more as told from the wrestlers themselves? Click here.
Old School Book Reviews4
Click here to find various book reviews from old school wrestlers.
KM Links 4
For tons of links to old school related sites, click
here
.
KM Micro Wrestlers4
What are Micro Wrestlers? Click here
to find out.
KM Interviews... 4
Click here to read exclusive interviews with stars from the regional territories.
www.kayfabememories.com is © 2004 AtomDesigns. All promotional art, characters, logos and other depictions are © their respective owners. All Rights Reserved.
All contents save Wrestler Stories are © Kayfabe Memories.
Website designed and maintained by AtomDesigns © 2004 . If you experience any problems with this site or have any questions, please contact the Webmaster.
- Charles Laffere
EDDIE GILBERT-NO FRIEND OF A COWBOY
"Tweedle-dee Dum and Tweedle-dee Dee
They're throwing knives into the tree
Two big bags of dead man's bones
Got their noses to the grindstones…
Neither one going to turn and run
They're making a voyage to the sun
"His Master's voice is calling me,"
Says Tweedle-dee Dum to Tweedle-dee Dee
Tweedle-dee Dee and Tweedle-dee Dum
All that and more and then some
They walk among the stately trees
They know the secrets of the breeze…
Well, they're living in a happy harmony
Tweedle-dee Dum and Tweedle-dee Dee
They're one day older and a dollar short
They've got a parade permit and a police escort
They're lying low and they're making hay
They seem determined to go all the way…
Tweedle-dee Dum and Tweedle-dee Dee…"

Bob Dylan, "Tweedle Dee Dum and Tweedle Dee Dee."
I remember Bill Watts referring to the Bladerunners as Tweedle Dee Dum and Tweedle Dee Dee during his commentary on one of their televised matches. Not sure if Bob Dylan saw that show, though.
Hello, my name is Charles Laffere, and welcome back to another edition of my memories of the Universal Wrestling Federation. Last time we met, Missy Hyatt had broken the heart and the head of Hollywood John Tatum and aligned herself, both professionally and personally, with "Hot Stuff" Eddie Gilbert. The two would form Hot Stuff International, a stable that was short-lived but memorable nonetheless.
But first, a slight digression. If you've haven't seen it already, Tim Dills' excellent biography on Hot Stuff is a must-read and can be found here.
Eddie Gilbert was a third generation wrestler, the son of Tennessee legend Tommy and grandson of carnie worker Arley Gilbert. He grew up with the business and had developed a keen understanding of it by 1985. At that time, Bill Watts and Jerry Jarrett had begun to make a series of "trades" between their two promotions. Gilbert left Jarrett's Tennessee company and joined Mid South in the spring of '85.
My first memory of Eddie Gilbert was his title match with then North American champion Terry Taylor in Mid South . It was a terrific match, one made better by two men who understood the psychology of building a contest into something that fans would buy as totally believable. However, the championship would elude Gilbert, as the match was another part of the ongoing angle between Taylor and NWA Heavyweight champion. Ric Flair. Gilbert lost, but the man who would soon defeat Taylor for the strap, the Nightmare, became Eddie's tag team partner. Gilbert even took a shot at managing the Nightmare during his championship run before Sir Oliver Humperdink "stole" the masked man away. Perhaps a foreshadowing of things to come for Gilbert?
"Once in a dream
Far beyond these castle walls
Down by the bay where the
Moonlit water falls
I stood alone while the minstrel sang his song
So afraid I'd lost my soul"… More...
If you'd like to discuss the UWF region with other fans, please visit the KM Message Board

KM DVD/VHS Store 4
Click here to purchase DVD or VHS products direct from the official distributors.
KM Replica Masks 4
Click here to purchase pro quality replica wrestling masks of all your favorite old school masked wrestlers.
KM Store 4
The KM Store now features products featuring the GCW logo as well as some other very cool images. To see what's new and to purchase T-Shirts, ball caps, mouse pads and more, click here.
KM Message Board 4
Want to chat with other fans of regional wrestling? This message board has forums for over two dozen promotions. Click here.
KM Belt Gallery 4
This section contains an extensive title belt gallery... images of heavyweight, tag, U.S. and various regional title belts. To view it, click here.
Old School Tape Review 4
Reviews of various PPV's, commercial tapes and regional wrestling TV shows are available in this section. To read more, click here.
Website designed & maintained by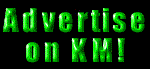 Thanks for visiting!