Regional Territories 4
This section contains monthly articles on over two dozen territories. To relive those wonderful days of old, click here.
Wrestlers 4
Enter this section for bios/profiles of various wrestlers from the regional days. To find more out about your favorite pro wrestler, click here.
Stories 4
This section contains stories from the pros themselves told exclusively to Kayfabe Memories. Want to know more as told from the wrestlers themselves? Click here.
Old School Book Reviews4
Click here to find various book reviews from old school wrestlers.
KM Links 4
For tons of links to old school related sites, click
here
.
KM Micro Wrestlers4
What are Micro Wrestlers? Click here
to find out.
KM Interviews... 4
Click here to read exclusive interviews with stars from the regional territories.
www.kayfabememories.com is © 2004 AtomDesigns. All promotional art, characters, logos and other depictions are © their respective owners. All Rights Reserved.
All contents save Wrestler Stories are © Kayfabe Memories.
Website designed and maintained by AtomDesigns © 2004 . If you experience any problems with this site or have any questions, please contact the Webmaster.
- Charles Laffere
UWF's Behind the Music:
Everybody Wants Hot Stuff?
Okay. Please, nobody sue Vince for copyright infringement. It just so happens that this installment of Wrestling with UWF Music will feature artists from that irresistible guilty pleasure known as VH-1's Behind the Music. But, before we start, a moment of reflection. As Percival Pringle III noted at the Wrestling Classics Message Board this last month, July 16 marks the one-year anniversary of the death of Terry "Bamm Bamm" Gordy, the first AND best UWF World Heavyweight Champion. In the words of Ronnie Van Zant:
"If I leave here tomorrow
Would you still remember me?"
Rest assured, Ronnie and Terry. You two will always be remembered by those who saw and listened to you perform.
Hello, I am Charles Laffere and we are back for another spin at KUWF, broadcasting to frequencies between Badstreet, USA, the Sam Houston Coliseum, and Bixby, Oklahoma. We completed our last shift with a selection dedicated to Terry Taylor, a number from those effete Limey heels known as Duran Duran called "Notorious." Now we will start off with a song that any red blooded, God fearing, heterosexual UWF fan would surely regard with spite and loathing, a ditty used by Eddie Gilbert and his corporation, Donna Summer's "Hot Stuff":
"Looking for some hot stuff baby this evening
I need some hot stuff baby tonight
I want some hot stuff baby this evening
Got to have some hot stuff
Got to have some loving tonight
I need hot stuff
I want some hot stuff
I need some hot stuff"
Gash!!! Disco was long dead by 1986, but the song fit Eddie Gilbert's preening narcissist just fine. This was the same guy who, in Mid-South, once offered a portrait of himself as the prize in a contest. Gilbert was one of the guys who had a hand in booking many of the UWF's classic angles, but in the ring he was at the center of the promotion's most emotionally charged storyline. In the spring of 1986, the Mid-South promotion had morphed into the UWF, but Bill Watts knew he needed a big angle--a REALLY BIG angle—if he wanted his renamed company to make a significant impression nationally.
At the time, Gilbert was wrestling occasionally and managing a Road Warriors knock-off called the Bladerunners, composed of future legend Sting and the evolved life form known as the Ultimate Warrior.
Around the same time, Gilbert began managing Korstia Korchenko, a "Russian" invader whose gimmick was draping the Hammer and Sickle over his defeated opponents. Given that the Reagan era was still in effect, the sociopolitical tenor of the promotion's Louisiana/Mississippi/ Oklahoma/Texas fan base, and Bill Watts' own, uh, RATHER conservative political views, this seemed like a good idea designed to elicit tremendous heat. However, Korchenko wasn't any good at all in the ring, not even as a plodding big man. Watts and Gilbert carried the feud, going back and forth over Hot Stuff's Commie sympathizer ways, with the big Cowboy threatening to fire Gilbert if he brought the Russian flag to the ring again. More...
If you'd like to discuss the UWF region with other fans, please visit the KM Message Board

KM DVD/VHS Store 4
Click here to purchase DVD or VHS products direct from the official distributors.
KM Replica Masks 4
Click here to purchase pro quality replica wrestling masks of all your favorite old school masked wrestlers.
KM Store 4
The KM Store now features products featuring the GCW logo as well as some other very cool images. To see what's new and to purchase T-Shirts, ball caps, mouse pads and more, click here.
KM Message Board 4
Want to chat with other fans of regional wrestling? This message board has forums for over two dozen promotions. Click here.
KM Belt Gallery 4
This section contains an extensive title belt gallery... images of heavyweight, tag, U.S. and various regional title belts. To view it, click here.
Old School Tape Review 4
Reviews of various PPV's, commercial tapes and regional wrestling TV shows are available in this section. To read more, click here.
Website designed & maintained by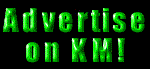 Thanks for visiting!