Regional Territories 4
This section contains monthly articles on over two dozen territories. To relive those wonderful days of old, click here.
Wrestlers 4
Enter this section for bios/profiles of various wrestlers from the regional days. To find more out about your favorite pro wrestler, click here.
Stories 4
This section contains stories from the pros themselves told exclusively to Kayfabe Memories. Want to know more as told from the wrestlers themselves? Click here.
Old School Book Reviews4
Click here to find various book reviews from old school wrestlers.
KM Links 4
For tons of links to old school related sites, click
here
.
KM Micro Wrestlers4
What are Micro Wrestlers? Click here
to find out.
KM Interviews... 4
Click here to read exclusive interviews with stars from the regional territories.
www.kayfabememories.com is © 2004 AtomDesigns. All promotional art, characters, logos and other depictions are © their respective owners. All Rights Reserved.
All contents save Wrestler Stories are © Kayfabe Memories.
Website designed and maintained by AtomDesigns © 2004 . If you experience any problems with this site or have any questions, please contact the Webmaster.
- Charles Laffere
I know that you read my tag line for the inaugural article and are asking "Hey Charles, what about the Russians, the hippies and the rookies you promised?" Alas, not this time, fellow graps fans. After reading various 'Net rumors concerning the impending demise of both WCW and ECW, I decided to devote this installation as to why the UWF was eventually sold by Bill Watts to Jim Crockett.
So what parallels can be drawn between the dilemmas of the two current promotions and the UWF? I doubt that WCW will shut down anytime soon, but the company's collective ability to totally sabotage itself and to careen from disaster to disaster is truly amazing. The promotion's various ills are far too numerous to mention here and is really a topic for another time and a different website. ECW shares some of the problems the UWF faced in 1986-87, in that it has a larger promotion acquiring its stars and a lack of cash flow being primary among the similarities.
I don't want this to be a negative article, because it's hardly the tragicomic tale of, say, the end of the AWA, which concluded with a Turkey-on-a-Pole match inside of an empty, pink-walled TV studio. Nor is it a real-life tragedy, such as the horror story known as the Von Erich family, that caused the demise of WCCW. The format of the piece will be to present reasons the company was sold and folded, and my own "expert" (HAHAHA!!!) take on said reasons. Don't worry… unlike Jim "I Hate Wrestling" Rome, I will not repeat my takes 2 or 3 times.
With that in mind, or as Vince's least favorite dancing wrestler Alex Wright might say, "Ein, zwei, drei, fier, let's go!"
REASON #1. WATTS WANTED OUT OF THE WRESTLING BIZ
Big Bill recently gave an interview to the Daily Oklahoman, the Oklahoma City newspaper, in which he lamented the vulgarity, sleaze, half-naked women, and drugs that had overtaken his beloved sport in the mid-80s. He said that these factors made him want to get out of the business. Revisionist history? I don't know, but anybody who has seen the recent RF Video featuring Watts must scratch his head at what the Cowboy considers "vulgar" language. The man cusses more than Eminem during the interview, for crying out loud!
More...
If you'd like to discuss the UWF region with other fans, please visit the KM Message Board

KM DVD/VHS Store 4
Click here to purchase DVD or VHS products direct from the official distributors.
KM Replica Masks 4
Click here to purchase pro quality replica wrestling masks of all your favorite old school masked wrestlers.
KM Store 4
The KM Store now features products featuring the GCW logo as well as some other very cool images. To see what's new and to purchase T-Shirts, ball caps, mouse pads and more, click here.
KM Message Board 4
Want to chat with other fans of regional wrestling? This message board has forums for over two dozen promotions. Click here.
KM Belt Gallery 4
This section contains an extensive title belt gallery... images of heavyweight, tag, U.S. and various regional title belts. To view it, click here.
Old School Tape Review 4
Reviews of various PPV's, commercial tapes and regional wrestling TV shows are available in this section. To read more, click here.
Website designed & maintained by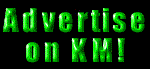 Thanks for visiting!