Regional Territories 4
This section contains monthly articles on over two dozen territories. To relive those wonderful days of old, click here.
Wrestlers 4
Enter this section for bios/profiles of various wrestlers from the regional days. To find more out about your favorite pro wrestler, click here.
Stories 4
This section contains stories from the pros themselves told exclusively to Kayfabe Memories. Want to know more as told from the wrestlers themselves? Click here.
Old School Book Reviews4
Click here to find various book reviews from old school wrestlers.
KM Links 4
For tons of links to old school related sites, click
here
.
KM Micro Wrestlers4
What are Micro Wrestlers? Click here
to find out.
KM Interviews... 4
Click here to read exclusive interviews with stars from the regional territories.
www.kayfabememories.com is © 2004 AtomDesigns. All promotional art, characters, logos and other depictions are © their respective owners. All Rights Reserved.
All contents save Wrestler Stories are © Kayfabe Memories.
Website designed and maintained by AtomDesigns © 2004 . If you experience any problems with this site or have any questions, please contact the Webmaster.
- Arnold Schwartz
I, Arnold Schwartz being of sound mind… oh, wait that's next week... I'm not sure where to start here. A few weeks ago KM asked me to write a column on my memories of something I hold special... Stampede Wrestling. However, before I do, I really want to share some thoughts (and disclaimers!!) I am NOT a wrestling historian, but rather, a fan. I remember listening to old-time fans at the old Exhibition Auditorium in Regina, SK, Canada reminiscing about matches decades past in minute details... hold for hold, outcomes, feuds, etc. I can't do that here. My memories along with my hair line are fading. I suspect a connection...
I will try not to lament for the old days of old school wrestling. Pro-wrestling is ever changing the way it's presented and packaged. At one time it was smoky old arenas, now it's big budget productions rivaling rock concerts and Hollywood. But what hasn't changed is the basic rules: Put people in the ring, let 'em yell and you will put people in the stands who will yell just as much. This hasn't changed one single bit. Stampede Wrestling was no different in this respect. It's collection of wrestlers yelled and groaned their way into a lot of Western Canadian wrestling fans hearts for decades entertaining fans from British Columbia to Manitoba.
I was born and raised in a small Canadian prairie town called Regina (north of Montana). Every Saturday, I would be poking around my dad's old '55 or '56 Chevy or playing football with my little brother. I always got the call from my late father at 2 pm to come in for wrestling on TV which was of course, Stampede Wrestling. To be honest, I distinctly remember being more interested in that old Chevy then watching Stu Hart's gang of grunsters, but Dad was Dad so I came in. Besides, it was afterwards that Bugs Bunny and the Roadrunner show would be on TV! Time passed and the Chevy was sold and my interest with Stampede Wrestling grew. I remember to the day sitting with my father watching Bret Hart being introduced as the newest Hart brother. His brothers Bruce and Keith where already waging the war against John Foley and his flock of evildoers. Bret made the odds a bit more even. "Lightning" Leo Burke, Davey Boy Smith, Hercules Ayala, and Mr.Hito helped the Hart boys from time to time as baddies such as Duke Myers, Kerry Brown, The Great Gama Singh, Dynamite Kid, The Kiwis, and Kasabooboo yelled and cheated their way through the ranks… and made my dad yell and stamp his feet at the little 12" black and white TV.
More...
If you'd like to discuss the Stampede region with other fans, please visit the KM Message Board

KM DVD/VHS Store 4
Click here to purchase DVD or VHS products direct from the official distributors.
KM Replica Masks 4
Click here to purchase pro quality replica wrestling masks of all your favorite old school masked wrestlers.
KM Store 4
The KM Store now features products featuring the GCW logo as well as some other very cool images. To see what's new and to purchase T-Shirts, ball caps, mouse pads and more, click here.
KM Message Board 4
Want to chat with other fans of regional wrestling? This message board has forums for over two dozen promotions. Click here.
KM Belt Gallery 4
This section contains an extensive title belt gallery... images of heavyweight, tag, U.S. and various regional title belts. To view it, click here.
Old School Tape Review 4
Reviews of various PPV's, commercial tapes and regional wrestling TV shows are available in this section. To read more, click here.
Website designed & maintained by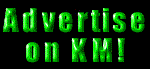 Thanks for visiting!