Regional Territories 4
This section contains monthly articles on over two dozen territories. To relive those wonderful days of old, click here.
Wrestlers 4
Enter this section for bios/profiles of various wrestlers from the regional days. To find more out about your favorite pro wrestler, click here.
Stories 4
This section contains stories from the pros themselves told exclusively to Kayfabe Memories. Want to know more as told from the wrestlers themselves? Click here.
Old School Book Reviews4
Click here to find various book reviews from old school wrestlers.
KM Links 4
For tons of links to old school related sites, click
here
.
KM Micro Wrestlers4
What are Micro Wrestlers? Click here
to find out.
KM Interviews... 4
Click here to read exclusive interviews with stars from the regional territories.
www.kayfabememories.com is © 2004 AtomDesigns. All promotional art, characters, logos and other depictions are © their respective owners. All Rights Reserved.
All contents save Wrestler Stories are © Kayfabe Memories.
Website designed and maintained by AtomDesigns © 2004 . If you experience any problems with this site or have any questions, please contact the Webmaster.
- Jenni Grattan
Over the years, thousands of promotions have come and gone. Some promotions leave an unparalleled mark on the world of professional wrestling, and some fade without ever having a trickle of effect on the industry. Some promotions last for decades, having a distinct impact on every new generation that comes its way, while others last for a short time, barely leaving a trace of their mere existence. Some promotions nurture talented young wrestlers with unlimited potential, who eventually blossom in to international superstars, while other promotions are condemned to a lifetime of daydreaming performers, who have restricted goals and potential. Why do some promotions have such an immense impact on professional wrestling? Why are some promotions able to be successful for generations? Why do some promotions produce many main-event-level superstars, while others remain incapable to produce even one? To answer the questions, we must look to the promotion that has set the bar for all other independent promotions since its creation: Stampede Wrestling.
In 1948, Stampede Wrestling was created in Calgary, Alberta by Stu Hart as part of the NWA regime, which dominated the wrestling industry at the time. In the beginning of their relationship, NWA gave little support to Stampede, which at the time was only a small regional promotion that gained little exposure. In their early days, Stampede Wrestling struggled with not being able to secure prominent wrestlers, and had little more than local independent wrestlers with little fame or experience. In the early 60s, Stampede began to attract well-known competitors, such as Harley Race and former WWF Champion Stan Stasiak, and the promotion crowned its first champion in 1962, awarding the Stampede Wrestling North American Heavyweight Title to Archie Gouldie, who won the title eight times.
Stampede Wrestling's newfound success continued throughout the 1960s and in to the 1970s, drawing such well-known wrestlers as Abdullah the Butcher, Andre the Giant, and Junkyard Dog. As the promotion progressed, Stu began using his training facility, The Dungeon, as a farm team for Stampede Wrestling, training his students to be Stampede headliners and carry the shows. These competitors created little need for Stu to bring in wrestlers from other territories, as many of his trainees were skilled enough to draw crowds on their own, and create an even bigger name for Stampede. These trainees, who included Bret Hart, Owen Hart, Davey Boy Smith, and Chris Benoit, earned Stampede Wrestling national television coverage, as well as international recognition among fans and wrestlers.
In 1981, Stampede Wrestling's business was booming, to the point where they no longer required affiliation with the National Wrestling Alliance. Stu Hart chose to cut off his relationship with NWA, and operate Stampede completely independently. While many thought this was a risky decision, it appeared to be the right one, as stars such as Don Muraco and Jake Roberts flocked to Stampede, and even bigger stars, such as Jushin Liger, Dynamite Kid, and Chris Jericho, were produced by Stampede and their training facility, The Dungeon.
Stampede Wrestling's success did more than attract fans and wrestlers, though, it attracted other promoters as well. In the early 1980s, Vincent K. McMahon, who had just recently bought the World Wrestling Federation from his father, began watching Stampede Wrestling. In 1984, only three years after disconnecting their ties with NWA, Stampede Wrestling received a sales pitch from WWF, who was in the process of buying out and running over many territories, sucking up the stars and leaving only ruins of what was once a booming wrestling business. Although Stu Hart loved his promotion, the sixty-nine-year-old promoter made the decision to sell his promotion to Vince McMahon and the WWF.
In 1985, the WWF was making use of those who were once Stampede Wrestling's biggest stars, but were not making use of the actual Stampede Wrestling promotion. That year, Vince McMahon called Bruce Hart and told him that he was "unable to fulfill the agreement", and gave Bruce permission to reform Stampede Wrestling. More...
If you'd like to discuss the Stampede region with other fans, please visit the KM Message Board

KM DVD/VHS Store 4
Click here to purchase DVD or VHS products direct from the official distributors.
KM Replica Masks 4
Click here to purchase pro quality replica wrestling masks of all your favorite old school masked wrestlers.
KM Store 4
The KM Store now features products featuring the GCW logo as well as some other very cool images. To see what's new and to purchase T-Shirts, ball caps, mouse pads and more, click here.
KM Message Board 4
Want to chat with other fans of regional wrestling? This message board has forums for over two dozen promotions. Click here.
KM Belt Gallery 4
This section contains an extensive title belt gallery... images of heavyweight, tag, U.S. and various regional title belts. To view it, click here.
Old School Tape Review 4
Reviews of various PPV's, commercial tapes and regional wrestling TV shows are available in this section. To read more, click here.
Website designed & maintained by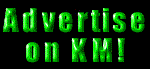 Thanks for visiting!