Regional Territories 4
This section contains monthly articles on over two dozen territories. To relive those wonderful days of old, click here.
Wrestlers 4
Enter this section for bios/profiles of various wrestlers from the regional days. To find more out about your favorite pro wrestler, click here.
Stories 4
This section contains stories from the pros themselves told exclusively to Kayfabe Memories. Want to know more as told from the wrestlers themselves? Click here.
Old School Book Reviews4
Click here to find various book reviews from old school wrestlers.
KM Links 4
For tons of links to old school related sites, click
here
.
KM Micro Wrestlers4
What are Micro Wrestlers? Click here
to find out.
KM Interviews... 4
Click here to read exclusive interviews with stars from the regional territories.
www.kayfabememories.com is © 2004 AtomDesigns. All promotional art, characters, logos and other depictions are © their respective owners. All Rights Reserved.
All contents save Wrestler Stories are © Kayfabe Memories.
Website designed and maintained by AtomDesigns © 2004 . If you experience any problems with this site or have any questions, please contact the Webmaster.
- Arnold Schwartz
An oddity about Stampede wrestling was despite the fondness of the Hart Brothers by the fans, Stampede seemed to churn out better villains. I'm not sure if it was the endless hours on the back roads in the winters of western Canada or the "aromatic" exhibition auditorium awaiting everyone every Tuesday night, but whatever it was Stampede brought out the best in wrestling's villains. Personally, I feel Stu Hart worked very hard at protecting his territories balanced image. With several of his sons in the ring, he needed to avoid accusations of patronage. To avoid this, Stampede's villains rose to the challenge.
Few took the challenge, kicked it in the mouth, stuffed it sideways down his opponents throat then did Bad News Allen. Straight ahead violence at 200 mph non stop. Bad News didn't stop till his opponent was lying face down in a pool of blood or tears. Brass knuckles, chains, lead pipes, fire extinguishers, garbage cans, and in one infamous night in 84 a fork. Bad News smashed his way to four North American Heavyweight championships in the 1980's.
He left scars on his opponents faces that remain to this day. I still remember getting chills when I remember a 92 WWF interview with Bret Hart and instantly recalling how he got the set of scars over his right eye. Three words. Bad. News. Allen. The ironic thing was Bad News never needed the foreign objects. He had incredible athletic ability in the martial arts coming into Stampede. After winning the Bronze medal in the 1976 summer Olympics as well as several medals at the Pan-Am games in Judo, Bad News carefully combined the martial arts with Stampede's reckless wrestling style. However he went beyond other medal winners who stepped in the ring. He added an incredible amount of anger towards the Hart family. This made him unstoppable.
Bad News entered Stampede in the early 80's after training in Japan and immediately took aim at Stampede's top prize. The North American Heavyweight strap held at the time by Stu Hart's pride Bret Hart. Bret was already in a family war with J.R. Foley's army. Foley kept Bret on his toes week after week with assault after assault. Bad News presented a new assault on the championship. Unsure of Stampede and not willing to trust anyone right away Bad News went on alone spurning Foley's army early in his career. Bad News tried something different then Foley's run in tactics in order to get title shots (however don't be mislead.
More...
If you'd like to discuss the Stampede region with other fans, please visit the KM Message Board

KM DVD/VHS Store 4
Click here to purchase DVD or VHS products direct from the official distributors.
KM Replica Masks 4
Click here to purchase pro quality replica wrestling masks of all your favorite old school masked wrestlers.
KM Store 4
The KM Store now features products featuring the GCW logo as well as some other very cool images. To see what's new and to purchase T-Shirts, ball caps, mouse pads and more, click here.
KM Message Board 4
Want to chat with other fans of regional wrestling? This message board has forums for over two dozen promotions. Click here.
KM Belt Gallery 4
This section contains an extensive title belt gallery... images of heavyweight, tag, U.S. and various regional title belts. To view it, click here.
Old School Tape Review 4
Reviews of various PPV's, commercial tapes and regional wrestling TV shows are available in this section. To read more, click here.
Website designed & maintained by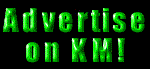 Thanks for visiting!