Regional Territories 4
This section contains monthly articles on over two dozen territories. To relive those wonderful days of old, click here.
Wrestlers 4
Enter this section for bios/profiles of various wrestlers from the regional days. To find more out about your favorite pro wrestler, click here.
Stories 4
This section contains stories from the pros themselves told exclusively to Kayfabe Memories. Want to know more as told from the wrestlers themselves? Click here.
Old School Book Reviews4
Click here to find various book reviews from old school wrestlers.
KM Links 4
For tons of links to old school related sites, click
here
.
KM Micro Wrestlers4
What are Micro Wrestlers? Click here
to find out.
KM Interviews... 4
Click here to read exclusive interviews with stars from the regional territories.
www.kayfabememories.com is © 2004 AtomDesigns. All promotional art, characters, logos and other depictions are © their respective owners. All Rights Reserved.
All contents save Wrestler Stories are © Kayfabe Memories.
Website designed and maintained by AtomDesigns © 2004 . If you experience any problems with this site or have any questions, please contact the Webmaster.
- Arnold Schwartz
Torches must be passed from generation to generation. Bridges must be made so the torches can be passed. The bridges between Bret Hart's reign in Stampede Wrestling and Owen Hart's were their two brothers Keith and Bruce. Keith and Bruce never made it to WWF superstardom but both played pivotal roles in Bret and Owen's future. Both entered Stampede in the mid 70's and teamed with Leo Burke, against Foley's army of The Loch Ness Monster. And often, they teamed with Bret in the early days and later with Owen.
Both Keith and Owen were never big in physical size. By today's standards they would be dwarfed in stature. In a slugfest they could never go toe to toe with behemoths like Kasabooboo or Abdullah the Butcher. Or could they?
Keith Hart, soft-spoken and quiet carried his presence into the squared circle and lit up the fans as much as his soon to be famous brother Bret. Keith brought to the ring pure technical wrestling skills and a heart as big as Montana. He would wear his opponents down with several submission holds for minutes at a time, yet never going for the win with these. Keith patiently wore his opponents down till they had no life energy left. I still remember to this day Duke Myers grimacing face as Keith locked him in a abdominal stretch at the 10 minute mark, then seeing the match skip forward to the 20 minute mark with announcer Ed Whelan telling us that Duke was in the hold the whole time! No chants of "boring" from the fans… no big boot kick followed by a leg drop from Keith. Simply an intense desire to squeeze Duke's strength away. If Duke got out of the hold, Keith quickly tripped him up and put him in his version of the figure four. Keith would then quickly follow up with one of Bret's and Leo Burke's powerful finishers; a sleeperhold. Because of his size, he often would be at a disadvantage with it, but persistence paid off and more often then not his larger opponents would be on his knees where Keith would be able to take the edge with his figure four.
Possibly the most electrifying tag team he was in was with Leo Burke. Burke fought with the same submission style but added a brawling edge. With his bigger size, Leo could go toe to toe with bruisers like Killer Tim Brooks, while Keith stood faithfully in the corner waiting his turn to trip up their opponent and squeeze the life out of him. Keith used combinations of sleeperholds, stretches, and trip ups with a stunning drop kick, to propel him, to tag titles throughout the late 70's with his partners, Leo Burke and Hubert Gallant. Of all the Hart brothers Keith was the purest of scientific submission wrestlers in ring. If Bret was later called "the Hitman", Keith's moniker should have Been "the Shooter" in reference to shoot wrestling years gone by.
More...
If you'd like to discuss the Stampede region with other fans, please visit the KM Message Board

KM DVD/VHS Store 4
Click here to purchase DVD or VHS products direct from the official distributors.
KM Replica Masks 4
Click here to purchase pro quality replica wrestling masks of all your favorite old school masked wrestlers.
KM Store 4
The KM Store now features products featuring the GCW logo as well as some other very cool images. To see what's new and to purchase T-Shirts, ball caps, mouse pads and more, click here.
KM Message Board 4
Want to chat with other fans of regional wrestling? This message board has forums for over two dozen promotions. Click here.
KM Belt Gallery 4
This section contains an extensive title belt gallery... images of heavyweight, tag, U.S. and various regional title belts. To view it, click here.
Old School Tape Review 4
Reviews of various PPV's, commercial tapes and regional wrestling TV shows are available in this section. To read more, click here.
Website designed & maintained by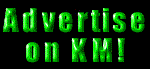 Thanks for visiting!