Regional Territories 4
This section contains monthly articles on over two dozen territories. To relive those wonderful days of old, click here.
Wrestlers 4
Enter this section for bios/profiles of various wrestlers from the regional days. To find more out about your favorite pro wrestler, click here.
Stories 4
This section contains stories from the pros themselves told exclusively to Kayfabe Memories. Want to know more as told from the wrestlers themselves? Click here.
Old School Book Reviews4
Click here to find various book reviews from old school wrestlers.
KM Links 4
For tons of links to old school related sites, click
here
.
KM Micro Wrestlers4
What are Micro Wrestlers? Click here
to find out.
KM Interviews... 4
Click here to read exclusive interviews with stars from the regional territories.
www.kayfabememories.com is © 2004 AtomDesigns. All promotional art, characters, logos and other depictions are © their respective owners. All Rights Reserved.
All contents save Wrestler Stories are © Kayfabe Memories.
Website designed and maintained by AtomDesigns © 2004 . If you experience any problems with this site or have any questions, please contact the Webmaster.
- Jenni Grattan
By 1978, thirty years after their inauguration, Stampede Wrestling was world-renowned for its star-studded roster. Part of Stampede's roster included mid-heavyweights (now more commonly referred to as cruiserweights), such as Dynamite Kid and Bret Hart, who at the time was only beginning his wrestling career. With their impressive slew of mid-heavyweight competitors, it only made sense for Stu Hart to introduce a new championship in order to accommodate the constantly growing roster of Stampede Wrestling, which directed specifically at the mid-heavyweight division. So, in 1978, Stampede Wrestling introduced the British Commonwealth Mid-Heavyweight Championship to their promotion, which accompanied the promotions two other titles: the North American Heavyweight Title and the International Tag Team Titles.
Dynamite Kid was an obvious choice for the first British Commonwealth Heavyweight Title reign, as he was both a mid-heavyweight and British superstar. At the time, Dynamite Kid was an exciting young wrestler who was quickly making his way up the midcard ranks. Dynamite Kid only held the Title for a short time, however, as Norman Frederich Charles III won the Championship from him in September 1978, only two months after the introduction of the Title. It wasn't long before one of the Harts got in to the Commonwealth Title chase, as Bret won the Title from Charles III in November 1978. Bret and Dynamite Kid then took part in an eight-month feud, during which the belt was exchanged three times.
Dynamite Kid came out of his feud with Bret Hart as the Commonwealth Champion, holding the belt three times in only twelve months. In 1979, Dynamite Kid was quickly becoming an icon in Stampede Wrestling, and he found himself holding the Commonwealth Title for an amazing eleven months before Dick Steinborn foiled his extensive reign in June 1980. Steinborn only had the opportunity to hold the Title for one month, however, as Keith Hart won the Championship from him in July. There is some confusion in Title history between 1980 and 1982, however the history once again becomes certain at the time when Bruce Hart became Champion on January 12, 1982.
Bruce Hart's Title reign was short, though, as Dynamite Kid defeated him a short time after his win to become a four-time Commonwealth Champion. Shortly after Dynamite Kid's victory over Bruce Hart, however, a new superstar reigned on Dynamite's parade and won the Belt from him: Davey Boy Smith, The British Bulldog. Bulldog's Title reign was also brief, as Bruce Hart the Commonwealth Title for a second time in August 1982. Danny Davis won the Title from Bruce Hart in November 1982, only to have it taken from him by Bruce on February 18, 1983. From 1983 to 1985, four new stars emerged in the Commonwealth Title chase: The Cobra (George Takano), Sonny Two Rivers (Junji Hirata), Ron Starr, and Gama Singh. These stars, as well as Bruce Hart, all held the Championship during this time period.
On April 19, 1985, Bruce Hart showed his staying power by capturing the Commonwealth Title for a fifth time. Gama Singh defeated Bruce four months later to win the Championship for the second time. On December 20, 1985, The Cobra won the Commonwealth Championship from Singh, only to be defeated the next night in the return match, losing the Title back to Gama Singh. Bruce Hart regained the Championship in April 1986, only to vacate the Title in June. A tournament was held in August of that year, with Gama Singh defeating Johnny Smith in the final to regain the Championship. Three news stars were introduced in to the Title picture in 1986: Johnny Smith, Les Thorton, and Owen Hart. These three each held the Title for one reign between August 1 and October 25, 1986, when Gama Singh captured the Title for the fourth time, defeating Owen Hart in Calgary.
In March 1988, Chris Benoit burst in to the Commonwealth Title picture, defeating Singh for the Title. Benoit held the Title for three months before Johnny Smith made a comeback in the Title chase by winning the Championship for the first time in two years. This triggered a series of exchanges between Chris Benoit and Johnny Smith, during which the Title changed hands an unbelievable five times, with Benoit holding the Title coming out of the feud in July 1989. Gama Singh won the Title from Benoit a month later, only to lose the Title to Bruce Hart once more in October 1989.
When Stampede Wrestling sold to Vince McMahon and the World Wrestling Federation in 1989, the British Commonwealth Mid-Heavyweight Championship was also "shut down". The Title had a brief comeback in 1999, only to be unofficially retired again in 2000 after only two title reigns. With any luck, the Commonwealth Title will soon be revived and used once again as a stepping stone for the extraordinary mid-heavyweight talent of Stampede Wrestling.
NEXT MONTH:
We will look back at the Stampede Wrestling career of "Dynamite Kid" Tom Billington.
If you'd like to discuss the Stampede region with other fans, please visit the KM Message Board

KM DVD/VHS Store 4
Click here to purchase DVD or VHS products direct from the official distributors.
KM Replica Masks 4
Click here to purchase pro quality replica wrestling masks of all your favorite old school masked wrestlers.
KM Store 4
The KM Store now features products featuring the GCW logo as well as some other very cool images. To see what's new and to purchase T-Shirts, ball caps, mouse pads and more, click here.
KM Message Board 4
Want to chat with other fans of regional wrestling? This message board has forums for over two dozen promotions. Click here.
KM Belt Gallery 4
This section contains an extensive title belt gallery... images of heavyweight, tag, U.S. and various regional title belts. To view it, click here.
Old School Tape Review 4
Reviews of various PPV's, commercial tapes and regional wrestling TV shows are available in this section. To read more, click here.
Website designed & maintained by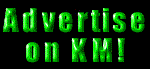 Thanks for visiting!