Regional Territories 4
This section contains monthly articles on over two dozen territories. To relive those wonderful days of old, click here.
Wrestlers 4
Enter this section for bios/profiles of various wrestlers from the regional days. To find more out about your favorite pro wrestler, click here.
Stories 4
This section contains stories from the pros themselves told exclusively to Kayfabe Memories. Want to know more as told from the wrestlers themselves? Click here.
Old School Book Reviews4
Click here to find various book reviews from old school wrestlers.
KM Links 4
For tons of links to old school related sites, click
here
.
KM Micro Wrestlers4
What are Micro Wrestlers? Click here
to find out.
KM Interviews... 4
Click here to read exclusive interviews with stars from the regional territories.
www.kayfabememories.com is © 2004 AtomDesigns. All promotional art, characters, logos and other depictions are © their respective owners. All Rights Reserved.
All contents save Wrestler Stories are © Kayfabe Memories.
Website designed and maintained by AtomDesigns © 2004 . If you experience any problems with this site or have any questions, please contact the Webmaster.
- Jenni Grattan
Iron Mike Sharpe
When I heard of the "jobbers" theme this month at Kayfabe Memories, one name came to mind right away: Iron Mike Sharpe. Mike Sharpe, along with other prominent jobbers such as Steve Lombardi, is one of the most well-known and respected jobbers this business has ever seen. While most fans may remember Iron Mike from his work in World Wrestling Federation, any long-time Stampede Wrestling fans know that a large portion of Sharpe's career was spent in Stampede Wrestling, toiling away with the Hart Brothers, Duke Myers, and Davey Boy Smith.
Mike Sharpe was born and raised in Northern California, where his father and uncle, Mike & Ben Sharpe, were tag team wrestling superstars. When Iron Mike got in to the wrestling business, he adopted Gene Kiniski's "Canada's Greatest Athlete" gimmick, and even wore Kiniski's famous "Canada" jacket. Sharpe also wore a leather band on his right arm, which he claimed was required in the healing of an injury. Similar to "Cowboy" Bob Orton, Sharpe seemed to be a rather slow healer – the band stayed for ten years. Sharpe was also well-known for his excellent conditioning, stamina, and height – he stood 6'4", but was still not as tall as his 6'6" father.
Mike Sharpe has the dubious honor of possibly being the most technically-sound jobber of all time. Sharpe's trademark move was a forearm smash, which he either used as a finisher in itself or to lead in to a backbreaker submission hold. Sharpe had a wide array of wrestling moves and holds, and could no doubt teach many current wrestlers a thing or two about ring psychology, telling a story, and the overall technical side of wrestling.
Unlike most jobbers, Mike Sharpe was not a perpetual loser. In fact, Iron Mike even won a few titles, which is much more than many other jobbers are able to claim. While in Stampede Wresting, Mike Sharpe held only one title, the Stampede International Tag Team Championship. In 1982, Iron Mike teamed with Duke Myers to defeat Leo and Bobby Burke for the Stampede Wrestling Tag Titles to claim his sixth of nine professional titles. Sharpe was also given a push in World Wrestling Federation in the mid 1980s, but like most jobbers, Sharpe was remembered by fans as a frequent jobber, and was given little respect or fan support.
Throughout the years, Iron Mike Sharpe held titles in territories such as Vancouver, Louisiana, Mississippi, and Memphis, and has wrestled all over the world. In most territories, he came, entertained, and has been forgotten, all in the same breath. In Stampede Wrestling, however, Iron Mike Sharpe is still remembered as one of the greatest jobbers of all-time, an extremely underrated competitor, who loved the business and loved performing enough to be willing to lay down for the job night in and night out, simply because that is what allowed him to do what he loved to do.
I was doing an interview with Barry Horowitz one day, an incredible jobber in his own right, and I asked him what it felt like to have always had to lay down for the big stars, not allowing him to become a star himself. Horowitz told me, "The 'big stars' would not have become big stars had it not been for people like us being willing to lay down for them." So next time you see stars such as Triple H, unwilling to job for even the brightest prospect, remember people like Iron Mike Sharpe, who laid down for a living so people like Triple H and The Rock could have the opportunity to become professional wrestling icons. These jobbers, many of whom have been wrestling for tens of years, will lay down for anyone, whether it is a green rookie or a clumsy, unconditioned veteran. These jobbers, that fans so uncaringly shout profanities and throw food at, take some of the worst beating, deal with some of the most wretched and untalented wrestlers, and deal with low payoffs and shabby treatment for the office, only to come back day after day to do it all over again.
When you get right down to it, some of the littlest guys in this business have the biggest heart for it. Jobbers like Mike Sharpe and Steve Lombardi, who get nothing in return for their hard and humbling work. These jobbers don't get the big paychecks, they don't get flown first class, they don't get the unparalleled fan support or media attention, they are lucky if they even see the light of a televised match. More...
If you'd like to discuss the Stampede region with other fans, please visit the KM Message Board

KM DVD/VHS Store 4
Click here to purchase DVD or VHS products direct from the official distributors.
KM Replica Masks 4
Click here to purchase pro quality replica wrestling masks of all your favorite old school masked wrestlers.
KM Store 4
The KM Store now features products featuring the GCW logo as well as some other very cool images. To see what's new and to purchase T-Shirts, ball caps, mouse pads and more, click here.
KM Message Board 4
Want to chat with other fans of regional wrestling? This message board has forums for over two dozen promotions. Click here.
KM Belt Gallery 4
This section contains an extensive title belt gallery... images of heavyweight, tag, U.S. and various regional title belts. To view it, click here.
Old School Tape Review 4
Reviews of various PPV's, commercial tapes and regional wrestling TV shows are available in this section. To read more, click here.
Website designed & maintained by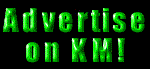 Thanks for visiting!