Regional Territories 4
This section contains monthly articles on over two dozen territories. To relive those wonderful days of old, click here.
Wrestlers 4
Enter this section for bios/profiles of various wrestlers from the regional days. To find more out about your favorite pro wrestler, click here.
Stories 4
This section contains stories from the pros themselves told exclusively to Kayfabe Memories. Want to know more as told from the wrestlers themselves? Click here.
Old School Book Reviews4
Click here to find various book reviews from old school wrestlers.
KM Links 4
For tons of links to old school related sites, click
here
.
KM Micro Wrestlers4
What are Micro Wrestlers? Click here
to find out.
KM Interviews... 4
Click here to read exclusive interviews with stars from the regional territories.
www.kayfabememories.com is © 2004 AtomDesigns. All promotional art, characters, logos and other depictions are © their respective owners. All Rights Reserved.
All contents save Wrestler Stories are © Kayfabe Memories.
Website designed and maintained by AtomDesigns © 2004 . If you experience any problems with this site or have any questions, please contact the Webmaster.
- Talmugin
Ed. Note: Some of you may notice a different byline for this column. After 40 straight months, KM's Memphis writer, Tim Dills, has stepped down. Tim was one of two writers that I initially contacted when I had the idea for KM. Month in and month out, Tim had a piece for me, whether I reminded him or not.
It has been my pleasure to work with Tim, to learn from his exhaustive and enthusiastic knowledge of Memphis wrestling, and I'm proud to be able to call him friend. So, on this personal note, I'd like to extend to Tim a huge thank you for all his hard work, dedication and support of KM. While he won't be writing here on the Memphis territory, he will be writing something somewhere for us, and I look forward to his continuing contribution.
With that, I welcome our new Memphis writer, Talmugin, who many of you will recognize from the Memphis board on the KM message board.
My First Monday Night
Yes. The answer was yes. Finally my father had agreed to take me to the matches on a Monday night. I had been pestering him about it for 6 months, since I had become addicted to that magical ninety minutes that came every Saturday at 11:00AM. Lance and Dave would call the action, Jerry Lawler and Sam Bass would wreak havoc on the studio, and I would sit enthralled watching these burley men beat the heck out of each other. And finally, we were going to go see a live wrestling show at the Memphis Mid-South Coliseum.
The year was 1976, the year I became a wrestling fan. Oh, I had tried to watch it a few times in previous years, but I always found it to be just interference to my main interest as an elementary school boy, which were of course Saturday Morning cartoons. But somehow in late 1975, I became fascinated by a brash talking, sneaky, cocky wrestler by the name of Jerry Lawler. I just couldn't believe the dastardly things he and his manager Sam Bass would do every week to such nice men like Bill Dundee, Tommy Rich, Tommy Gilbert, and Bob Armstrong. I quickly picked up, though, that many times the good guys finally gave Lawler his just desserts on Monday night, so I dreamed of being there in person. And finally it was going to happen.
I had just completed the fourth grade, with good marks, and as a reward my Dad said he would take me to the matches on the first Monday night after school let out. That turned out to be Monday, June 7, 1976, and the card was advertised in the Memphis paper as follows:
MAIN EVENT
18 Man Blindfold Battle Royal
Charlie Cook, Don Kernoodle, Bill Dundee, Plowboy Frasier
The Dominoes, J.C. Dykes, Cowboy Frankie Lane, Jim Kent,
Sam Bass, Dan Miller, Tommy Rich, Don Greene, the Scorpion,
Jerry Lawler, Don Anderson, the Bounty Hunters
RETURN SOUTHERN TITLE MATCH –
THREE REFEREES – 1 OUTSIDE & 2
INSIDE RING
Don Anderson, Champion
Vs.
Jerry Lawler, Challenger
EXPLOSIVE SOUTHERN TAG TITLE MATCH
Don Greene and the Scorpion, Champions
Vs.
Dan Miller and Tommy Rich, Challengers
If you'd like to discuss the Memphis/CWA region with other fans, please visit the KM Message Board

KM DVD/VHS Store 4
Click here to purchase DVD or VHS products direct from the official distributors.
KM Replica Masks 4
Click here to purchase pro quality replica wrestling masks of all your favorite old school masked wrestlers.
KM Store 4
The KM Store now features products featuring the GCW logo as well as some other very cool images. To see what's new and to purchase T-Shirts, ball caps, mouse pads and more, click here.
KM Message Board 4
Want to chat with other fans of regional wrestling? This message board has forums for over two dozen promotions. Click here.
KM Belt Gallery 4
This section contains an extensive title belt gallery... images of heavyweight, tag, U.S. and various regional title belts. To view it, click here.
Old School Tape Review 4
Reviews of various PPV's, commercial tapes and regional wrestling TV shows are available in this section. To read more, click here.
Website designed & maintained by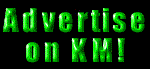 Thanks for visiting!