Regional Territories 4
This section contains monthly articles on over two dozen territories. To relive those wonderful days of old, click here.
Wrestlers 4
Enter this section for bios/profiles of various wrestlers from the regional days. To find more out about your favorite pro wrestler, click here.
Stories 4
This section contains stories from the pros themselves told exclusively to Kayfabe Memories. Want to know more as told from the wrestlers themselves? Click here.
Old School Book Reviews4
Click here to find various book reviews from old school wrestlers.
KM Links 4
For tons of links to old school related sites, click
here
.
KM Micro Wrestlers4
What are Micro Wrestlers? Click here
to find out.
KM Interviews... 4
Click here to read exclusive interviews with stars from the regional territories.
www.kayfabememories.com is © 2004 AtomDesigns. All promotional art, characters, logos and other depictions are © their respective owners. All Rights Reserved.
All contents save Wrestler Stories are © Kayfabe Memories.
Website designed and maintained by AtomDesigns © 2004 . If you experience any problems with this site or have any questions, please contact the Webmaster.
- Tim Dills
1970
1969 Review
1969 saw longtime area heel Tojo Yamamoto turn into a fan favorite. Bearcat Brown became the first regular African-American performer on the circuit and formed a memorable and major-drawing tag team with area favorite Len Rossi. Debuting in ring during 1969 was Jerry Jarrett, who would make a splash in-ring now and behind the scenes in years to come.
1970 Preview
The area continued to be a haven for great tag team action. The tag team ranks were bolstered early in the year when a new masked team called The Interns debuted with manager Dr. Ken Ramey. Another manager, Steve Clements first came to prominence during 1970 as he became manager to one of the area's top teams of all time, Don & Al Greene. A member of the legendary Welch family debuted in the area during the year as Jimmy Golden caught the fancy of area fans. Steady performer Dennis Hall chalked up another year of working at the top of area cards by teaming frequently with such stars as Len Rossi and Johnny Walker.
January-March 1970
The Southern tag titles began the year in the possession of Don Greene & Al Greene. The Greenes though would drop the titles to Johnny Walker & Dennis Hall. Some time during this quarter the tag titles fell vacant.
The Southern Junior heavyweight title was defended some at this point by Len Rossi. While this title would become the focus of the promotion in years to come, it was rarely defended at this point in time as the area still revolved around tag team competition.
The last record of World tag title holders comes from the fall of 1969 when Len Rossi & Bearcat Brown were recognized as champions. While it is possible and very likely the tag titles were active in this area at this time, research has yet to uncover the exact lineage.
The Knoxville-based Tennessee tag titles were defended some in the area at this time. Ron Wright & Don Wright were billed as champions although they lost the titles to The Masked Spoilers managed by Gentleman Saul Weingeroff. A few weeks later, Johnny Walker & Dennis Hall would capture the titles from the masked team. This championship was mostly defended over the years on the eastern end of the territory.
Johnny Walker worked area cards billed as U.S. Junior heavyweight champion although how he came to hold the title has yet to be uncovered by research.
Among the other stars working the territory at this time were Bob Armstrong, The Masked Mighty Yankees, Les Thatcher, Tony Russo, Bob Ramstad, The Masked Black Menace, George Harris, Darrell Cochran, Danny Dusek, Johnny Long, Eddie Sullivan, George Strickland, Luther Jones, Carlos Montes, The Masked Black Monster (Tony Nero), Mitsu Katayana, Sugi Sito, Corsica Joe, Mike Pappas, Frank Martinez, Bearcat Brown, Rocky Cookson, Mack York, Bobby Hart, Bill Costello and more.
The lovely ladies of the mat world worked some in the area during this time. Among those who cards at this time were Donna Christianello, Toni Rose, Cora Combs and Judy Glover.
The hottest feuds in the area at this time most often centered around the shenanigans of The Masked Spoilers with manager Gentleman Saul Weingeroff. The masked team and their manager feuded against Bob Armstrong, Ron Wright and Ken Lucas. Armstrong also feuded against former tag partner Bob Ramstad. As spring neared the area was treated to an interesting feud as Dr. Ken Ramey's Masked Interns butted heads against Gentleman Saul Weingeroff's Masked Spoilers in a feud no doubt billed as " Battle of the Brutes". More...
If you'd like to discuss the Memphis/CWA region with other fans, please visit the KM Message Board

KM DVD/VHS Store 4
Click here to purchase DVD or VHS products direct from the official distributors.
KM Replica Masks 4
Click here to purchase pro quality replica wrestling masks of all your favorite old school masked wrestlers.
KM Store 4
The KM Store now features products featuring the GCW logo as well as some other very cool images. To see what's new and to purchase T-Shirts, ball caps, mouse pads and more, click here.
KM Message Board 4
Want to chat with other fans of regional wrestling? This message board has forums for over two dozen promotions. Click here.
KM Belt Gallery 4
This section contains an extensive title belt gallery... images of heavyweight, tag, U.S. and various regional title belts. To view it, click here.
Old School Tape Review 4
Reviews of various PPV's, commercial tapes and regional wrestling TV shows are available in this section. To read more, click here.
Website designed & maintained by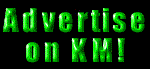 Thanks for visiting!