Regional Territories 4
This section contains monthly articles on over two dozen territories. To relive those wonderful days of old, click here.
Wrestlers 4
Enter this section for bios/profiles of various wrestlers from the regional days. To find more out about your favorite pro wrestler, click here.
Stories 4
This section contains stories from the pros themselves told exclusively to Kayfabe Memories. Want to know more as told from the wrestlers themselves? Click here.
Old School Book Reviews4
Click here to find various book reviews from old school wrestlers.
KM Links 4
For tons of links to old school related sites, click
here
.
KM Micro Wrestlers4
What are Micro Wrestlers? Click here
to find out.
KM Interviews... 4
Click here to read exclusive interviews with stars from the regional territories.
www.kayfabememories.com is © 2004 AtomDesigns. All promotional art, characters, logos and other depictions are © their respective owners. All Rights Reserved.
All contents save Wrestler Stories are © Kayfabe Memories.
Website designed and maintained by AtomDesigns © 2004 . If you experience any problems with this site or have any questions, please contact the Webmaster.
- John Hitchcock
"Art is the lie that helps you see the truth." - Picasso.
Looking back at Mid-Atlantic Wrestling, my first favorite heel single was the Missouri Mauler and for one good reason. He did very serious but funny interviews. I mean they were funny to me. The Mauler was about six foot and built like a tree stump with a big barrel chest. He came into the Mid-Atlantic with the Eastern Heavy Weight Title and a big mouth. He always said the most condescending things during his interviews with Charlie Harville. In the world of The Mauler the worst thing anyone could be was a Hog Farmer. I would guess that in Missouri that is a huge putdown but in North Carolina, well it didn't sound so bad. An Egg Suckin Dog is totally understandable as an insult but Pig Farmer stuck me as hilarious.
And he said it all the time
The first big feud the Mauler had was with Danny Miller a guy that used the Chicken Wing Cross Face as his finishing hold. You could only break this feared hold if you made it to the ropes for a break. Whenever Miller would put this hold on, his opponent would run around in a circle trying to escape in vain. Then you would fall to one knee and give up. Why the dumb guys would not run to the ropes is the great mystery of my youth but they never seemed to understand that fact. Maybe it was my fault. I should have written these wrestlers a letter and clued then into my keen observation.
The Maulers finishing hold was the Missouri Mule Kick. This move was to beat your opponent up real bad, put him on top of middle rope and then run across the ring and land a knee squarely on his back basically knocking the wind out of the guy and then pinning them. The Mauler really didn't like Miller very much and soon there was a big feud brewing. I went to my first card in Greensboro to watch these titans clash and I left crushed as the Mauler missed the Missouri Mule Kick and fell victim to Millers Cross Face.
I was really pissed that the Mauler lost his strap. But I carried on being a fan of this great man.
Then one day The Mauler tagged up with Brute Bernard and they really came into their own. This was a great time to watch wrestling, with the death of Skull Murphy, The Brute would be under the guidance of the Mauler. See, he was a great wrestler and a humanitarian too!
Oh Happy Days!
One day there appeared a new wrestler named Argentino Apollo and he was really popular with the fans. This guy was the first guy to carry on the mantle of Argentina Rocca and he wrestled the same athletic way by hopping around the ring and doing cartwheels. Apollo was a handsome curly headed heartthrob and of course I hated him. Come to think about it, there was another hopping around the ring guy at that time and his name was The Amazing Zuma. He was about five feet tall, bald, and wrestled barefoot and got beat all the time.
Anyway, Charlie Harville one day was interviewing Apollo after his match and asked him if it was true that he was a painter?
Apollo said yes that was one of his hobbies and he really enjoyed painting landscapes. Harville asked him if next week would he bring some of his work with him to show the fans what he was doing. Harville said that he was sure all the fans would really like to see this inside look at this great talented man.
Well, Harville was wrong. I didn't give a damn about this guys painting. All I wanted to see was a bunch of Rassling not painting. But I know everyone tuned in to see what was up.
Next week the show started with an art show. Who says that wrestling is not culturally satisfying? Apollo's paintings were leaning up on the ring ropes and they were pretty good. Charlie Harville was very impressed and asked all the important questions you ask a great artist. You know, the crap about what kind of paints you use, where do you get your ideas? That kind of boring crap.
Well, you guessed it, after about three minutes of art appreciation, out comes the Mauler and Brute Bernard.
Gee, I never knew that they loved art?

KM DVD/VHS Store 4
Click here to purchase DVD or VHS products direct from the official distributors.
KM Replica Masks 4
Click here to purchase pro quality replica wrestling masks of all your favorite old school masked wrestlers.
KM Store 4
The KM Store now features products featuring the GCW logo as well as some other very cool images. To see what's new and to purchase T-Shirts, ball caps, mouse pads and more, click here.
KM Message Board 4
Want to chat with other fans of regional wrestling? This message board has forums for over two dozen promotions. Click here.
KM Belt Gallery 4
This section contains an extensive title belt gallery... images of heavyweight, tag, U.S. and various regional title belts. To view it, click here.
Old School Tape Review 4
Reviews of various PPV's, commercial tapes and regional wrestling TV shows are available in this section. To read more, click here.
Website designed & maintained by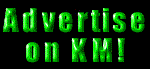 Thanks for visiting!