Regional Territories 4
This section contains monthly articles on over two dozen territories. To relive those wonderful days of old, click here.
Wrestlers 4
Enter this section for bios/profiles of various wrestlers from the regional days. To find more out about your favorite pro wrestler, click here.
Stories 4
This section contains stories from the pros themselves told exclusively to Kayfabe Memories. Want to know more as told from the wrestlers themselves? Click here.
Old School Book Reviews4
Click here to find various book reviews from old school wrestlers.
KM Links 4
For tons of links to old school related sites, click
here
.
KM Micro Wrestlers4
What are Micro Wrestlers? Click here
to find out.
KM Interviews... 4
Click here to read exclusive interviews with stars from the regional territories.
www.kayfabememories.com is © 2004 AtomDesigns. All promotional art, characters, logos and other depictions are © their respective owners. All Rights Reserved.
All contents save Wrestler Stories are © Kayfabe Memories.
Website designed and maintained by AtomDesigns © 2004 . If you experience any problems with this site or have any questions, please contact the Webmaster.
- Larry Stoy
Managers...like masks, cage matches, and battle royals they have been an integral part of wrestling history. Names like "Wild" Red Berry, Bobby Davis, The Grand Wizard, Bobby "The Brain" Heenan, and "Captain" Lou Albano are as familiar to wrestling fans as Gagne, Sammartino, Brisco, and Flair. The Mid Atlantic region certainly had their share of colorful managers throughout the years. This month, we shall spotlight a few of them.
J.C. DYKES: Manager of the Infernos (Frankie Cain & Rocky Smith). Dykes guided this masked duo to many titles during their association. Most noted for his ever-present whistle along with his "secret weapon"...his dreaded canteen that saw as much action upside the skulls of many prominent Mid Atlantic favorites as it did providing refreshment to Dykes! Dykes would often join his men in the ring for six-man tag bouts, but (according to Cain) would never take the fall. J. C. started his career as a referee in the early 60's and quit in mid 1976. He passed away in 1993.
GENERAL HOMER O'DELL: Manager of Aldo Bogni & Bronko Lubich. Garnered a lot of heat from the fans for his actions at ringside. O'Dell guided his heel team of Bogni & Lubich to the Southern Tag Team titles (a precursor to the Atlantic Coast Tag Team championships, which later evolved into the prestigious Mid Atlantic Tag Team titles in 1973) and into major feuds with Johnny Weaver & George Becker during the mid 60's. Didn't stay long enough, IMO, to be really appreciated by the fans. He "sold" the contracts of Bogni & Lubich to fellow manager...
GEORGE "TWO TON" HARRIS: ...in the late 60's. Harris, also renowned for his "I got him now!" battle cry as a wrestler, was a driving force behind some great matches in JCP involving Lubich & Bogni against such well-known teams as Weaver & Becker, Mr. Wrestling & Sam Steamboat, as well as other heel teams Rip Hawk & Swede Hanson and the Minnesota Wrecking Crew of Lars & Gene Anderson. Harris did whatever he could to incite the fans against his men, including taking a few bumps along the way.
"PROFESSOR" BORIS MALENKO: Managed Larry "The Missouri Mauler" Hamilton (mid 60's), The Mongols, Kim Duk, & Masked Superstar. After an extremely successful career as a wrestler, Malenko was equally prominent as a manager in JCP. His stint here in the mid 70's was highlighted by two of the most talked about angles not only in MACW, but wrestling history in general. He was the manager of Bolo Mongol and his charge lost a Loser-Leave-Town match against Wahoo McDaniel. On the same television program where we saw Bolo "leaving", we saw the "arrival" of another of Malenko's henchmen...the Masked Superstar. It was revealed many years later that both men were actually one in the same! Bill Eadie portrayed both characters in a truly magnificent exhibition of Kayfabe. Later, Malenko and Kim Duk were involved in a heated feud with the late Mighty Igor after Boris "accidentally" stuck a cigar into one of the eyes of Igor. This sparked a series of matches that dominated JCP for many months during 1976-77.
"PLAYBOY" GARY HART: Managed Rip Hawk, The Great Kabuki, Ivan Koloff, Ernie Ladd, and The Outlaw (Dory Funk, Jr.). Best known for being the manager of Kabuki during his JCP tenure, Hart also had success as the corner man for many other wrestlers in the Mid Atlantic area. His devious tactics usually brought the wrath of the fans onto whomever he was managing, as well as himself many times over. I think he was the original version of "ruthless aggression" in wrestling.
PAUL JONES: Managed Kamala, Dory Funk Jr., Ivan Koloff, The Assassins, Abdullah the Butcher, and The Barbarian. A mega-star during his wrestling career in JCP, Jones legacy as a manager will best be remembered in his feud with Jimmy "Boogie Woogie" Valiant. Jones gathered a stable of men and dubbed them "Paul Jones Army" to battle Valiant for supremacy in MACW. Valiant ultimately won the war, as he defeated Jones in a Dog Collar match at The Great American Bash in 1985.
NEXT MONTH:
Ricky Steamboat
If you'd like to discuss the Mid-Atlantic region with other fans, please visit the KM Message Board

KM DVD/VHS Store 4
Click here to purchase DVD or VHS products direct from the official distributors.
KM Replica Masks 4
Click here to purchase pro quality replica wrestling masks of all your favorite old school masked wrestlers.
KM Store 4
The KM Store now features products featuring the GCW logo as well as some other very cool images. To see what's new and to purchase T-Shirts, ball caps, mouse pads and more, click here.
KM Message Board 4
Want to chat with other fans of regional wrestling? This message board has forums for over two dozen promotions. Click here.
KM Belt Gallery 4
This section contains an extensive title belt gallery... images of heavyweight, tag, U.S. and various regional title belts. To view it, click here.
Old School Tape Review 4
Reviews of various PPV's, commercial tapes and regional wrestling TV shows are available in this section. To read more, click here.
Website designed & maintained by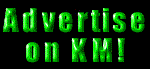 Thanks for visiting!