Regional Territories 4
This section contains monthly articles on over two dozen territories. To relive those wonderful days of old, click here.
Wrestlers 4
Enter this section for bios/profiles of various wrestlers from the regional days. To find more out about your favorite pro wrestler, click here.
Stories 4
This section contains stories from the pros themselves told exclusively to Kayfabe Memories. Want to know more as told from the wrestlers themselves? Click here.
Old School Book Reviews4
Click here to find various book reviews from old school wrestlers.
KM Links 4
For tons of links to old school related sites, click
here
.
KM Micro Wrestlers4
What are Micro Wrestlers? Click here
to find out.
KM Interviews... 4
Click here to read exclusive interviews with stars from the regional territories.
www.kayfabememories.com is © 2004 AtomDesigns. All promotional art, characters, logos and other depictions are © their respective owners. All Rights Reserved.
All contents save Wrestler Stories are © Kayfabe Memories.
Website designed and maintained by AtomDesigns © 2004 . If you experience any problems with this site or have any questions, please contact the Webmaster.
- Larry Stoy
As has happened all too often this year, the afterlife has tagged out two more Mid Atlantic wrestling personalities. Within a span of about 24 hours, we lost George "Two Ton" Harris and Tim "Mr. Wrestling" Woods. Both of these men had prominent roles in the early years of the Mid Atlantic Territory. My original topic for this month was to be "Managers Who Made Their Mark In JCP". I have moved that to next month to pay tribute to Mr. Harris and Mr. Woods here today.
It is also a bit ironic (and eerie) that both these men appeared last month on my MACW Fantasy Card. Harris (as a wrestler) lost to Charlie Fulton and Woods was foiled in his bid to unseat Ric Flair as NWA champion. I don't know if ya'll believe in that sort of thing, but it did spook me a little.
George Harris was a big influence in JCP both as a manger and a wrestler. His in-ring style as a heel persona was perfect to create heat and help put over many young stars over the years. Although he didn't officially win many matches, his victory would be in that he entertained the crowd with his antics and set the tone for the rest of the card. George usually wrestled in the opening event early in his career as a wrestler. He did, however, have some upper card and main event matches as a manager when he would team with Aldo Bogni & Bronco Lubich in six-man matches.
Many of us long-time Mid Atlantic fans can vividly remember George's famous battle cry of "I got him now!" That was often the beginning of the end for George's match, as his opponent would soon make a "startling" comeback and win the match. He had a knack of being a bit humorous in the ring, yet always providing the illusion that he was a tough guy. This image was completely different from the image he portrayed as a manager.
George's stint as manager of the hated duo of Aldo Bogni and Bronco Lubich is etched in the memory of many from the late 60's in JCP. He had the innate ability to irritate the fans to the point of rioting! His appearance was that of a "Southern Gentleman", but his actions were anything buy gentlemanly. On more than one occasion, Harris would become physically involved in his men's match, either aiding them illegally in victory...or causing them to get disqualified.
Fans not only in the Mid Atlantic area, but everywhere that George Harris went will always remember the wrestling legacy he leaves behind. I guess that now George has St. Peter in an arm bar and is shouting, "I got him now!"
Tim Woods had a couple of stints in the Mid Atlantic area throughout his illustrious career. One of the first memories I have of Tim was a tag team match he had with Sam Steamboat against Rip Hawk and Swede Hanson from the early 70's. Woods, with his traditional white trunks and mask as "Mr. Wrestling", took an awful beating at the hands of Hawk & Hanson. So brutal, in fact, that he actually bled through the mask! But, Tim survived that match and went on to gain a measure of revenge against Rip and Swede in subsequent tag team matches.
Tim was successful both as a tag team wrestler in 1976 with Dino Bravo, and a singles wrestler that same year. The team of Woods and Bravo captured the prestigious NWA World Tag Team title from Gene and Ole Anderson in what was considered quite an upset at the time. They held the belts for a couple of months before dropping them back to the Andersons. Then, in late 1976, Woods & Bravo won a tournament to win the vacated Mid Atlantic Tag Team titles. Tim also had a short reign as the United States Heavyweight champion in 1978.
There are two angles that stand out regarding Tim's JCP wrestling career. The first involves the legendary Johnny Valentine. At the time, Valentine was offering one thousand silver dollars to anyone who could beat him. Woods took up the challenge, but all he got for his troubles was a broken leg! This helped to solidify Johnny's reputation as a brutal wrestler. The second memorable angle was when Baron von Raschke was terrorizing the area in 1977. Woods, who has a legitimate background as an amateur wrestler (actually, Der Baron did too!), challenged Raschke to a match...held under amateur rules. Woods came away with the win thanks to his unique strategy of taking the Baron down (scoring two points), then allowing him to escape (Raschke getting just one point)! But, as is traditional in wrestling, the losing Raschke attacked Woods after the match with the ring bell and bloodied him up.
Tim Woods was well traveled during his long career. He was a top draw in every territory he visited and garnered the respect and admiration of many fans. I consider myself fortunate to have seen him wrestle many times. He will be dearly missed by all who knew him. S'long, Mr. Wrestling.
NEXT MONTH:
Mid Atlantic Managers
If you'd like to discuss the Mid-Atlantic region with other fans, please visit the KM Message Board

KM DVD/VHS Store 4
Click here to purchase DVD or VHS products direct from the official distributors.
KM Replica Masks 4
Click here to purchase pro quality replica wrestling masks of all your favorite old school masked wrestlers.
KM Store 4
The KM Store now features products featuring the GCW logo as well as some other very cool images. To see what's new and to purchase T-Shirts, ball caps, mouse pads and more, click here.
KM Message Board 4
Want to chat with other fans of regional wrestling? This message board has forums for over two dozen promotions. Click here.
KM Belt Gallery 4
This section contains an extensive title belt gallery... images of heavyweight, tag, U.S. and various regional title belts. To view it, click here.
Old School Tape Review 4
Reviews of various PPV's, commercial tapes and regional wrestling TV shows are available in this section. To read more, click here.
Website designed & maintained by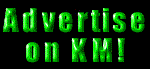 Thanks for visiting!