Regional Territories 4
This section contains monthly articles on over two dozen territories. To relive those wonderful days of old, click here.
Wrestlers 4
Enter this section for bios/profiles of various wrestlers from the regional days. To find more out about your favorite pro wrestler, click here.
Stories 4
This section contains stories from the pros themselves told exclusively to Kayfabe Memories. Want to know more as told from the wrestlers themselves? Click here.
Old School Book Reviews4
Click here to find various book reviews from old school wrestlers.
KM Links 4
For tons of links to old school related sites, click
here
.
KM Micro Wrestlers4
What are Micro Wrestlers? Click here
to find out.
KM Interviews... 4
Click here to read exclusive interviews with stars from the regional territories.
www.kayfabememories.com is © 2004 AtomDesigns. All promotional art, characters, logos and other depictions are © their respective owners. All Rights Reserved.
All contents save Wrestler Stories are © Kayfabe Memories.
Website designed and maintained by AtomDesigns © 2004 . If you experience any problems with this site or have any questions, please contact the Webmaster.
- Kris Zellner
This month we will look at Part II of the best "enhancement talent" aka Jobbers in the history of Jim Crockett Promotions.
Jim Crockett Promotions had many & many "enhancement talent" during their time and a lot of them became big stars in the business later on in their careers, but then there were some who never made it big for some reason and are only known as "enhancement talent" for Jim Crockett Promotions.
Rocky King – Rocky bounced around the country at the start of his career, but he ended up in JCP in late 1984 and that's where he stayed for a while. Rocky had a nice build and could get around, but he got his ass kicked every week. Rocky was a constant opponent to the Horsemen and he was part of their greatest beatdowns. Rocky even teamed up with Jimmy Valiant some and even got a pinfall on someone. King then got a "push" in 1990 when he became a member of the Dudes With Attitudes (Sting, Luger, Steiners, Orndorff, & JYD) , but he soon turned on them and joined The Freebirds as "Little Richard Marley", but that didn't last long either. Rocky then went back to jobbing for the rest of his career.
Mark Fleming – Mark was a mainstay in the Carolinas in the 80's Mark was a good worker, but lacked charisma to get over. He was popular in his home state of Virginia, but everywhere else, he was just a regular jobber.
David Cannell – You may not know who this is, but here are the gimmicks he used to help you out: Bruce Patterson, David Patterson, David Sierra, The Saint, The Assassin, The Cuban Assassin, Fidel Sierra, El Cubano, Top Gun, Cuba's Top Gun, El Sierra, The Terrorist, The Punisher, Especialist II, & Fidel of the Barrio Brothers. David was the ultimate jobber and is on the Ed Leslie level of gimmicks, and he had his greatest success outside of JCP, but he will be remembered by JCP fans as a loveable jobber who got his butt kicked weekly.
This is my 20th & last column for Kayfabe Memories and it has been a lot of fun watching this place grow, but I think it is time for someone else to share their memories about Jim Crockett Promotions. So, I would like to thank Vince Fahey, midatlanticwrestling.net, & everyone who has took the time to read my columns and I wish the best of luck to Vince to help find whoever replaces me as the Mid-Atlantic columnist for KM and to that person, may they have as much fun as I have.
So as Gordon Solie used to say every Saturday & Sunday night on WTBS... So Long From The Peach State Of Georgia
Ed. Note: Kris Zellner was here at KM from the beginning and I'm sorry to see him go. I want to publicly thank him for being such a staunch supporter and contributor for KM and for taking a chance on me and this website when I first contacted him. Good luck to you Kris, and thank you for all your hard work on the site.
NEXT MONTH:
The Andersons
If you'd like to discuss the Mid-Atlantic region with other fans, please visit the KM Message Board

KM DVD/VHS Store 4
Click here to purchase DVD or VHS products direct from the official distributors.
KM Replica Masks 4
Click here to purchase pro quality replica wrestling masks of all your favorite old school masked wrestlers.
KM Store 4
The KM Store now features products featuring the GCW logo as well as some other very cool images. To see what's new and to purchase T-Shirts, ball caps, mouse pads and more, click here.
KM Message Board 4
Want to chat with other fans of regional wrestling? This message board has forums for over two dozen promotions. Click here.
KM Belt Gallery 4
This section contains an extensive title belt gallery... images of heavyweight, tag, U.S. and various regional title belts. To view it, click here.
Old School Tape Review 4
Reviews of various PPV's, commercial tapes and regional wrestling TV shows are available in this section. To read more, click here.
Website designed & maintained by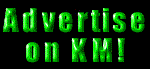 Thanks for visiting!